Apple CEO Tim Cook presided over the company's latest media event in San Francisco today, unveiling an exclusive HBO streaming debut, a skinny laptop, and new details about Apple's upcoming line of wristwatches that—get this—have computers in them.
After announcing the HBO Now deal, Cook brought Apple marketing executive Phil Schiller on stage to talk about a new MacBook that is thinner than the previous model, which was thinner than the previous model, and so on all the way back to the UNIVAC (a computer that Apple likely would have described as "25 feet thin").

Beyond the size and light weight of the two-pound laptop, the most notable feature of the new MacBook is its dearth of ports. As had been rumored, this MacBook consolidates power, video, and USB data ports into one versatile USB Type-C port. (There's also a standard headphone port on the right edge of the machine.) Schiller's presentation emphasized the wireless capabilities of the MacBook, in an attempt to distract users from the fact that they will have to carry around a thousand dongles if they want to hook up the computer to anything.
The new MacBook also comes with an updated trackpad that can now tell how hard you are clicking, and it will be available in three colors: the traditional silver, for those who don't need the world to know that they have the new Apple computer, plus dark gray and gold, for those who do.
But the most anticipated portion of the event was the Apple Watch segment, which rehashed many of the features discussed in September's announcement—hey, you can put Mickey Mouse on this thing!—while showing off a few third-party watch apps. For instance, Apple Watch users will be able to browse Instagram photos, receive ESPN sports updates, and get CNN breaking news alerts. News on your arm! It's the future.
The Apple Watch continues to show an unprecedented ability to generate boring promotional videos. Christy Turlington Burns, a supermodel, was featured in one such film, which chronicled her experience with Apple Watch during a half-marathon in Africa. The takeaway: She wore it and liked it. After the video concluded, Turlington Burns joined Cook on stage to further discuss how she wore and liked the watch. Cook has never run a marathon, he noted on three separate occasions.

G/O Media may get a commission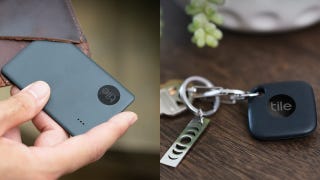 Up to 35% off
Tile Item Trackers
Finally, Cook talked about pricing of the three Apple Watch lines. Available for pre-order April 10 and for sale April 24, each of the three lines comes in a 38-millimeter and 42-millimeter size, with a selection of bands. The base aluminum Apple Watch Sport line starts at $350 (38 mm) and $400 (42 mm). The mid-tier, stainless steel Apple Watch line starts at $550/$600, ranging up above $1,000 for fancier bands.
Naturally, each of these pricing announcements was accompanied by dull footage of Apple's chief designer, Jonathan Ive, gassing on about how Apple's metal is better than any other metal ever made. Yes, they are even bragging about steel now.
As for the 18-karat gold Apple Watch Edition line, Cook said only that the luxury watches start at $10,000; Apple's online store features a handful of models that range from $10,000 to $17,000. Cook mentioned that the high-end watches would be available at select retail outlets, the exact locations of which will be disclosed at next week's regularly scheduled secret meeting of the super-rich.