Archie Andrews and his friends are no strangers to crossovers, meeting characters like the Teenage Mutant Ninja Turtles, the cast of Glee, the members of Kiss, and even The Punisher at different points in their extensive history. A Sharknado is coming to Riverdale this summer, but before that happens, an equally strange crossover is unfolding in the pages of Archie Vs. Predator #1 (Dark Horse), which puts the clean-cut teens of Archie Comics in the alien killer's thermally sensitive line of sight.
Writer Alex De Campi understands that the absurd appeal of this book lies in the contrast of Archie's and Predator's worlds, and this first issue highlights that dynamic by placing Predator in a typical Archie story full of heightened teenage drama. The story is set in motion by the Riverdale kids winning a luxury beach vacation to Los Perdidos Resort in a bag of Tayto Chips, but once they set up shop, it's back to the usual shenanigans. Betty and Veronica are competing over Archie's affections and Dilton is stressing out over yearbook polls, and the two threads come together in a fashion show on the beach to determine Riverdale High's best-dressed female. De Campi has a great handle on the exaggerated Archie dialogue style, and emphasizing a more cartoonish, childish tone gives Predator's arrival all the more impact.
De Campi's script needs an artist who can capture the classic Archie style, and Fernando Ruiz is a Riverdale veteran who has an intimate familiarity with these characters and how they express themselves. Even as the script starts to incorporate more Predator elements—a shot of the alien's spaceship landing, various panels from the perspective of Predator's thermal vision—it still reads like an Archie story, steering away from the sci-fi action that defines Predator. But that doesn't mean Predator's presence isn't felt.
G/O Media may get a commission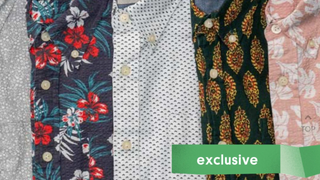 Grab three styles!
JACHS NY Summer Pack
The first full shot of Predator is a grisly visual that marks a dramatic turn in the narrative, and Ruiz makes a striking transition from teen dramedy to brutal body horror. Inker Rich Koslowski and colorist Jason Millet accentuate the contrast of Predator's and Archie's worlds in that image by bringing more texture and dimension to Ruiz's linework for Predator and his mutilated victims, but rendering Archie and friends in a brighter, flatter style. The artwork is darker and gloomier for Predator, and the burgundy blood that pours out of the spines in Predator's hands actually brightens in color before pouring onto the Archie characters below.
That shot of Predator is so effective that it makes up for the character being in the background for almost the entire issue, but the cliffhanger promises a bigger presence for the alien as the action shifts back to Riverdale. And there might be a big twist. The emoticons attached to Predator's thermal viewing of Betty and Veronica's fight suggests that Predator may actually be chasing feelings of affection instead of bloodlust. Hopefully this is all building up to the creative team taking the absurdity to another level by casting Predator as an Archie Comics romantic lead. [Oliver Sava]
---
To hear the buzz coming out of the spring festivals and cons, Jillian Tamaki's issue of Youth In Decline's Frontier #7 is the book of the season. Holding the book in your own hands, it's not hard to see why.
If Tamaki's name sounds familiar, there's a good reason. She's the creator of the SuperMutant Magic Academy webcomic, soon to make its physical debut in collected form thanks to Drawn & Quarterly. Tamaki is also the author—with her cousin Mariko Tamaki—of Skim (2008) and This One Summer (2014), the latter of which won a Caldecott Honor. Tamaki is, as the kids say, on a roll. Her contribution to the Frontier series, then, comes at a good time for her burgeoning career: at just the right point to remind the die-hard comics audience that she hasn't completely abandoned them for the greener pastures of the New York Times Bestseller List. (It's also worth noting that this comes at an auspicious time for Youth In Decline as well, with the company having ascended to the first rank of indie publishers in the time between the publication of last year's RAV and this issue of Frontier.)
Frontier #7 tells the story of "SexCoven," a six-hour MP3 file that fills its listener with "cascading feelings of dread, fear, love, and euphoria," before ending with "a warm, flooding sense of wholeness and potentiality." Complicating matters, the true effect can only be heard by teens and early twentysomethings. People start dying, not as a direct result of SexCoven but of the aftereffects of the experience—being hit by cars, falling down open manholes, etc. The media grabs hold of the phenomenon and it becomes another in a long line of scare stories designed to provoke the fears of anxious parents. Eventually, the hype dies down and people stop paying attention, and SexCoven becomes just another passing fad.
Tamaki's story is structured like an episode of a TV news show (Frontline springs to mind), complete with montage, filmed reenactments, and disembodied narration. The story is similar enough to a number of other kinds of fads to spark a twinge of fake recognition—remember the YouTube videos that were supposed to induce alpha waves, or any number of other internet urban legends? The story never reveals the origin of the SexCoven. The reader has as much information as the characters in the story do—what is it? How does it work? Is it satanic?
More important than the origins of the file, however, are the consequences the sound leaves in the lives of those it touches. This is where "SexCoven" takes an unexpected turn, by devoting its final pages to the lives of a few people who, having been changed by the sound, never quite make their way back to the real world. By turns spooky and heartbreaking, "SexCoven" is an exceptionally imaginative tale delivered with skill by a creator whose moment has arrived. [Tim O'Neil]
---
Cape and cowl comics aren't the first place you might expect to find the truly compelling love stories, but there are plenty of fans who will argue fervently for their favorite pairings. The New 52 reboot took away the likes of Barda and Scott Free, Wally and Linda, even Lois and Clark; DC hasn't had much room for romance since 2011, and the stories are absolutely suffering for it. The bright glimpses of true love here and there were buried in unexpected books and even less-expected couples. The arrival of Convergence: Nightwing And Oracle #1 (DC) has brought back into (some sort of) continuity a much-missed duo, a flirtation older than many other comic romances by decades. Given that this is a tie-in to a larger event, it's reasonable to fear getting lost without reading other Convergence titles, but writer Gail Simone brings readers up to speed without any trouble. There's even a brief timeline of Babs and Dick's relationship in the back, from their early days in capes to the current goings on in pre-Flashpoint Gotham, where this issue is set. The cover features art by Jill Thompson of Sandman and Beasts Of Burden fame, and it's a joy to see her work on a monthly title again.
The interior is executed by Jan Duursema with inks by Dan Parsons and colors by Wes Dzioba. Duursema has worked in the industry for decades and has an old-school style that suits the issue, looking far more like pre-Flashpoint books than recent ones, and she's good with dynamic motion, particularly important for Nightwing. But unfortunately, especially in contrast with Babs Tarr's Batgirl, the art feels stale. Maybe not a fair comparison, given the vastly different subjects and styles, but there are a couple of panels where Barbara's features look like they belong to Poison Ivy, her breasts and her hair both large enough to fit in at a beauty pageant, but certainly not a sleek motorcycle jacket. Simone clearly cares very deeply about both Barbara and Dick, writing an issue that has high stakes both physically and emotionally. The return of any kind of love story to the New 52 is refreshing, but maybe because they're literally stuck in a multiverse bubble, isolated and static, this much-needed reunion with a popular couple feels stale, too. Fans might have been hoping for the return of something comfortable and familiar, and Nightwing And Oracle #1 is definitely that.
But the most dynamic panels are of Flashpoint-era Hawkman and Hawkwoman, and for now their story seems a lot more interesting. The payout for Babs on the final page is worth it, but people who aren't deeply emotionally invested in this couple may not be patient enough to stick around and find out what happens. Barbara's internal monologue feels morose and Dick comes off naive, all the growth they've both experienced in the New 52 suddenly gone. Dick's quips are fun and the dynamic between this duo is a welcome return to something that's been missing, but the knowledge that after this miniseries the excellent new Batgirl and the truly fun Grayson will return in a few short months makes this feel less like a happily anticipated get-together with an old friend and more like you had a drunk make-out with your ex at your high school reunion and just found the pictures on Facebook. You still enjoyed yourself, but the nostalgia hangover might not worth it. [Caitlin Rosberg]
---
To Zander Cannon's immense credit, Kaijumax #1 (Oni Press) takes what seems like a rather ridiculous, tough-to-work concept—giant, fearsome monsters and kaiju (some of whom readers may recognize) incarcerated together on a maximum security island prison located in the South Pacific—and instill it with genuine drama and heart. It's an idea that could be loose and fun, or played more straight, but Cannon chooses a trickier amalgamation of the two and pulls it off by closely following the prison-drama narrative—with a twist. Newly captured inmate Electrogor serves as the reader's point of entry as he's bought into Kaijumax prison and shown the rules and ropes. There's a nice visual introduction from Electrogor's panicked perspective as the ship moves toward the island dock and then pulls back to reveal its "monstrous" load.
There are a lot of fun touches to enjoy here: interesting creature design, monsters with tattoos, the zealous mech-monsters preaching their gospel of metal, bartering between factions over rights to terrorize various countries, the prison gym equipment decked out in order to best practice faux rampages (lifting dead-weights of skyscrapers; a treadmill filled with vehicles and rubble). That lightness is compounded by Cannon's bold and bright cartooning, marking his first full foray into digital, which gives the book a disarmingly appealing look. Cannon's aware of the overtly goofy nature of these shenanigans, even as he muses on definitions of bad and evil—those we categorize as "monsters," by lending actual monsters feelings and nuance—cleverly anchored with the characterization of Electrogor and his situation, which is imbued with real emotion.
His characterization is very effectively drawn: what comes across as sniveling and whiny is totally understandable. Not only is Electrogor a newbie who still seems to be in massive recoil from the suddenness and extremity of his change in circumstance, he's also frantically thinking about his children who he'd told to sit tight while he looked for food, all too conscious that his home is close to where he was caught and fearful his children might meet the same fate. He may be naive and trusting, but he's also desperate. It clouds his judgement and leads him to take make poor choices, as he starts making deals with shady characters right off the bat, without pausing to question their motivations, and then quickly loses his temper and attacks a prison guard.
Despite there being a few too many characters introduced here (faces and names are rifled through), Kaijumax reads like a well-developed and well-realized world with lots more to show off. Having given readers a small bit of the story, it doesn't provide much of an idea where it may be going, as it shifts between the prison and Electrogor's children on the "outside." Cannon's too smart to simply go the escape/break-out route, and it'll be interesting to see what derivations he presents by way of his monster crew. It's weird and a little gross, but fun and very, very good. [Zainab Akhtar]