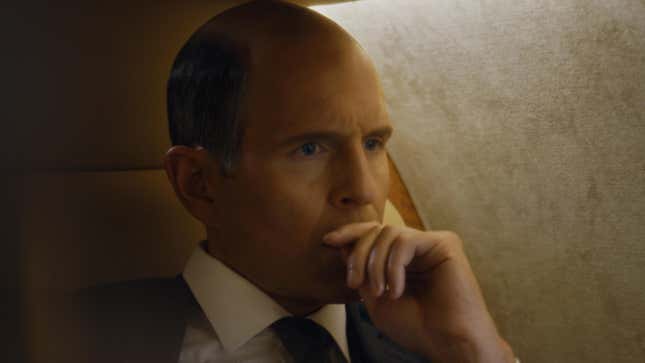 The latest tech true story, BlackBerry, has been buzzed about since it premiered at the Venice Film Festival last month. Most of that talk has surrounded Glenn Howerton, the square-jawed live-wire of It's Always Sunny In Philadelphia, and his turn as the brash BlackBerry CEO Jim Balsillie. But more than his performance, it looks like he shined his head in the shine-o ball-o, and a shiny head also makes for a good trailer.
Howerton brings that stern arrogance he's made a signature of his TV work to the true story that looks more like The Dropout than Steve Jobs. There's little reverence for Canadian company BlackBerry or its founders, who pushed their way to the top of the smartphone sector by bringing QWERTY to mobile communications. BlackBerry trailer advertises the sheer bullishness and foolishness of its subjects who forced the world to type with their thumbs.
Opposite Howerton is Jay Baruchel as BlackBerry founder Mike Lazaridis. Armed with a stark white wig, confirmed by the real Mike Lazaridis' Wikipedia photo, Baruchel has the dorky insecurity that balances him out. The movie pitches a two-hander between two weird Canadians, and that's what we're getting.

BlackBerry was directed by Matt Johnson, who also stars as BlackBerry co-founder Doug Fregin. Johnson is probably best known for the Viceland TV show Nirvanna The Band The Show, a mockumentary about two musicians pulling publicity stunts to get a gig at a famed Toronto nightclub. Johnson's latest is another quest for immortality, except it's about the sheer capitalistic force to exploit the then wild west of internet telecommunications.
BlackBerry opens in theaters on May 12.