After decades of being dominated by a predominantly white, male group of creators and characters, mainstream comic book companies have been trying to hire and portray a far more diverse group of people. Even the largest publishers have been shaking up rosters and featuring talent that looks nothing like what most readers have seen before. There's still a lot of progress to made, especially with superhero comics. The best way to make sure that publishers continue to take this demand from their readership seriously is to prove that readers are more than willing to put their money where their mouths are. But finding new books written by women, people with disabilities, members of the LGBTQ community, or people of color can be daunting when readers are faced with hundreds of familiar titles and characters, while new and more diverse books aren't as prominent. Miz Caramel Vixen, confronted with the reality of how little people know about black comic creators and characters, knows how hard it can be to spread the word about books that need and deserve a bigger audience. This year she launched a Twitter hashtag that spawned not only a website but an entire movement. The first ever #BlackComicsMonth is almost at an end, but Vixen is far from slowing down.
The A.V. Club: What exactly is #BlackComicsMonth? How did it get started? What's your primary goal?
Miz Caramel Vixen: #BlackComicsMonth started off being 28 days spotlighting black comic book creators, writers, and artists. I came up with the idea when the Milestone Media "resurrection" announcement was made. I saw a few tweets saying, "What is Milestone Media?" followed by a tweet asking if there were black superheroes. I was livid. That person could have been a troll, but I saw other tweets asking the same thing. People know all about Batman, Iron Man, Superman, Wolverine—but didn't know about Vixen, Storm, Cyborg, Black Panther, Misty Knight, and Luke Cage? Yeah, I was pissed. I felt that it was my responsibility to educate people about not only black comic book characters, but black comic book writers and artists.
I immediately started to see what I could put together, seeing that it was only two weeks before February started. I put out a "call to action" series of tweets and was bombarded with names of black comic book writers and artists. The list was insane—I'm looking at these tweets and realizing that I need to be educated, right along with everyone else that I'm trying to educate. I started to contact names that were mentioned—along with some that I already knew of—to see if they'd be interested; they were. Along with these great talented men and women wanting to be featured, they also donated signed books and prints for a giveaway.
As time went on, I realized that 28 days wasn't going to be enough, that I needed to do #BlackComicsMonth on the regular. "BlackComicsMonth 365," if you will. The main goal is to spread awareness of the talented black men and women who either create, draw, or write comic books. Give them a platform that they don't really have in this industry, as it's predominately white.
G/O Media may get a commission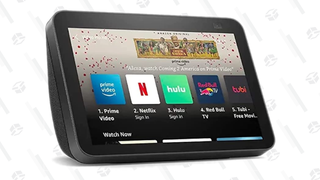 AVC: So what was your personal reaction when you heard that Milestone Media, one of the best known and largest black-owned publishing groups, is likely returning this year?
MCV: Listen, I screamed and did the running man, in my mind at least, when the news dropped. I even reached out to Reginald Hudlin [one of the people reviving Milestone] to see if he'd be interested in an interview for Black Comics Month, but alas it hasn't happened—yet.
AVC: Your website features interviews with a variety of black comic creators as well as reviews of their work. How do you discover new creators and books?
MCV: I contacted Jeremy Whitley to feature Princeless on BlackComicsMonth.com. Jeremy isn't a person of color, but his book is about a beautiful black princess. We spoke and we both agreed that I wouldn't feature him for Black Comics Month, but that my focus would be on Princeless. Jeremy then gave my email to black comic-book writers and artists he knows that would be interested. I started getting emails within minutes from when he sent the email. I still get emails from others saying, "Jeremy Whitley referred me." He was a godsend.
AVC: By contrast, you also feature books starring black characters but with creative teams who aren't black. Is there a different goal for these posts?
MCV: Those are the "Blacks In Comics" subsection, if you will. While the main focus of BlackComicsMonth.com is to promote black creators, writers, and artists, I'm here for anything that shows black characters on the cover or in the pages of a book. I do not spotlight the writers or artists for BlackComicsMonth.com with interviews, but I will post a preview of their books and maybe a review for the Blacks In Comics subsection. Storm, Vixen, Cyborg, Captain America, Deathlok, Reyn, etc., all fit in the Blacks In Comics subsection. They're great books with black characters who just so happened to be written by someone not black.
AVC: You've gotten support from a few people in the industry, perhaps most notably Dynamite Entertainment giving away digital copies of Shaft #1. Who else would you like to be able to partner with?
MCV: I have to credit to Gail Simone for reaching out to Dynamite and getting them to sponsor Shaft #1 for us. That was one of the greatest things that happened. Comixology also gave us Brandon Easton's Watson And Holmes #6 and just this weekend BOOM! Studios gave Dead Letters #1 from talented black artist Chris Visions. I reached out to all the publishers and asked them to sponsor, but Dynamite and BOOM! Studios were the only ones who made it happen. I got the "it's too late" and the "maybe next year" responses from a few publishers. I would like to be able to call each of the publishers "sponsors," because it's not about me—it's about the people they hire to write and draw for them.
AVC: Black Comics Month, like Black History Month, is clearly meant to be a time of heightened focus on an issue that doesn't disappear when February ends. Do you have any specific plans for the rest of 2015?
MCV: Black Comics Month is going absolutely nowhere—365, baby! I've actually been working behind-the-scenes to get BlackComicsMonth.com off the ground. Currently it's being forwarded to VixenVarsity.com, the "mother site," until it's ready for the world. While I can't go into what's going to happen with Black Comics Month, you can bet your bottom dollar that you'll be seeing a lot more of Black Comics Month online and—who knows—maybe a city near you?
AVC: Along those lines, what would you like Black Comics Month to look like in February 2016?
MCV: I want BlackComicsMonth.com to be the go-to spot for anything related to black comic-book writers and artists; I'd like to feature more talented people. Perhaps debut some work to the world. When a publisher wants to announce something new by a black comic book writer and artist, that they'll do it via Black Comics Month first. I would like to see those who I've featured on Black Comics Month to tell me that they have a gig and was found on Black Comics Month via the hashtag or the site. There's more, but that means I have to tell you what my plans are for the rest of the year. If I tell you—I'd have to give you multiple wet willies.
AVC: On February 28th the Long Beach Comic Expo will be announcing the winner of the first ever Dwayne McDuffie Award For Diversity, named after one of the founders of Milestone Media and creator of fan favorites like Static Shock. The inaugural nominees are Hex11, M.F.K., Ms. Marvel, The Shadow Hero, and Shaft. Which book is your favorite to win?
MCV: I plead the fifth! I want everyone to win and these books are great books. I think it's an amazing honor to even be nominated for the Dwayne McDuffie Award. I wouldn't even know how to act if I was nominated in this category. Good luck to everyone.
AVC: What comics are you reading right now that are exciting you? Are there any you'd like to see more people pick up?
MCV: I've learned about so many great books during Black Comics Month, I wish I could name them all and had enough money to purchase them, but here are some of my faves:
POSTAL by Bryan Edward Hill

SHAFT by David Walker

Nutmeg by James F. Wright

Fight Like A Girl by David Pinckney

Agents Of The Realm by Mildred Louis (web comic)

The Empty by Jimmie Robinson

Genius by Afua Richardson

Tech Jacket by Khary Randolph.
AVC: Just one final question, because everyone's got a great story. How did you get into comic books? Do you have a favorite character?
MCV: I remember being locked in a closet by my cousin when his girlfriends came over and he supplied me with comics. There were Batman, Superman, X-Men, Hulk, Black Panther—that was my reading material and I was glad I wasn't alone by myself. I had superheroes to keep me company—time passed pretty quickly. He'd also draw me comic book characters so I wouldn't tell. Great bribe!
My favorite character that I love to read no longer has a book—I wish DC Comics would give Vixen a book. I named myself after her. I think she's phenomenal. I know there's a Vixen animated series coming, I just hope that a book comes along with the cartoon.
I would like to take this opportunity to thank my team who has helped me with interviewing and writing reviews on comics otherwise Black Comics Month would not be as successful as it is right now. VixenVarsity writers BeauxKnows and Asiaelle; Snow Daze writer Leonardo Faierman; as well as BlackComicsMonth.com contributors BlkGirlManifest, TiffScribes, and DeleMage. Without these six people BlackComicsMonth.com would not be jam-packed full of content like it is currently.