In Hear This, A.V. Club writers sing the praises of songs they know well. This week, in keeping with the site's 1995-centric theme, we're talking about songs from that year.
Yo La Tengo, "Blue Line Swinger" (1995)
Although Yo La Tengo began in 1984, the band hit its stride in the '90s, releasing a string of albums that have gone down as important components of the indie-rock canon: 1993's Painful, 1995's Electr-O-Pura, and 1997's I Can Hear The Heart Beating As One. The last one might offer the best entry point to the band's extensive discography, but Electr-O-Pura boasts Yo La Tengo's best epic song, the nine-plus-minute "Blue Line Swinger." The trio has never felt apprehensive about going long; 1989's President Yo La Tengo had one track that stretched past 10 and a half minutes, 1992's May I Sing With Me has one that goes beyond nine minutes, and Painful had two songs that surpassed seven minutes. Yo La Tengo hasn't stepped away from that—2006's I Am Not Afraid Of You And I Will Beat Your Ass opened with a song that went nearly 11 minutes, and 2009's Popular Songs closed with a 15-minute track.
Not all of them cohere like "Blue Line Swinger." A simple organ progression anchors the song as the rest of the band joins in, opening with drummer-vocalist Georgia Hubley playing fill beats and Ira Kaplan's guitar swirling in feedback. Eventually the disparate elements join together—along with James McNew's bass—into a propulsive rock song, albeit one without anything resembling a chorus or hook. Kaplan's guitar sounds like it could come loose from the rest of the band at any moment, a mixture of melody and impressively controlled squalls of feedback. "Blue Line Swinger" eventually crescendos with Hubley's girl-group vocalizing—"Ba da ba ba-dop, ba da ba ba-dop, ba da ba ba-dop"—and the rest of the band red-lining in the best possible way.
Unsurprisingly, "Blue Line Swinger" is the perfect set-closer, and it has remained in the band's live shows for two decades. With good reason: It may be Yo La Tengo's finest moment.
G/O Media may get a commission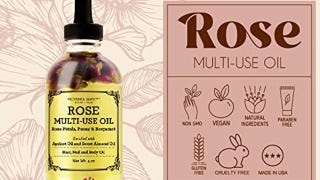 Provence Beauty Rose Multi-Use Oil