Starring a team of debtor superheroes forced to pay back their loans by working as repo men (and women), last year's The Paybacks was one of the most clever takes on the superhero ensemble comic in recent memory. Unfortunately, the series' initial arc at Dark Horse Comics only ran for four issues and ended on a cliffhanger, leaving behind a concept and cast that begged for more attention, but The Paybacks are coming back bigger and badder at a new publisher: Heavy Metal. Announced at this year's C2E2, the move makes sense considering co-writers Donny Cates and Eliot Rahal both currently have series at the publisher—Cates writes the sci-fi war story Interceptor, Rahal co-writes the cosmic black comedy The Doorman with Daniel Kibblesmith (first issue out this week!)­—and The Paybacks is a smart addition to Heavy Metal's growing slate of new comics.
"Anyone who's read the first series can tell that there is so much world left undiscovered," Cates told The A.V. Club. "Eliot and I started this adventure together so we could make our own universe, write our own stories and just have fun and play. The bottom line is that we just weren't done playing. We have some bananas things planned for our intrepid group of indebted do-gooders and Heavy Metal lets us do whatever we want, so we're going to get in some trouble. Cause some ruckus. In like a super respectful and professional manner, of course. Winky face emoji."
What can readers expect when The Paybacks returns? "Pretty much everything and the kitchen sink," said Rahal. "Any questions that readers may have had from the original series will be answered. Any cliffhangers will definitely be addressed. And any hopes that people have for this follow up will be met, then crushed, and then built back up again. It will be twists upon twists that focus primarily on the emotional bullet holes that we left off with in issue #4. Bloodpouch is a whole different person after his best broseph exploded and died. Zoe is climbing deeper and deeper into the dark. I'm just very excited to see what people will respond to—Donny, Geoff, and I put our hearts into this."
Cates echoed the kitchen-sink sentiment when it comes to the book's future contents: "Minotaurs, lasers, sewer fights, labyrinths, death zeppelins, hammer fights, a billion inside jokes, crazy hidden stuff, Grant Morrison is in it, the most fucked up scene with a little bunny rabbit you've ever seen, more Matador, more Soviet Nunchuck, more Bloodpouch, more Night Knight, more Zoe, more Emory, more….ah! Everything! Except KnightMare. There's no unicorns this time around. Or is there?"
The writers aren't making Shaw's job easy, but the density and imagination of the scripts have pushed the artist to grow in exciting ways. These preview pages of upcoming issues highlight skills for rich character expressions and dynamic action storytelling, but also show him experimenting with his style, like in the scratchy, Bill Sienkiewicz-inspired page from The Paybacks #8.

G/O Media may get a commission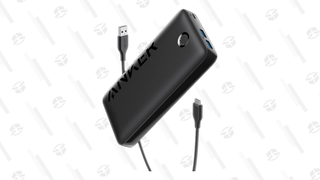 20% Off
Anker 335 Power Bank
When asked about the craziest thing he's had to draw in the new issues, Shaw replied, "Between exploding bunnies and gigantic mech robots, how do you pick just one? Alright, since you're twisting my arm, I'd have to say the craziest thing I've had to draw would be a maze where up is down and left is right, filled with some of the deepest darkest fears you could possibly imagine! But we're talking apples and oranges here." Readers can discover more about the wild world of The Paybacks when the new issue #1 from Heavy Metal hits stands in July, and for newcomers, Dark Horse is releasing The Paybacks Vol. 1: A Bitch on April 27. Those at C2E2 this weekend can find exclusive The Paybacks prints and copies of Interceptor and The Doorman for sale at Heavy Metal's booth, where Cates and Rahal will also be available for signings.