By now, everyone's read or read about Conan O'Brien's New York Times interview, where the Conan host and comedy icon waxed philosophically dour to David Itzkoff about the ephemeral nature of fame. (For those who haven't, All Our Graves Go Untended is the final album from alternate-path singer-songwriter Conan O'Brien.) But, as anyone who saw the post-Tonight Show-shitcanning documentary Conan O'Brien Can't Stop can tell you, inveterate jokester O'Brien has, if not a full-on dark side, then at least a restlessly insatiable one, his constant drive to be "on" an outwardly generous cross to bear.

After legendary stints writing for Saturday Night Live and The Simpsons (two gigs where his sparking comic brilliance would have earned him a reverential following if he'd retired in 1993), O'Brien was a controversial—not to say shocking—choice to take over David Letterman's hosting chair on the rechristened Late Night With Conan O'Brien. It was there, after an undeniably tentative and rocky settling-in period, that the true depths of O'Brien's unerring sense of absurdist genius really shone, a smart-dumb mix of brainy self-effacement and anything-for-a-laugh goofball showmanship that gave us mastubating bears, indefinably accented confrontational dog puppets, and the blessed lunacy of the Walker: Texas Ranger lever.

Interviews—the supposed raison d'etre of the late night gig—were never Conan's strong game. Even after his frozen, what-am-I-doing-here? jitters wore off, O'Brien's celebrity Q&As have always been marked by a less-than-graceful reliance on scripted talking points, a chat show convention that perpetually fit Conan as badly as some of his early-90s, too-big suit jackets. At his best when a guest brought something of his or her own to the couch (Will Ferrell's endless array of conceptual bits, Paul Rudd's decades-long Mac And Me prank), Conan's show business chit-chat didn't come off like the host felt he was above it as much as he often seemed restrained by a format he was itching to play around in. Transferring to the cushy and coveted 11:30 Tonight Show gig only threw a harsh and unforgiving spotlight on that part of Conan's game, robbing him even further of the freedom of movement his febrile comic mind needed to stand out.
After NBC's unseemly rehiring of cash cow stalwart Jay Leno in 2010, O'Brien's TBS show, succinctly titled Conan, gave O'Brien back some breathing room, with an array of new and repurposed bits, longtime simpatico sidekick/comedy life partner Andy Richter at his side, and the basic cable lassitude to drop an occasional off-color word or concept into the mix. Still, unless the night's guests were especially interesting to him or funny/compelling in their own right, the interviews (not to mention the sometimes perfunctory musical guests) had viewers'—not to mention O'Brien's—attention noticeably wandering, a tendency that only grew more pronounced over time. So, for the now 55-year-old Conan, with an already secure comedy legacy behind him, the answer was to cut out all the fat and just do the stuff he wanted to do.
G/O Media may get a commission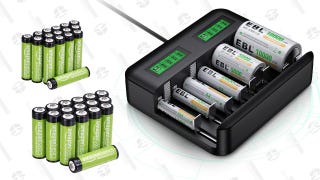 Returning from a three-month hiatus with a streamlined Conan, O'Brien premiered the new, half-hour version on Tuesday, with one interview, no musical guest, Andy, a lightly absurdist, format-redefining sketch, and a quick, pause-eliding "That's our show goodnight!" It'd be tempting to call back to the (not Conan-written) 1994 Simpsons episode "Bart Gets Famous," where, after the accidentally scene-stealing Bart's TV catchphrase antics go stale, a voice abruptly announces, "Ladies and gentlemen, The Clown Show has been put on hiatus for retooling." (O'Brien's animated self even cameos on the episode, interviewing has-been Bart on his old Late Night set.) But there's no sense that this was anything but O'Brien's call. Apart from his Times interview, on a recent, rare podcast appearance (at least until he started his own), O'Brien told Comedy Bang! Bang!'s Scott Aukerman how, after a quarter-century behind a succession of late-night desks, he was ready to do something different.

With a deadpan forthrightness, O'Brien told Aukerman he'd become as increasingly weary of the back half of Conan as he intuited his audiences had. He joked about grinning through interviews with "Erik Estrada's lawyer," with a wry frankness that suggested his enthusiasm level for some of his self-promoting guests was nonexistent at this point, explaining that, with that untended grave approaching ever closer by the day, he wanted to pare down Conan just to the fun stuff that Conan—and presumably his viewers—really likes.
In practice, at least on this first outing, that means bringing in reliably engaging megastar/goofball Tom Hanks. As with predecessor Letterman's recent Netflix series, there's a palpable sense that O'Brien would like nothing better than to hang out and shoot the shit with some people on his wish list, and the pair, longtime late-night habtués, largely manage to capture that more relaxed vibe. It's not quite on the level of unaccustomed, if still guardedly comic, intimacy of O'Brien's rapport with the guests of his genuinely compelling new Earwolf podcast, Conan O'Brien Needs A Friend. (Along with his new stand-up tour and travel special, evidence that the Conan hiatus was about restless creativity more than burnout.) But, being Hanks, it's still a much more easygoing and natural conversation, even if there's nothing especially revelatory in this first night showcase.

"Relaxed" is the watchword for this new Conan, perhaps a little effortfully so at this point. Conan ditched the standard hosting monkey suit for a casual leather jacket and tie ensemble here. The desk is gone, leaving O'Brien, Hanks, and Andy (who started the show stage left, perched on a stool) lounging on co-equal center-stage chairs. There's no band. (Conan jokes that Jimmy Vivino and the Basic Cable Band are living on a farm upstate.) And, if Richter jokes that the sparse new set looks like "a strip club in Grand Theft Auto," it's still an intriguingly low-tech new play area for O'Brien to try out some new tricks. (Hanks kept rustling his lapel mic—even accidentally knocking it off at one point—an element of roughness that should test TBS' tolerance for rough-and-ready comic reinvention.)
There's still a (truncated), Trump-centric monologue, complete with the first (censored) f-bomb of the new regime. (Noting that the government shutdown has left no one manning the FCC, O'Brien struts, "That's right Andy, those fuckers aren't watching!") And the This Is Us bit shifts into heavy domestic drama mode so that Conan and Andy (and "gratuitous" celebrity cameo Milo Ventimiglia) can, with impressive comic commitment, ease the Conan audience into some of the new changes, while calling back to the sort of free-form comedy weirdness that marked Late Night at its peak. Conan remains peerless at the art of mock-shtick, his mid-monologue mugging to the new set's camera angles playing irresistibly like he's photobombing himself. As O'Brien notes in the Times, his arrangement with TBS allows for plenty of freedom going forward, promising that extended interviews will continue online, bits can be moved to other shows entirely, and, basically, he's going to shoot, as he told Itzkoff "stuff that makes me laugh" and see how it all fits together later. And, even if this first foray into the half-hour format isn't a form-busting revelation right out of the gate, it hints at the possibilities of a reenergized comic mind prodding the late-night electric fence for weaknesses.
Stray observations
Tomorrow night's second instalment sees O'Brien bringing in the cast of The Good Place, a show similarly invested in breaking molds and contemplating possibilities. Oh, and lonely, pointless death.

Hanks is the one who came up with the "Coco" nickname, which O'Brien jokes will follow him to his (untended) grave.