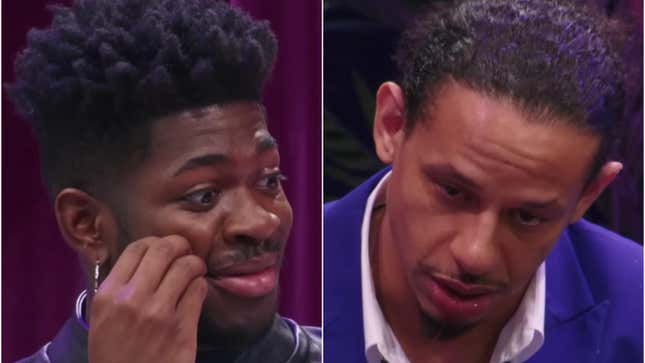 One would think Lil Nas X would be the perfect guest on The Eric Andre Show. The young star has spent his career trolling trolls and being purposely provocative. Yet even he's no match for Eric Andre's unparalleled unsettling energy. A new clip from the sixth season of the show, premiering June 4 on Adult Swim, proves that Andre will not be handing over the crown for Hollywood's wackiest dude any time soon.
Young Mazino talks "Beef," needle drops, and karaoke
The new season displays a flashier look—a bigger, brighter studio, a more colorful suit—but the antics appear to be vintage Eric Andre. Though Lil Nas struts confidently onto the scene ready to gab about the Illuminati, he's quickly thwarted by some alarming set design. Then there's Andre himself, mumbling and drooling, so incredibly off-putting that the Grammy winner can only laugh in disbelief.
One might not know it, but this babbling, uncomfortable mess is actually being billed as "sexy season six." "Invoking the tantric swag of sex god EROS, season six is guaranteed to be the most high-octane, stone cold, no holds barred, mind-blowing, emotionally mature late night show in the history of mankind. Eric is back behind the desk like never before; ripped, shredded, full of energy, complete with beads of sweat dripping down from his taut nips onto his glistening six pack abs," reads a press release from Adult Swim. "Watch pampered celebrities regret their choices, rappers get the runaround, and a slate of street pranks so egregious they collectively inspired a record 30 phone calls to 911. Co-hosts include Felipe Esparza, Reese W, Krft Punk, and the mysterious (but soon-to-be iconic) FRIDGE KEEPER."
Besides Lil Nas X, other celebrity guests for the season include Natasha Lyonne, Jaleel White, Blac Chyna, Jon Hamm, Raven-Symoné, Diplo, Daymond John, Meagan Good, Rico Nasty, Waka Flocka Flame, Tinashe, Cypress Hill, and Lil Yachty. The season's trailer also features some upsetting-looking pranks (probably a great deal more intense than what's on offer in Andre's upcoming ABC series The Prank Panel). You can check out the trailer below, and the new season starting June 4.