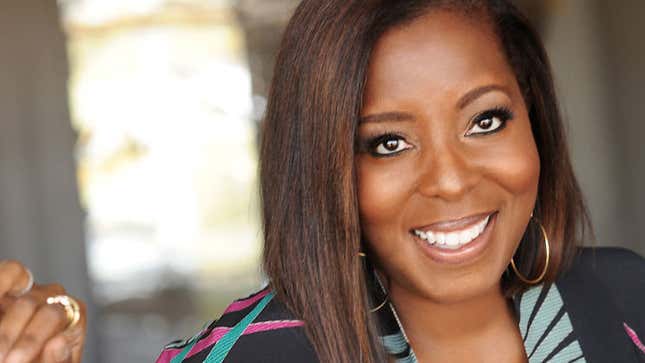 On Sunday, Showtime took us back to The Chi for another season of Lena Waithe's sprawling, engrossing drama. The premiere, "Eruptions," reveals how everyone's faring in the wake of the big developments and admissions that made up the season-one finale. The series continues to offer a rare look at life on the South Side—rare in that Waithe and her team, including an exceptional cast, depict the good and the bad, the triumphs and the setbacks. The Chi combines the optimism of adolescence with the realities of adulthood, and finds the comedy and pathos in the milestones of both.
Here's Patrick Stewart's biggest regret, according to Patrick Stewart
New showrunner Ayanna Floyd Davis, an alum of Empire and Falling Skies, was tapped to help expand The Chi's perspectives even further in season two, bringing greater weight and nuance to the storylines for characters like Jerrika and Jada, who were seen as underdeveloped in the first season. Ahead of the season premiere, The A.V. Club spoke with Floyd Davis to discuss her blueprints for The Chi, which she envisions as more of a "neighborhood drama" going forward.
---
The A.V. Club: What was the journey like from writer to series showrunner?

Ayanna Floyd Davis: I wasn't really part of the season one writers room—I was on the show for three months when they were trying out a short-term writers room. They were trying to retool the show before Showtime officially picked it up, and I was a part of that retooling. I was coming off of Empire, so I jumped on The Chi for maybe two or three months. When they went forward and got the official pickup and did season one, I was off doing my own thing developing.
For season two, Lena [Waithe] already knew me from the short-term room, and called me and said you know, the show really needs a strong showrunner, a visionary for season two. I used to live in Chicago, I love Chicago, I still have friends in Chicago. So I knew the world, I knew the characters—and because of the characters, I took a flyer on it.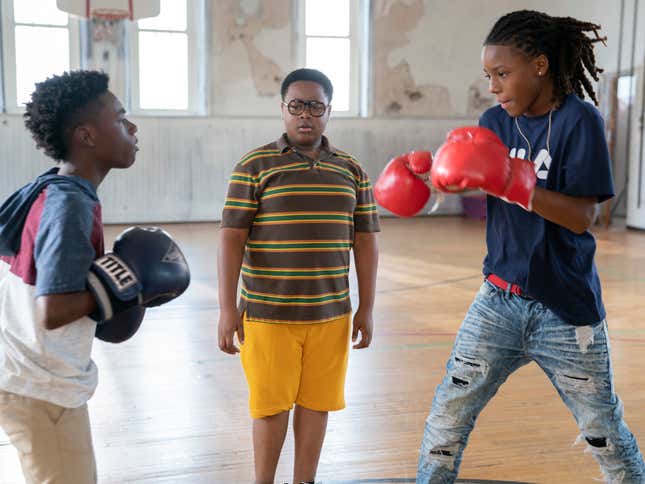 AVC: It does seem like there's a lot of homegrown talent working on this show, aside from you and Lena.
AFD: There's a lot of it! One of my writers is a former Chicago police officer; he used to patrol the South Side, he's from the South Side. We also had two directors, Carl Seaton and Salli Richardson-Whitfield—both from Chicagoans from the South Side. I'm a graduate of Columbia College Chicago, so the first thing I did was email their employment office, asking them to send me the resumes. We had at least eight Columbia graduates and current students on the production team and on set. We may have even had more, but eight is what my assistant counted.
This was deliberate, it was intention—we're very much trying to make the show feel like Chicago in front of the camera, as well as behind the scenes.
AVC: The show is very ambitious for several reasons—it tackles issues with the criminal justice system, there's black parenthood, black adolescence, but we also just haven't had a show set in Chicago that centered the perspectives you find in The Chi, certainly not with this scope. What was the most important thing to get right about the characters or the setting in the second season?
AFD: I think you always want to top the first season; yes, you want to build on it, but obviously you want to top it. I really wanted to put my own fingerprint on it. In my writing, I like to go deep, I like to pull back the layers and find out more about these people. And to me, I watched season one maybe three times, and my takeaway was that the show works best when it's about moments, not events. I'm a very character-driven writer; I don't necessarily like a lot of plot. I like moments, like slices of life. This for me, it's a neighborhood drama to me. So I wanted to lean into that, and really create relationships and conflicts and real-life moments, and make them feel real and make the people feel connected, but not in a way that feels "tiny town," you know what I mean?
I wanted people to feel like they were peeking in on people's lives. I like to say that we're documenting these people's lives, we're not filming it. If you have a really big cast like we do, it can be really difficult to juggle when you're doing a character show without a real engine. It's not like there's a case of the week; it's not a medical show or legal drama. You don't have that. It's just about these moments, and how do you string them together to create momentum and excitement, but also conflict, drama, and humor. It's actually hard to do. But that was my goal going in, and I'm happy with how it all turned out.
AVC: There was greater development of the male characters in season one, but watching the first half of season two, it's clear that you've expanded on the lives of these women, too. How did you approach those expansions? And was there a character you were particularly excited to write for? 
AFD: I think everybody heard the criticism that the female characters got lost in season one, that if you're going to talk about violence against black men in Chicago, you still have to give these black women voices. I think that was just kind of everybody's sense of it. I like to say in season one, the women were in black and white, and this season, I put them in color. I'm a black woman who used to live in Chicago, and all these women I can relate to in a very specific way. For Jerrika [played by Tiffany Boone], we learned in season one that her parents are real estate developers and she's following in their footsteps. So I wanted to answer what is her life like in that space, and what are her wants. What are her desires outside of Brandon [Jason Mitchell]?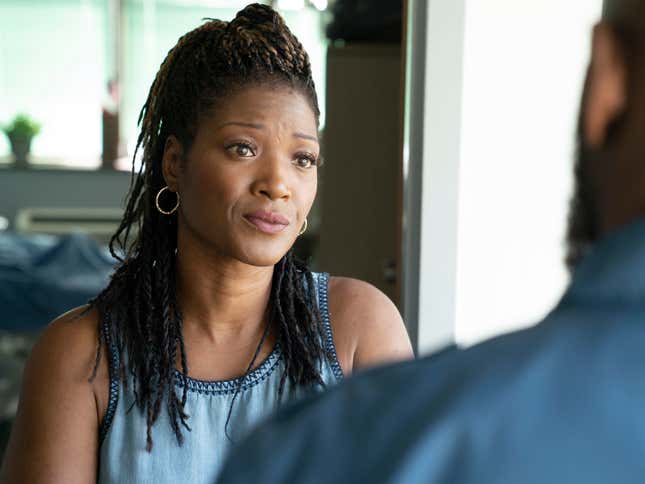 Emmett's mom, Jada [Yolonda Ross], is probably the character I'm attached to the most. My sister is divorced, and I went through a period of watching her rebuild her life after divorce. I've watched her rebuild her life after my nieces went off to college. So I really wanted to explore this idea of Jada finding an identity outside of motherhood and being a caregiver—I think a lot of women can relate to that, like, what do I do with myself if I don't have anything to care for or look after or love? Who am I outside of being a mother? I really wanted to explore that.
And of course, we have Kevin's moms, Nina (Tyla Abercrumbie) and Karen (Malkia Stampley). I wanted to give them a greater presence this year so we can actually see them parenting. [laughs] All of these things were very intentional and for me just kind of came naturally, because I'm all of those women in a lot of ways, so I can relate to all of them in very specific ways.
AVC: As you rebuild the show as more of what you've called a "neighborhood drama," what would you say are the major themes this season?
AFD: You know, I studied season one a lot and I came to the table of season two knowing exactly what I wanted to do. These are four chapters of black manhood; these are four stages of black manhood: you have young Kevin [Alex Hibbert], teenage Emmett [Jacob Lattimore], twentysomething Brandon, and then middle-aged adult Ronnie [Ntare Guma Mbaho Mwine]. I just felt that if you're talking about black men in Chicago, you have to talk about fatherhood, the presence of fathers or the lack thereof.
In our writers room, we started to talk about gentrification and incarceration, you know, and single motherhood and redemption and forgiveness. Kevin clearly has PTSD [after witnessing a shooting and being involved in a shooting in season one], and I really wanted to deal with his trauma. This idea of black boy fragility—when I see Kevin, it just brings up feelings I had about Tamir Rice. I thought to myself, this boy has actually seen somebody murdered and then shot somebody. Kevin's a vulnerable child, growing up in what can sometimes be very tough surroundings. We can't skate past that. These boys aren't made of Teflon. That's part of the humanization process, is seeing them as whole individuals and as vulnerable children.
I wanted to make all of that clear and address it in a way that's not on the nose, that doesn't feel like you're knocking people over with a message—I also wanted to tell fun stories, heartfelt stories, all while keeping the grit of the show. But it's important to make viewers feel like they really know these characters. In season one, they had a feeling that they didn't really understand who they were. I was trying to drive into who these people really are.
AVC: In the first five episodes of the new season, it does seem like you're moving away a bit from the crime drama element. The show is still looking at the cause and effect, but there's so much more of the slice-of-life stories we enjoyed so much in the first season.
AFD: That was my sensibility, and we'll see what the audience says, but for me, that was the best version of the show to present in season two. I'm less interested in the crime and punishment of things; I'm more invested in people and moments and relationships. So, that's what the show is this season, it's more of that. We still have some criminal elements in the strain of that, because you need that; it's realistic. I don't want to act like we don't need it or I don't enjoy it, but I just felt that that's not where I wanted season two to live. My strength is in character drama and moments, so I needed to lean into what my strengths are as well.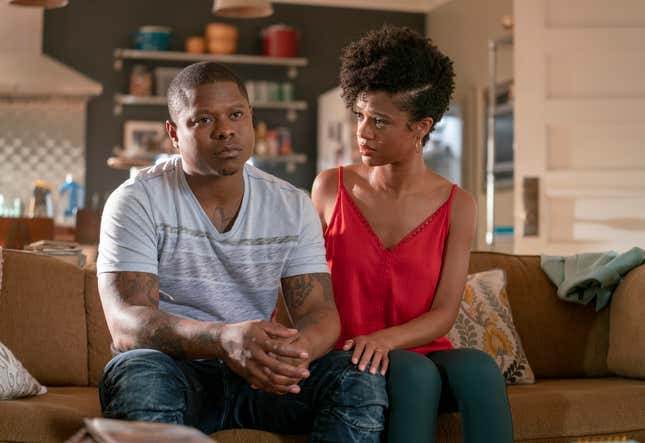 AVC: You mentioned there's a former Chicago police officer in your writers room.
AFD: Yes, J. David Shanks, who did a lot of writing this season. He's fantastic. He's a writer-producer this season.
AVC: The Chi seems to touch on the fraught relationship that black people often have with police. What effect if any did having a former police officer in your writers room have on that aspect of the show?
AFD: J.'s input was invaluable, because he lived that—he has been on that thin line, where he on one hand is a black man and on the other hand wears a blue uniform. He was invaluable and his opinion was invaluable, because there's this notion that all black people have fraught relationships with police and all black people are leery of calling the cops. And that's not true! If I came home and somebody broke into my house today, in Chicago or wherever, I'm calling the police. You know what I mean? But at the same time, there is a sense that, depending on what it is, depending on the circumstances, that the response can be different for us. I'm not saying that—I just think that it's more nuanced than how it's sometimes presented in television.
[In the premiere], Brandon gets robbed and Jerrika wants to call the police, because she's from Hyde Park, which is a very different neighborhood. But Brandon isn't as trusting—he doesn't think they'll care about finding his "raggedy-ass truck." But the police might not investigate your raggedy truck being stolen regardless of the neighborhood. I really wanted to capture their different arguments and perspectives—the way Brandon grew up is very different from how Jerrika grew up. There are black people who think that's the safest thing to do, call the police. And then there are black people who think, no, I don't trust them, I'll handle this myself. We wanted to make sure we were balanced and not making generalizations about black people.
That was something I really wanted to lean into through Jerrika and brandon's relationship, this idea that she is squarely and solidly black middle class and that he is squarely and solidly more working class. Among black people, that means something different—and when you're in a relationship, that could cause conflict. So we really lean into that conflict this season. She sees the world differently than he sees it. That was part of giving her more of a voice and point of view, and then also just going deeper into their relationship, you know? We bring all those -isms and points of views to our relationships.

AVC: Jerrika's storyline is also part of a larger story about gentrification—the process of it, the first signs of it. Eventually, there's a fight for the neighborhood: you have this influx of money, of people who want to make money in this neighborhood, and then you have the people who can't move, who have to stay put because they can't afford to leave. How did you approach that part of the narrative?
AFD: The whole idea of exploring gentrification came from J.; he pitched that idea the first day of the writers room, and it had to do with an upcoming home invasion. It started with him and then a conversation grew from there. Some people see gentrification as a positive, some see it as a negative, and the truth is somewhere in the middle, right? In figuring out a way to make it relevant to our characters, we wanted to make sure we were getting some mystery out of it as well—we use it to build on the drama and create greater stakes.
AVC: Your show has done inclusivity right, from the casting to the writers room and your directors. It's also centering the lives of people we don't usually get to see. When you go to these lengths to ensure that kind of inclusivity, both on and off screen, is it even harder to think that you might just be at the mercy of your ratings or a network?
AFD: For me, as a black woman, it was very important, it's always important for me to be inclusive. Fortunately, I don't really have to try hard at it—I'm naturally a curious person, you know? The best writers are curious. I don't want to be in a room with a bunch of people who agree with me and all act the same. This season, seven out of our 10 episodes were directed by women. One of my closest collaborators, my producing director, Jet Wilkinson, is a gay Asian woman, and she directed 3 eps. Many of my department heads—locations, wardrobe, hair, makeup—are women. All uber-talented. My director of photography, Abraham Martinez, is Mexican-American. He also brought in several women for key positions in the camera department, which was nice to see—the camera department is usually very male.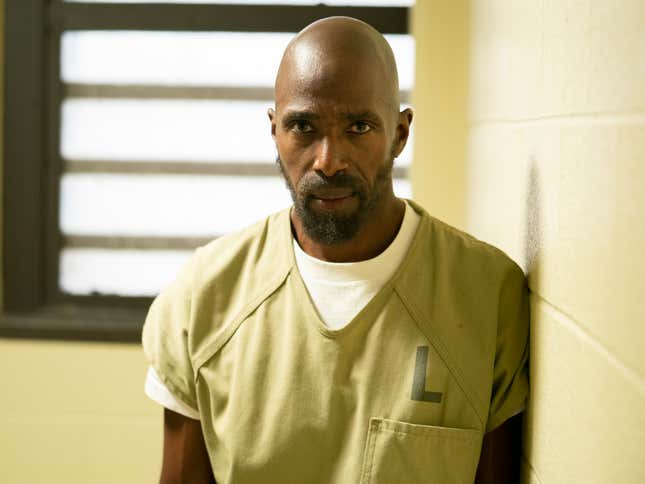 Bringing authenticity and specificity to our Chicago was important, having Chicago collaborators was important, having women was important. So is having men, having a cop, having women make up half of the writers room. All of these people are important. What you have behind the scenes ends up reflected on the screen, and if you can give talented people a chance to shine, that's always a good thing.
But I mean, I try to focus on the work and producing the best stories possible with the best people. You can't control any of the rest of it—the only thing you can control is the work and the product. All I was trying to do with season two was make a good show that felt real to me. I didn't want any fake moments or any artificial storylines. That's the only thing I can control is to make a good compelling show and I feel like the rest will follow, and if it doesn't, there's nothing I can do about it, you know?