Isaiah Rashad, The Sun's Tirade
What you hear first is the pastiche: the easy nods to A Tribe Called Quest, the snap of sleepy OutKast drums, and the references to Southern stalwarts like Curren$y and Silkk Da Shocka. But something sticks about this record above the familiarity. Isaiah Rashad released The Sun's Tirade after a multiyear morass in which he found himself more interested in drinking and popping pills than working on a follow-up to the 2014 sleeper Cilvia Demo. Tracks like "Stuck In The Mud" and "AA," as well as a series of interludes with TDE majordomo Dave Free, document the Tennessean rapper's long, soft foray into that escape. He raps here not sober, but clear-eyed. He's 25, but raps with the weight of mistakes in his voice.
Like The Life Of Pablo, The Sun's Tirade documents a period of artistic rebirth: Both albums crackle with that rare electricity of a musician absolutely alive with inspiration. Unlike that record, though, this is not a portrait of the messy uncertainty of creativity. It is, rather, startlingly self-possessed. Rashad is a genial, even gregarious MC, as comfortable crooning sweetly to his son as he is off-handedly disassembling clichés about rappers. On any given track or verse, he's liable to do both; the 17 tracks collected here are confident, slow-moving things, with a breezy, live-instrument musicality more in tune with D'Angelo than the skronky try-hard jazz of Kendrick Lamar's last couple.
The tracks sound lived-in and warm, like a favorite hoodie, from the trilling snare clap of "Free Lunch" through the bright, dusty "Find A Topic." Zay found his topic, all right, and it's not drugs or recovery but the minutiae of life, which stretch out before and after writer's block, and which he paints here with easygoing grace. It's around the time you realize this that you also remember, with a laugh, that this once sounded like pastiche. In unabashedly meeting the gaze of his influences, Rashad slingshot past his peers and produced something entirely unexpected, especially in 2016: a low-key Southern rap classic. Is there any better kind?
---
Purchase The Sun's Tirade here, which helps support The A.V. Club.
G/O Media may get a commission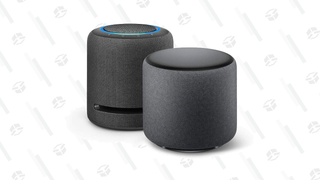 25% off - Prime Exclusive
Echo Studio + Echo Sub Bundle