Partway through his one-man show, Career Suicide, Chris Gethard puts an anecdote on pause in order to address his audience. He's been discussing the decision to treat his depression with prescription medication, and he steps toward the front row, which is arranged in a cozy horseshoe of vintage sofas and end tables. "I'm not trying to convince anybody about any of this," he says, his tone shifting and voice lowering. "I'm not a shill. This show is not secretly sponsored by Pfizer, I swear. I'm not even going to say that going on this type of drug is an easy thing to do. There's side effects." And then he smoothly transitions into an account of Depakote-based weight gain that left him with "the physique of a sad uncle that's like, 'Maybe I should've gotten married.'"
Gethard's stated aim is not to persuade. But, in this 90-minute monologue about depression, therapy, the pursuit of artistic fulfillment, and the healing power of Morrissey, there is the feeling that somewhere, somehow, someone is going to stumble upon Career Suicide, and it's going to make them feel less alone. It's going to be as powerful to them as the songs of The Smiths—which Gethard sings, a cappella and in a first-rate Moz impression, throughout Career Suicide—are to the man onstage. Those songs have a lot in common with Gethard's comedy: They articulate intense and often ineffable emotions, they're brazenly candid, and they're packed with great jokes. Because Morrissey is damn funny, and so's Chris Gethard.
HBO's broadcast of Career Suicide is a culmination of a fruitful stretch of Chris Gethard's creative life. During the last decade, his eponymous variety show blossomed from a stage production at New York's Upright Citizens Brigade Theatre into a public-access and online phenomenon, before airing two seasons on Fusion. (The show will move to TruTV later this year.) The Chris Gethard Show is a hurricane of larger-than-life personas and outrageous TV stunts, but at its eye is a host whose vulnerability and openness about his own struggles have made him a patron saint to outcasts, weirdos, and fuckups of all stripes. Career Suicide is suffused with that spirit, a display of Gethard's deft ability to balance confessional honesty with a keen nose for the absurd. After detailing a particularly horrifying sexual side effect of one pharmaceutical cocktail in Career Suicide, he anticipates and absorbs the audience's laugh, judo-like, and pushes it back at them: "Think about how I felt!"
Gethard's feelings are the guts of Career Suicide, which traces the highs and lows of the comedian's journey toward mental health. And those lows get low: Within the first 10 minutes of the monologue, Gethard tells the story of the night he decided to steer his car into the side of a pickup, "because we don't judge people when they die in car crashes, but we do judge people when they die of suicide." Blending memoir, theater, and stand-up, Career Suicide is particularly considerate about its subject matter. (Gethard's as considerate a performer as they come—watch him scan the audience before he makes the "sad uncle" analogy.) It doesn't glorify Gethard's brushes with self-destruction; one of its funniest passages is a deconstruction of the "Sylvia Plath, tortured-soul improv kid" persona he affected prior to getting medicated. It's not a triumph-over-adversity narrative either. It is, even with its dramatically shifting stage lights and precisely chosen prose, a matter-of-fact recollection of events and people who've shaped Gethard as a person and an artist. "Sometimes people just break," he says early on, after offering up a list of external factors that didn't contribute to his depression. "Welcome to a comedy show."
If it's possible for a one-man show to have a co-star, then it's Barb, the therapist who recurs throughout Career Suicide's stories, providing Gethard with legitimately helpful care while also demonstrating a total lack of boundaries. She knows she's part of Career Suicide; she offered to co-write it, which makes for a great late-in-the-show aside. But Gethard makes her presence felt nonetheless, his words forming a complete picture of a person he knows primarily in a professional context (despite her efforts to the contrary). Career Suicide is composed of gripping anecdotes, from the example Gethard uses to explain the outrageously tough, unsympathetic way people carry themselves in his hometown—"a dwarf broke my brother's shoulder. My childhood may as well have been directed by David Lynch"—to a blackout-dotted bender that finds the fierce Marvel comics partisan standing on a parked car in a Batman mask. Yet the Barb stories—told by Gethard with good-natured amusement and hey-you're-the-one-who's-supposed-to-have-their-shit-together exasperation—threaten to steal the whole show.
G/O Media may get a commission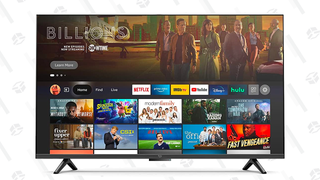 22% off
Amazon Fire TV - 50" Omni Series 4K - Early Access Deal
The fact that someone in Barb's position would allow herself to become a crucial component of a show like this speaks to Gethard's unique strength as an entertainer. When someone is this frank about themselves, it inspires the same in other people. That power doesn't appear to be lost on Gethard. As Career Suicide draws to a close, he brings up the emails and Facebook messages he's received from people who've connected with his writing about depression. His eyes redden, and he appears visibly choked up. In one of Career Suicide's Smiths interludes, Gethard croons a signature Morrissey line, from "I Know It's Over": "If you're so funny / Why are you on your own tonight / Because tonight is just like any other night / That's why you're on your own tonight." But he's carrying a different lyric from the song with him for the entire show, one that's tattooed on his inner right arm: "It takes strength to be gentle and kind." And that's just what Career Suicide is: Gentle, kind, and funny, too.
[Note: Fusion, like The A.V. Club, is owned by Univision Communications, Inc.]