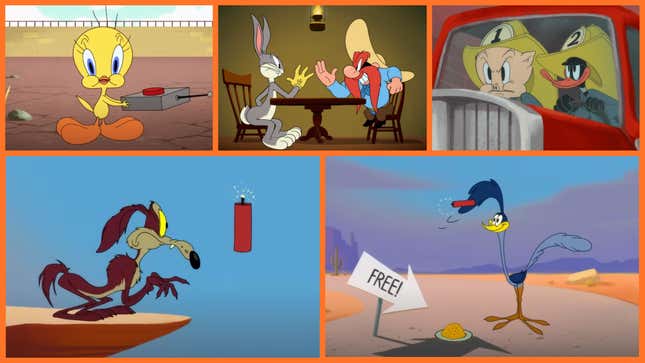 In a special series, The A.V. Club looks at the legacy of Warner Bros. 100 years after the studio was founded.

Imagine a world without the antics of Bugs Bunny, Petunia Pig, Sylvester and Tweety, or Michigan J. Frog. What if we never heard such catchphrases as "Ssssshhhh. Be vewwy, vewwy quiet, I'm hunting wabbits," "Thufferin thucocotash," "What a maroon," "Now, pay attention, son," and "What's up, doc?" Our lives would be so much less … animated. Fortunately, everything above—and so much more—exists, courtesy of Warner Bros., the venerable Hollywood studio that was officially incorporated on April 4, 1923. While Warner Bros. has cranked out a seemingly endless array of memorable movies and television shows over the past century, it's easy to overlook the importance of the studio's cartoon output, specifically Looney Tunes.
Today, the extended Looney Tunes universe includes video games, shows, features, and specials, as well as merch from books to clothes and everything in between. But it all began in 1930 with Sinkin' in the Bathtub, a very funny 8-minute, black-and-white, music-driven short from Looney Tunes and Merrie Melodies creators Leon Schlesinger, Hugh Harmon, and Rudolf Ising. It centers on a character named Bosko, who resembles a kid version of Al Jolson. Warner Bros., Schlesinger, Harmon, Ising, and everyone who subsequently contributed to Looney Tunes/Merrie Melodies—including Isadore "Friz" Freleng, Chuck Jones, and Edward Selzer, among others—had one goal in mind: compete with Walt Disney, the man and his company. And compete they did, creating countless hours of cartoon fun and dozens of memorable characters.
Below, we rank our top 40 Looney Tunes characters.