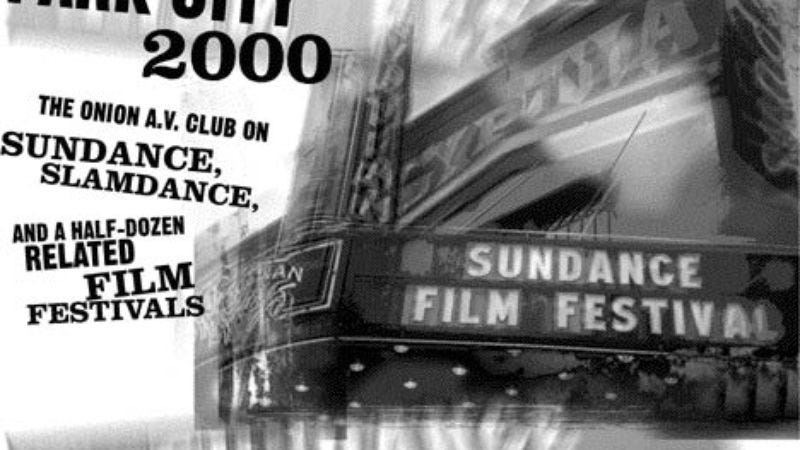 Located more than 8,000 feet above sea level and featuring what seems to be at least as many films, the air in Park City, Utah, is rarefied in more than one sense during film-festival season. It's the sort of place where Dark Days, a documentary about homeless subway-tunnel residents in New York, can not only draw sell-out crowds to its premiere, but create enough positive word-of-mouth to render it virtually impossible to score tickets for subsequent screenings. It's the sort of place where director Stacy Cochran's Drop Back Ten can play to a packed house on the strength of her debut, My New Gun, a title obscure in every other corner of the world. It's the sort of place where Alan Rudolph's unfortunate Trixie can draw polite applause and laughter impossible to imagine elsewhere.
The air is different here. It's film-thick and sense-thin. Sundance alone—the oldest and most famous but by no means only Park City film attraction—screens more than 100 films and short-film programs during its 10-day run. Assuming a festivalgoer begins each day with a 9 a.m. screening and ends it with a midnight show, he or she can see slightly more than half of them.
Attempting to do so, however, would not only test the patience and stamina of even the most committed cinephile, but would also require a scheduling miracle of Old Testament proportions. Screenings take place throughout Park City, at venues from The Eccles—which has the look and feel of a prosperous high school's outsized auditorium because that's just what it is—to the undersized Holiday Village triplex. Few are within walking distance of one another, making the use of the usually reliable shuttle system a must.
You also need tickets, which can be virtually impossible to obtain. Sundance bends the law of supply and demand: The lack of supply creates its own demand. Virtually every film, be it the high-profile American Psycho or the decidedly low-profile Oi! WARNING, plays to sell-out or near sell-out crowds. The line for Crime And Punishment In Suburbia, a high-school take on Dostoyevsky, stretches outside into the cold here and nowhere else.
The lucky few with VIP and press passes have few worries. It also helps to know a Utah resident (thank you, Jennifer), an industry insider (thank you, Adam) or someone connected to the festival (thank you, Jennifer's mom). Otherwise, it's time to hustle from those with extra tickets or wait in line for the handful of passes made available before each screening.
Most will rely on the latter system, a crapshoot that, if it fails to pay off, means it's time to hit another screening—or, more likely, wait until the next wave of films hits. That cuts the golden number of six movies a day down to five, providing a reminder of the films that could have been seen if only they'd been chosen instead. That, in turn, creates the fear that it's already too late to get into the next one, stirs suspicion that there might be something better playing at one of the satellite festivals, and causes the head to spin while breathing air that is, for most, considerably different.
Of course, all this only matters if you're here primarily to watch films. Some aren't. At times, Park City seems less like a festival than a business convention divided into two classes: sellers and buyers.
Posters, handbills, fliers, and postcards—ranging in quality from the slickly prepared to the unmistakable products of a late night at Kinko's—cover every conceivable space. The filmmakers are here, and in a strange reversal of the natural order, the scrappiest movies almost always accompany the most aggressive advertising. Though no one told Sofia Coppola—here with her directorial debut, The Virgin Suicides—self-promotion is generally reserved for the little guys, often the extremely little guys. Those entering the week unaware of J.D. Shapiro's Slamdance entry We Married Margo were certainly aware of it after seeing the We Married Margo posters, We Married Margo pins, and even a handbill-plastered We Married Margo minivan. (That Shapiro co-wrote Battlefield Earth, a fact carefully concealed in all Margo promotional material, probably didn't hurt its marketing budget.)
Why the push? To attract viewers? Sure, but a certain variety of viewers: the filmmakers' counterparts and nemeses, the industry gatekeepers to whom they will never have better access than right here, for 10 days only.
That's why festivals like Sundance exists. Or so it's easy to believe strolling down Main Street of Park City amidst a plague of cellular phones attached to characters who seem to have stepped out of the most heavy-handed Hollywood satire ever to premiere on video. With their thin leather coats and thick Kangol hats, their ability to be shocked when a place called Texas Red's Pit Barbecue & Chili Parlor doesn't serve steamed vegetables, and their habit of wearing shoes much too tall to accommodate easy passage through snow-covered thoroughfares, the industry types make their presence felt just as strongly, and without the benefit of fliers.
By now, 11 years after sex, lies and videotape raised the bar for independent films' commercial potential, both parties know the rules of the game. Filmmakers need to get noticed, while studio reps need to notice the right filmmakers. This year's de rigeur accessory—colored sunglasses tinted lightly enough to be worn indoors or out—used to be the sort of affectation seen only on struggling artists with attitude. Now everyone seems to be wearing them.
Talk to any Park City veteran, and he or she will tell you that things have changed. Reel.com, an online video store with apparent aspirations to legitimate film coverage, distributed a free publication with a cover story titled "Ghosts Of Sundances Past," a phrase that, however unwittingly, captures something about Sundance 2000. (Or, as the festival curiously billed itself this year, "2000 Sundance.")
The short take on 2000's festival going in, and coming out, was that it didn't quite measure up, that it contained a lot of solid fare but little of the extraordinary. Those looking for something as groundbreaking as Stranger Than Paradise, sex, lies and videotape, Poison, Reservoir Dogs, or The Blair Witch Project would have to wait. The spiritual kin of The Brothers McMullen had their day instead. The experience of most seemed to bear this out: One festivalgoer affectionately spoke of Girlfight, the closest thing to a breakout film here, as "a real audience-pleaser."
Another factor haunts Park City: the hard-won knowledge that what works here might not go down well, critically or commercially, in the rest of the world—that here, pyrite can easily pass for gold. Remember The Spitfire Grill, The House Of Yes, or Happy, Texas? Everyone loved them here; elsewhere, they played to disappointing reviews and half-empty houses, when they played at all.
That's how a vicious cycle begins. Studios don't want to again invest massive amounts of money in financially unsafe films. Filmmakers don't want to make films with no chance of being picked up. Content tailored to commerce becomes increasingly common. It's not really the fault of Sundance—which, in theory at least, shows the best of what has been submitted, and this year showed an admirable commitment to mostly avoiding the blatantly commercial—but it might end up changing the face of Sundance, if it hasn't already. This year, You Can Count On Me, the directing debut of Analyze This screenwriter Kenneth Lonergan, shared top dramatic honors. A thoughtful, funny, well-acted film starring Laura Linney, Mark Ruffalo, and Matthew Broderick, it's both impossible to dislike and the furthest possible thing from revolutionary.
Those looking for alternatives didn't need to look far. Slamdance, located in the heart of downtown Park City (in other words, on Main Street), derives much of its identity from offering more offbeat fare, from being the un-Sundance. As a smaller festival with fewer slots for films, it's also somewhat paradoxically tougher to get into, both for audiences and filmmakers, but from all evidence generally worth it for both.
Entry, in either sense, isn't a problem for the three-year-old No Dance festival, which takes all comers. Finding it is. The most overheard question of the festival: "Does anyone know where No Dance is?" It's in Main Street's mall, in an abandoned shop just a short walk from an overpriced Mexican restaurant. But it doesn't open until three.
You want more? How about Slamdunk, Independance, Lapdance, Tromadance (a one-day showcase of Troma films that did not, as promised, change film festivals forever), Digidance, and Dog Dance (which turned out to be a short film cleverly disguised as a festival).
Most of these turned out to be little more than a single room rented out for the occasion, but each had the benefit of seeming cutting-edge, this year at least, by virtue of featuring films shot and projected digitally. Attached to a slight sense of panic is the notion that celluloid is in its last days, under attack from digital filmmaking. George Lucas' Star Wars: Episode I and the possible conversion of theaters to digital projection is one concern; another is the relative cheapness of digital video (DV), which could one day allow just about anyone to make films. Sundance waited until this year to accept films shot on DV, which furthered the festival's reputation as the wolf at the door. This year, two DV movies competed in the dramatic category, Everything Put Together and Chuck And Buck. Both were treated no differently than any other film, and both were transferred to 35mm.
Digital may not have taken over the festivals—and, by extension, independent filmmaking—quite yet, but the notion that it will has created a new class of cinemerchants selling the technology of the future today, or at least doing an effective job of distributing business cards and other promotional material throughout Park City. But what they're not selling, and cannot sell, is ideas. A few years back, another mild panic set in regarding the influence of Quentin Tarantino. What a shame, the feeling went, that so many first-time directors felt the need to make slick, professional, empty Tarantino knockoffs. How strange, then, that digicentric Slamdunk would feature alongside The Small World (a parody of The Real World featuring little people) and Evil Hill (a parody of Star Wars, Notting Hill, and Austin Powers) the film Random Acts Of Violence, a slick, professional, crisply edited Tarantino knockoff no doubt made at a fraction of the cost needed a few years ago.