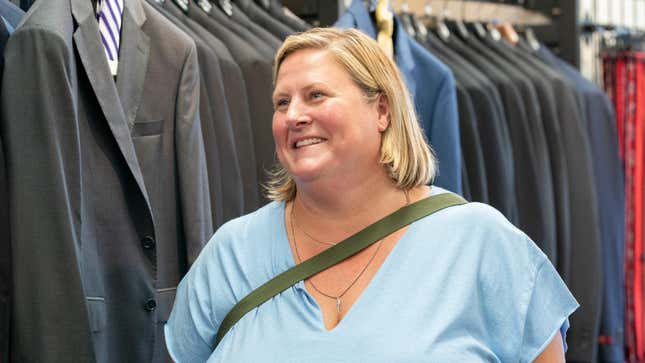 Will there be a more heartbreaking image in this season of Somebody Somewhere than Sam (Bridget Everett) picking at her eggs Benny alone at her kitchen table? I'd wager no, but then I worry I'll have to admit defeat in a few weeks when this devastatingly real show finds another way to break my heart in the most mundane way possible. I could spend the entire recap talking about that image, a Hopper-esque portrait of solace and solitude that turns Sam's kitchen into an isolating space where you can tell she's rarely felt this uncomfortable in her own home.

Merle Dandridge on "The Last Of Us," "Station 19," and more
The image (and Everett's performance; what she does with silent gestures this episode is nothing short of extraordinary) resonates precisely because we've all either been there or have seen that: when someone we love refuses even to engage. They close themselves so successfully that more than anger, you feel a kind of tightness in your chest for the pain they're inflicting on themselves. Sam, twice betrayed (by her BFF Joel and her sister Tricia), has resolved to shut down. It's both a defensive and aggressive move, for nothing has wounded Joel more than being told to take his windbreaker and leave.
So how did we get here? Well, we could say the entire season so far has been leading up to this when Sam's shorthand of "NMB NMP" (not my business, not my problem, which gives the episode its title) becomes a foreshadowed warning. Maybe we should all have seen it coming when the episode began with a rousing rendition of Laura Branigan's iconic "Gloria"; why else would Somebody Somewhere kick us off with such giddiness if not to then put us through the wringer?
Knee-deep in wedding prep, Joel and Sam get to toast Fred as they all get measured for what I can only hope are fabulous suits they'll wear to the wedding. And it's there that Sam utters her NMB NMP mantra when Joel evades details about why he can't join her later to help with a baking endeavor Sam knows she'll ruin by herself. We know, of course, that this is Joel keeping Brad and that budding relationship to himself. It's out of an abundance of caution, but also clearly because he's unsure how Sam will take him or it.

And so, Sam is left to her own devices to make Tricia a "funeral cake" (like their mom used to make) to celebrate her sister's 47th birthday. As an amateur baker myself, nothing gives me more anxiety than watching non-bakers attempting anything that requires even the slightest of baking prowess (yes, I did get "how do you fold the cheese?" vibes; did you?). I agree with Sam that sometimes it's hard to get butter to be "room temperature" (who has the time to remember to let it out to thaw hours in advance?) I almost had to hit pause and let out a shrieking yelp when she added (I mean SPRAYED!) "vegetable oil" to her bowl. During that baking fiasco, she calls Joel and gets to see him outright fibbing about getting a book about birds from the library (likely story, Joel!), but she won't know just how much she's been lied to until much later. Once she's already so raw that it will feel like the last straw.
Because once Sam arrives at Tricia's with a "shitty-looking cake" (their words, not mine!) and the two sisters seem to finally be in sync, a bombshell of a revelation unravels whatever progress they two may have made since Tricia unceremoniously left her cheating husband behind. Alas, whatever fun the two may have been having as Sam seduced Tricia's fancy new fridge as they picked at Sam's monstrosity of a cake came crashing down when word came out that Holly, their late sister, had kept her cancer diagnosis for close to a year before telling Sam. What I loved about that disclosure was how casually it happened, almost by happenstance. It made its impact all the more severe, with Sam losing, at that moment, the sister she thought she was bonding with at the same time that she was losing Holly (and her memory) again.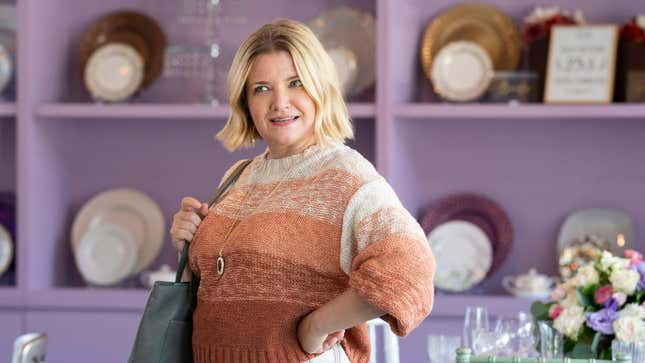 True to the bruising fights siblings have, neither sister minced words when lashing out against the other, with Tricia perhaps best capturing Sam's sensibility and thus cutting her more deeply than she anticipated: "I'm so sick of giving a shit about you!" she tells Sam after accurately reading the way Sam is constantly finding reasons to push people away and never letting small things remain small. It's a line that accurately describes what happens next when, while waiting for Joel the next day for breakfast, she learns he'd had a date with Mr. Schrader the day before.

Would Sam have reacted differently, more kindly, perhaps, had she not had that blow up with Tricia? It's unclear. But the grief and loss she'd been staving off for months and which had now been picked over was perhaps too much for her to take when learning her best friend had (like Tricia) been lying to her. It's a blow that's hard to ignore, but you wish Sam would be kinder. To Joel and Tricia, obviously. But also to herself. Her heart is big, her love perhaps all too overwhelming. Yet you keep wanting her to make that love land softer, with less of an edge. It's what Joel's been inadvertently trying to teach her and which I worry will now nudge Sam further into herself, convinced that these two instances are self-fulfilling prophecies of what it means to live and love in the world. Namely, all the wrong lessons this sensitive artist of a soul should be learning. Sigh.
This is what brilliant television can do, beautifully show us at our ugliest and (hopefully) get us to recognize nevertheless the way forward, if not for our characters, then at least for ourselves.
Stray Observations
This episode was directed by Lennon Parham, whom Veep fans should recognize as Karen Collins, Selina's wishy-washy friend who never could give the Veep-turned-POTUS a solid answer to even the most inane questions. Proof, as it were, that the gifts of comedy are plenty to wring out hard-earned truths in drama.
Charity Cases would be a perfect name for Tricia's business.
Given that Sam already violated her "No Barbra, no Judy, no Branigan," I am now wishing she'd take on songs by those other two iconic divas in the episodes to come.
The entire Brad/Joel date was delightful, but the one small moment that stood out to me was the way Brad reached to hold Joel's hand when the two finally kissed.
You gotta hand it to Tricia, "Show Some Emotion" is a great song to drunkenly tag your former BFF on an Instagram pic of a "Lying Cunt" pillow.
"I guess rumors aren't the only thing she's been spreading" is a solid burn, and we agree with Tricia that it was wasted on someone who didn't immediately cackle at it.
I can't be the only one who's now itching to make (properly!) a funeral cake, right?