Every day, Watch This offers staff recommendations inspired by the week's new releases or premieres. This week: The Witch has us staring deeply into our bubbling cauldron, in search of other superb movies about witchcraft.
Häxan: Witchcraft Through The Ages (1922)
Like a Hieronymus Bosch painting come to malevolent life, Häxan: Witchcraft Through The Ages remains a silent-era stunner of profane imagery and feverish socio-historical commentary. Danish director Benjamin Christensen's 1922 film (co-financed by a Swedish production company) combines animation, non-fiction, and fictional elements to investigate the history of witchcraft, and the persecution of women over the course of centuries. That topic is given gloriously demented visual life by Christensen, who drenches his black-and-white vignettes in dark shadows, brimstone fire and smoke, and all manner of unholy sights, from grave robbing and cannibalism to the Devil's worshippers pledging allegiance to their horned master by kissing his naked ass.
Featuring Christensen as Satan himself, and released in a number of different iterations—including the 87-minute original cut, and a shorter 76-minute version from 1968 that's embellished by dry Williams S. Burroughs narration—Häxan recounts a series of Middle Ages narratives in which illness and deranged behavior are blamed on women's kinship with Beelzebub. A young beauty is seduced by the Devil, an elderly crone is tortured for supposedly cursing a man (which compels her to name her enemies as fellow members of her witchy coven), and a pious nun stages a revolt under the spell of the Fallen Angel—all stories that Christensen dramatizes with a mixture of expressionistic grandeur and bleak humor.
The latter is most pointedly felt in the final sequence, during which the director argues that what was previously diagnosed as witchcraft would now be viewed as hysteria—and whereas women would have been punished with death, they're now merely oppressed through institutionalization. Thus both superstition and historically ingrained misogyny are the twin targets of this transfixing tale, which levels its censure via moments of over-the-top, grotesque terror and at least one jump scare—involving the Devil's maiden appearance—that puts to shame the millions that followed in its wake.
G/O Media may get a commission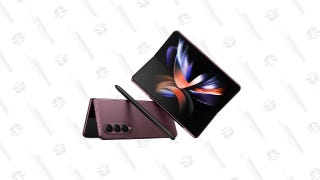 Save Up to $300
Galaxy Z Fold4
Availability: Häxan: Witchcraft Through the Ages is available on DVD from Netflix or possibly your local video store/library. It can also be rented or purchased from the major digital services.