As reported by The Wall Street Journal, Disney and its Maker Studios brand have completely cut ties with YouTube personality PewDiePie after he made a series of anti-Semitic jokes in his videos—though "jokes" seems pretty generous, as they were more like references to anti-Semitism itself being funny. A lot of the offending videos have been deleted from YouTube, but The Wall Street Journal has compiled a handy clip that shows the anti-Semitic bits and cuts in with information about how "jokes" about being a Nazi have a tendency to attract actual Nazis. In fact, white supremacist news website The Daily Stormer has even apparently declared itself "the world's #1 PewDiePie fan site."
PewDiePie is the nom de internet of Felix Kjellberg, a guy who also recently got in trouble when he made a joke about joining ISIS and threw a little fit over how Twitter's verified checkmark isn't special enough anymore. Before anyone denounces this as the "PC culture" running amok, though, it should be noted that Kjellberg makes millions of dollars every year making YouTube videos, so it does seem kind of important if they occasionally feature pro-ISIS or anti-Semitic imagery.
As explained in this Hollywood Reporter story, Disney's Maker Studios helped Kjellberg expand his empire by producing a YouTube Red series called Scare PewDiePie and by launching a "gaming-centric digital network" called Revelmode. It's unclear what will specifically happen with any ongoing projects between Kjellberg and Maker, but the company did release a statement saying that the videos were "inappropriate" and that it has ended its "affiliation with him going forward."
UPDATE: YouTube is also beginning to sever its ties with PewDiePie, according to a report in Variety. Specifically, the video service has canceled the second season of reality series Scare PewDiePie and has removed Kjellberg's channel from its Google Preferred premium advertising program. The PewDiePie channel itself, which currently has more than 53 million subscribers, still stands, according to YouTube's policy of protecting free speech "even if offensive or in poor taste." However, "if the uploader's intent is to incite violence or hatred, it will be removed," per YouTube's guidelines.
G/O Media may get a commission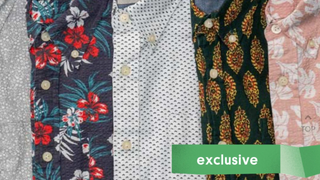 Grab three styles!
JACHS NY Summer Pack
Kjellberg has since taken down several videos in which he talks about the controversy, but the original January 11 video that includes the offending joke still stands. For what it's worth, Kjellberg uploaded a Genital Jousting-themed "Valentine's Special" video earlier today that doesn't mention the controversy, but repeatedly mentions butt sex.