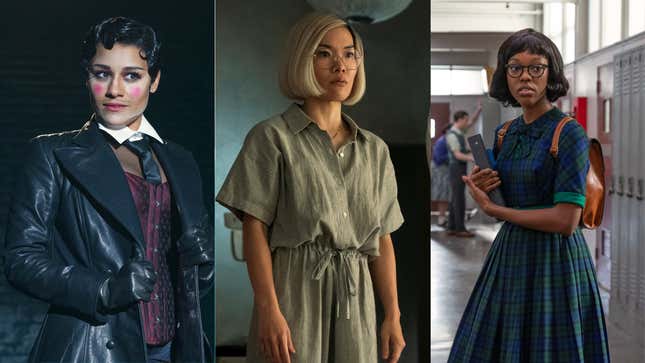 Welcome to What's On, our weekly picks of must-watch shows. Here's what you need to watch from Sunday, April 2, to Thursday, April 6. All times are Eastern. [Note: The weekend edition of What's On drops on Fridays.]

Young Mazino talks "Beef," needle drops, and karaoke
---
The biggies
Schmigadoon! (Apple TV+, Wednesday, 12:01 a.m.)
Brush up on '60s and '70s musicals because Schmigadoon! is going to Chicago—sorry, Schmicago—in its second season. Cinco Paul and Ken Daurio's series is back with stars Keegan-Michael Key and Cecily Strong (playing couple Josh and Melissa) and a returning ensemble that boasts Jane Krakowski, Ariana DeBose, Alan Cumming, Jaime Camil, Dove Cameron, Fred Armisen, Ann Harada, and Kristen Chenoweth. Bonus: Titus Burgess is joining the fun this time around. Here's a bit from The A.V. Club's review:
After picking up an Emmy for season one's "Corn Puddin'," Paul once again skillfully captures the essence of the genre and time period here. There are plenty of catchy tunes to choose from, but a tribute to Company's "You Could Drive A Person Crazy" is our vote for the standout.

---
Beef (Netflix, Thursday, 3:01 a.m.)
Get ready to see Ali Wong and Steven Yeun like you've never seen 'em before. In the Netflix dark comedy series Beef, the stars play Amy and Danny, who encounter each other during a road rage incident. They're wholly consumed by their feud and determined to ruin each other's life, even if it means going down a very dangerous path. Maria Bello, David Choe, Justin H. Min, Ashley Park, and Young Mazino co-star. The A.V. Club's review goes up Monday.
---
Grease: Rise Of The Pink Ladies (Paramount+, Thursday, 3:01 a.m.)
Created by Annabel Oakes, Grease: Rise Of The Pink Ladies is a prequel to, yes, the beloved 1978 musical Grease. Set four years before the events of the movie, the Paramount+ series follows four fed-up teens who band together to change Rydell High forever as the founding mothers of a colorful clique. The A.V. Club's review arrives on Wednesday.
---
Hidden gems
Pretty Baby: Brooke Shields (Hulu, Monday, 12:01 a.m.)
Miss Americana's Lana Wilson directs this docuseries on Brooke Shields' career. Pretty Baby spans her public coming-of-age, her complex relationship with her mother, her personal life, and how she battled misogyny over the years to find her place in the industry.
---
The Crossover (Disney+, Wednesday, 3:01 a.m.)
Based on Kwame Alexander's novel of the same name, The Crossover delves into the lives of teen twin brothers Josh (Jalyn Hall) and JB (Amir O'Neil), basketball prodigies who grow up on and off the court as they try to figure out their paths in life. Daveed Diggs narrates the series as an older Josh.
---
Dave (FXX, Wednesday, 10 p.m.)
Dave Burd, aka Lil Dicky, is back with another round of Dave. In the show, he plays a fictional version of himself—that is, a neurotic man who convinces himself he's destined to be the next great rapper. (Going viral really affects the ego, huh?) This third season features cameos from Travis Barker, Megan Fox, Machine Gun Kelly, Don Cheadle, Usher, Rick Ross, and Demi Lovato.
---
More good stuff
Mo'Nique: My Name Is Mo'Nique (Netflix, Tuesday, 3:01 a.m.)

The award-winning actor and comedian takes the stage for her stand-up special, My Name Is Mo'Nique, where she talks about her career, why she wants to connect with fans on a deeper level, and how she swings from comedy to other genres.

---
Lewis Capaldi: How I'm Feeling Now (Netflix, Wednesday, 3:01 a.m.)
How I'm Feeling Now is a feature-length documentary by director Joe Pearlman that gives an inside look at multi-platinum artist Lewis Capaldi as he returns to his roots following the global success of headlining tours and chart-topping singles.
---
Can't miss recaps
Saturday Night Live (NBC, Saturday, 11:30 p.m.)
Succession (HBO, Sunday, 9 p.m.)
Perry Mason (HBO, Monday, 9 p.m.)
The Real Housewives Of New Jersey (Bravo, Tuesday, 8 p.m.)
Ted Lasso (Apple TV+, Wednesday, 3:01 a.m.)
The Mandalorian (Disney+, Wednesday, 3:01 a.m.)
Top Chef (Bravo, Thursday, 9 p.m.)
Yellowjackets (Showtime, Friday, 3:01 a.m.)
RuPaul's Drag Race (VH1, Friday, 8 p.m.)
---
Arriving now
Slasher (Shudder, Thursday, 3:01 a.m., season five premiere)
---
Ending soon
Quantum Leap (NBC, Monday, 10 p.m., season one finale)
Wu-Tang: An American Saga (Hulu, Wednesday, 12:01 a.m., series finale)