Welcome back to our Game In Progress review of Wolfenstein II: The New Colossus. William Hughes is playing through this over-the-top, overtly political follow-up to 2014's Wolfenstein: The New Order, working his way through a Nazi-dominated America full of crazy superscience, foul-mouthed revolutionaries, and a surprisingly hefty number of decapitated heads. This week, William is playing from "Mesquite, Texas," up through the end of the New Orleans mission.

---
As we close in on its big finale, Wolfenstein II: The New Colossus is proving itself to be a transcendentally, brilliantly stupid work of art. I use the word "stupid" as a compliment, with the utmost affection for MachineGames and the ludicrous twists and turns it has coded into this masterpiece of the ridiculous. No game in recent memory has had me laughing as hard as the whiplash-inducing sequence that kicks off our coverage this week, a run that starts with our hero B.J. Blazkowicz watching his childhood home get literally torn apart by Nazi robot arms and ends with a twist so jaw-droppingly, idiotically audacious that I almost woke my girlfriend up in the middle of the night so I could have another human being to commiserate about it with. Inspired by an original game that never shied away from things like four-armed, hatchet-wielding super-Nazis with chain guns embedded in their chests, the The New Colossus' writers seem to have felt fully empowered to take its plot anywhere their minds could take them, as long as it was somewhere—sudden character deaths, Nazi "court trials," a Lincoln Memorial with a carved Hitler sitting in the big man's chair—that was guaranteed to rile its audience.

And yet, those deliberate provocations are only half of the potent cocktail that makes The New Colossus' middle chapters such an unforgettable kick to the head. The New Order mined strange pathos by juxtaposing its super-science silliness against the human story of Nazi-hunter Blazkowicz, a man struggling to keep himself going in a world of unimaginable cruelty. Its primary vector for exposing players to "Terror-Billy's" surprisingly rich inner life came in the form of a series of monologues and asides from actor Brian Bloom, delivering award-worthy work in his transformation of Wolfenstein 3D's generic, Doom guy-esque grinning portrait into an actual human being. Bloom is, if anything, even better in the sequel, with his Blazkowicz haunted by the ticking clock hanging over his head and addressing many of his internal monologues to the spirit of Caroline Becker, the dead woman whose high-tech armor is the only thing keeping his guts inside his body after the mortal wounds he suffered at the end of the previous game. Bloom takes center stage in our opening chapter this week, "Mesquite, Texas," a low-key walk down Unpleasant Memory Lane that sees Blazkowicz confront the ghosts of his past. It's also a deliberate bit of narrative bait, a clear set-up to lull the player into a feeling of complacency before The New Colossus' ever-shifting tone grabs them by the neck and starts to violently shake.
G/O Media may get a commission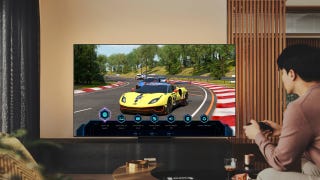 Up to $700 off
TVs, Cell Phones, Smart Home, and More
By my count, the hour of play after B.J.'s ill-fated trip back home contains at least four clear, deliberate, and escalating attempts to build and then dash the player's wounded hopes, as Blazkowicz falls into the hands of the dreaded Frau Engel and various plans to save him fail. Each subsequent punch hits a little bit harder, too, at least in part because the player realizes, too late, that they've been fooled into seeing the false light at the end of the tunnel yet again. It culminates in the aforementioned ludicrous deus ex machina that had me all fired up a few nights ago, the gleeful stupidity of which hit all the harder because my brain had spent the last hour frying itself in a soup of rapidly souring hopes. It would be easy to declare this series of shaggy dog stories nothing but artless overkill or writerly nihilism—or maybe just pure, good old-fashioned trolling—except that argument undercuts just how much expertise there is in the way Wolfenstein's pacing manipulates the player's emotional state through every harrowing, hopeful beat. The entire sequence is a masterpiece of quiet tension, helplessness, and occasional bursts of intoxicating, false freedom, all building to moment when Frau Engel—standing on the steps of the Hitler Monument, vamping before a crowd of happily chanting American Nazis—brings down her sword and chops off Blazkowicz's fucking head, to the triumphant cheers of the baying crowd.
Politically, it's hard not to connect the staging of B.J.'s execution to a real-world event that took place on a very similar set of D.C. steps just a few months ago, a showy bit of political theater that also felt like a definitive statement that the bad guys had somehow managed to win. In that light, Blazkowicz's eventual resurrection is a statement of hope, one that was probably necessary for this story of a "second American revolution" to truly move into its "fighting back" phase.
In a way, though, that moment of ultimate despair also marks the end of a story MachineGames has been telling for one-and-a-half games now, a quiet, reflective tale of human frailty set against a backdrop of Nazi robot dogs and planet-destroying superweapons. What follows is, ironically, a much more cheerful story of rebellion and revolution, one that is, in some ways, weaker for how it abandons the core of sadness that lurked at the heart of the game's earlier efforts. By absolving B.J. of his family traumas, his questions about his Jewish mother's fate, and, yes, the lower five-sixths of his terminally wounded body, The New Colossus loses something that made it unique among gung-ho Nazi-slaying action shooters: a sharp melancholy. For a series that derived such odd benefits from slamming exhausted humanity against bizarre, over-the-top comedy, the loss of the former elements feels like a real blow to its emotional arsenal.
It doesn't help that the following missions—a brief jaunt back to irradiated New York, and a descent into the walled ghettos of New Orleans—represent the dawning of a repetitiveness that begins to overtake the next few hours. With our roster of weapons filled, the game attempts to inject novelty by outfitting B.J. with a set of battle-altering contraptions, like robot stilts or a sneaking suit that allows him to wriggle through narrow passageways. These additions are cool in theory, but in practice, they mostly serve as a series of keys to navigate various locks deliberately placed in the environment. I went with the stilts, and while it was neat to occasionally get the drop on enemies by attacking from a vantage point accessibly only via my go-go-Gadget legs, their presence rarely added much to my moment-to-moment tactics. I'm willing to give the contraption system the benefit of the doubt as I move into the end game—and the ability to have multiple devices activated at once—but for now, what should have been a fun late-game change-up left me feeling cold.
Also cool, but ultimately pointless: A series of optional missions to hunt down various Nazi leaders, which quickly reveals itself as little more than a level select allowing players to revisit earlier arenas to search for concept art and other yawn-inducing collectibles. And then there's possibly the worst moment of this entire section, which comes at the climax of the New Orleans missions. There's just no reason that stomping through Nazi-infested streets on the back of a flamethrower-equipped robo-dog should feel like such a tedious bore, especially not when this team has done such euphoric work with giant robots in the past.
But these demerits are failures brought on by contrast more than any kind of fundamental flaw with The New Colossus. This chunk of the game begins with such dizzying whackjob highs that there's little the developers could do to match them once they returned to more conventional running-and-gunning action, super-suit upgrades or no. Wolfenstein II is at its best when it's either crazy, sad, or both, and while that sadness is now largely gone from the narrative mix, the game still needs to keep the madness at a suitably high pitch if it's going to hold players' interest through a middle stretch full of the same ruined buildings and Nazi troopers that they've now been killing their way through for hours. Although, knowing a bit about what comes next, I can safely say we need not worry just yet about the game losing its edge.
---
Purchasing Wolfenstein II: The New Colossus via Amazon helps support The A.V. Club.