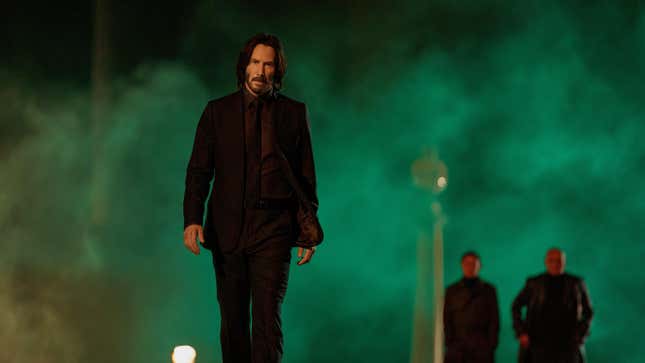 [Note: This article contains spoilers for John Wick: Chapter 4.]
In news that may come as something of a surprise to people who've seen John Wick: Chapter 4—and nothing else ever, leaving them in a nigh-perfect state of childlike innocence, blotted only by the bloody specter of murder-suplexes—Lionsgate has confirmed that it's working on a John Wick: Chapter 5. Per THR, confirmation that the sequel was in development came during an earnings call for the studio, which makes sense, because Lionsgate has bet very heavily on Wick's acrobatic and lethal antics, and made big bloody bags of money while doing so.
Keanu wonders if "John Wick" has gone too far
The big question mark here, of course, is the fact that a John Wick 5 does seem to presuppose the existence of a John Wick, something that the franchise's fourth film left very much in doubt. (Which is to say that Laurence Fishburne and Ian McShane damn well acted like they'd buried him at the end of it; an earlier version of the movie's final pre-credits scene went a lot further toward suggesting that Wick might have survived his final duel.) Sure, they could build on other elements from the final movie, which goes out of its way to lay out breadcrumbs for new Wick-y avenues to follow, but let's get real: They're not going to make a John Wick movie and not have Keanu Reeves, his suits, and his sideburns on firm display.
Lionsgate has not been shy about capitalizing on Wick, which has grown out of a modestly-budgeted directorial debut from stuntman Chad Stahelski into what's probably the defining action movie franchise of the last 10 years. That includes the spin-off film Ballerina, which is due out next year from Underworld's Len Wiseman, the Continental TV prequel series that's been kicking around for years at this point, and, yeah, John Wick 5. "We're building out the world," said Lionsgate's Joe Drake. "And when that fifth movie comes, it will be organic — will be organically grown out of how we're starting to tell those stories. But you can rely on a regular cadence of John Wick."
For his part, Stahelski has taken a pretty "never say never" approach to the franchise. Although he pushed Lionsgate to let him end the fourth film on a definitive note, he's also said that, if there's demand, and if he and Reeves can find an idea they like, there's certainly a decent chance we'll see the Baba Yaga kill again.