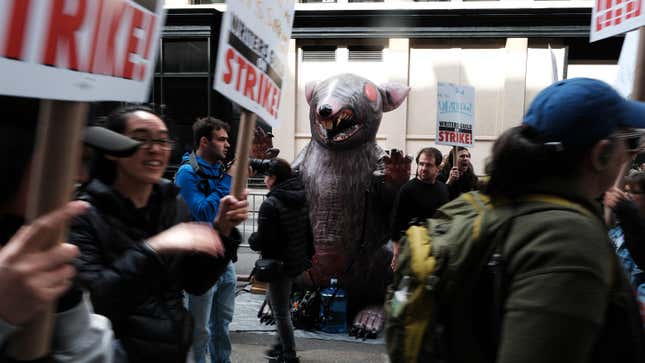 Late last night, the Directors Guild Of America released a statement announcing that they had come to a tentative agreement with the Alliance Of Motion Picture And Television Producers (a.k.a. the AMPTP, the coalition of major movie and TV studios), calling it a "truly historic deal" that gives the DGA "major breakthroughs in addressing the international growth of the entertainment industry and makes significant gains across key economic and creative rights while reaffirming the critical role of DGA directors and their teams."
Tom Brady to spare us his stand up comedy phase
This comes as the WGA has been on strike for more than 30 days, trying to get its own "historic" deal with the AMPTP, and it doesn't take a particularly seasoned or suspicious Hollywood insider to recognize that the timing is definitely not a coincidence.
But before we get to that, the bullet points of the DGA deal—which is all we have to go off of at for now, since the specific terms have not been made public—do seem pretty notable, at least in terms of the well-publicized issues that the WGA has and other big stories in Hollywood. According to Deadline, there will be a bump to residuals, plus new terms for DGA members working on variety and reality shows (including first-time residuals for associate directors and stage managers). There will also reportedly be new language defining an AI as "not a person" and something specifically noting that "AI cannot replace the duties performed by members." The terms also apparently include new on-set safety requirements and a ban on live ammunition.
As Deadline points out, the DGA was initially vocally supportive of the WGA strike, but the union was notably absent from a recent WGA West "Unions Strike Back" event, which seemed like a strong indication that discussions were ongoing and that a deal might be on the way. And, as writer Mike Royce (who is also in the DGA) pointed out on Twitter even a week before that, this is exactly what the AMPTP has been planning to pull—Royce even correctly predicted that the DGA deal would call its gains "historic."
The reason this was predictable is because, as pointed out in the Deadline piece, this is basically how the AMPTP ended the WGA strike in 2007: The studios made a sweet deal with the DGA, then argued that the writers were being unreasonable and took away the WGA's leverage. That being said, this Hollywood Reporter piece features writers arguing that the same strategy won't work anymore.
Rather than indicating that they should make concessions, the fact that the AMPTP was willing to make a "historic" deal with the DGA could give the writers more leverage, since it means that the AMPTP is willing to deal and that the strike is putting a ton of pressure on them. There's also the fact that SAG-AFTRA called for a strike authorization vote and might also be going on strike at the end of the month, which means that the AMPTP's only play at this point—beyond giving writers and actors and directors what they want—was to give up something to the directors. It was either that or let all three guilds go on strike, completely shut down the entire industry, and make it even more embarrassing when the millionaire executives of the AMPTP companies have to sheepishly argue that they deserve raises anyway.