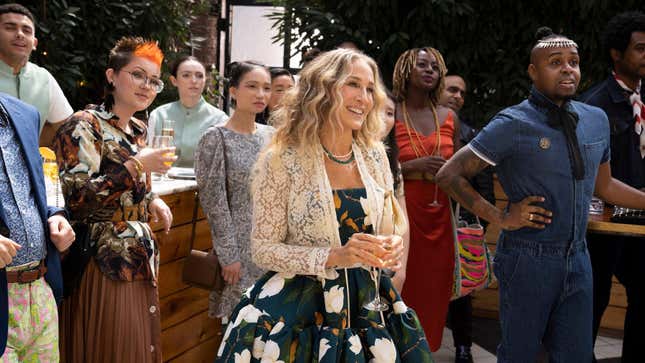 When the world first learned that the Sex And The City revival we'd long been promised/threatened with was definitely happening, it's safe to say that many fans had … well, "trepidations" is such an ugly word. Let's instead go with "doubts"—or maybe "kinda-sorta optimistic doubts" if you're not into the whole brevity thing.
Sam Jay on "Black Jeopardy," Stand up comedy and more
On paper, it all sounded okay. The HBO series—aptly titled And Just Like That…, after Bradshaw's second-most iconic catchphrase—was set to revisit Carrie Bradshaw (Sarah Jessica Parker), Miranda Hobbs (Cynthia Nixon), and Charlotte York-Goldenblatt (Kristin Davis) as "they navigate the journey from the complicated reality of life and friendship in their 30s to the even more complicated reality of life and friendship in their 50s."

So far, so very warmly welcome, particularly as there's such a dearth of women over 50 on our TV screens. But then we learned that Samantha Jones (Kim Cattrall) would not be rejoining the iconic quartet. That, once again, Carrie and Big (Chris Noth, a name now steeped in controversy as the actor faces multiple charges of sexual assault) would be in dire straits. That Carrie would be co-hosting a podcast and clutching a bag that looked like a pigeon. And Just Like That…, those aforementioned trepidations stopped tumbling through our minds like kittens fighting over a ball of twine, and instead evolved into fully grown tigers roaring their disapproval.

Mad about everything
Still, we all sat down and watched the first season—and flocked to social media to criticize what we perceived to be the show's shortcomings. We were mad about basically everything, it seemed: Big getting killed off unceremoniously by a Peloton bike, for example, and Carrie's inability to dial 911. Charlotte's seeming inability to effectively parent her teenage daughters. Stanford (R.I.P. to the great Willie Garson) announcing his intentions to leave his husband via a letter, despite knowing all about the whole Post-It situation. ("I'm sorry. I can't. Don't hate me.") Samantha pulling the plug on her lifelong friendships and absconding to London over, like, a boring disagreement about her role as Carrie's publicist. The evolution of irresistible barman Steve Brady (David Eigenberg) into a sexless dessert-munching bore. Miranda pulling the plug on her marriage to the dessert-muncher so that she could pursue Che Diaz (Sara Ramirez). Che Diaz being a comedian and podcast host, despite not being particularly funny or good at hosting podcasts. Che Diaz telling Miranda to "DM me sometime" after triggering her queer sexual awakening in Carrie's kitchen. Che Diaz, just generally for existing.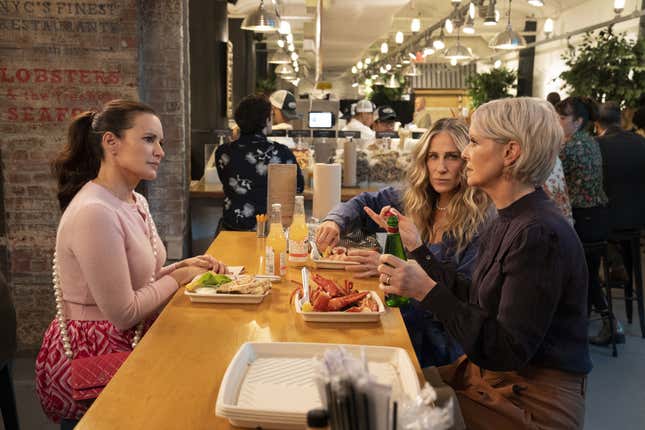 And yet…

Despite all of the above (and if you need more things that annoyed us about the show, we recently ranked every character by how terrible they are), And Just Like That… is the most successful original content released by Max to date. Speaking to Variety as the show's first season finale aired, Chief Content Officer Casey Bloys said that in terms of viewership, the series had been—and I quote—"phenomenal."
"Criticism of any show is fair game—when you put a show out in the world, people have a reaction, and that's healthy, and that's normal," he added.

Basically, despite all of our moaning and misgivings, it seems we streamed every last second of And Just Like That…'s first season run. There's no doubt whatsoever in my mind that we will do the same with the second season, which kicked off June 22. And yet, for all intents and purposes, people weren't exactly (sorry) carried away by the sequel's story. In fact, it got a resoundingly lousy 29 percent rotten rating from audiences on Rotten Tomatoes. So what gives?

What comes after a happy ending?
The short answer is simple enough: jeopardy. No TV show can survive without it. We need drama and conflict and high stakes to keep those story cogs a-spinning. But here's the problem with And Just Like That… and most of the other belated sequels out there: Fans have already been given their happy ending. We know that, after six seasons (and two movies of questionable quality), Carrie and Big are living happily together in NYC at long last. That Miranda and Steve have overcome obstacle after obstacle to become one of the SATC universe's best and healthiest couples. That Samantha tried moving away from her beloved BFFs—just to L.A., but still, there was distance—only to realize that she couldn't live without them. Even if it did mean calling time on her relationship with the dream guy that is Smith Jerrod (Jason Lewis). That Stanford fell so head-over-heels for his frenemy Anthony (Mario Cantone) that he hired freaking Liza Minnelli to oversee their big white wedding. That…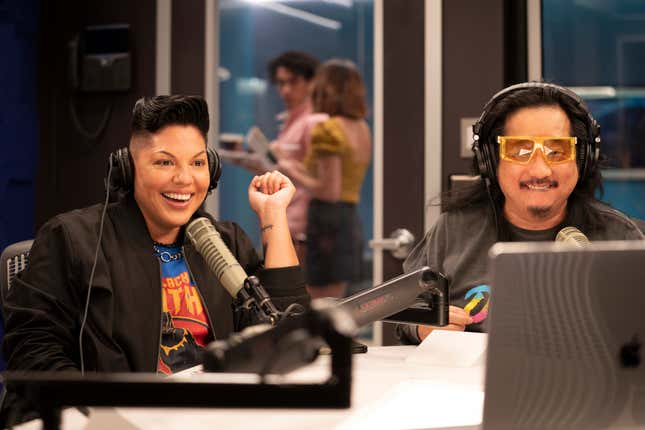 Well, you see my point. All of the loose ends were tied up; all of the stories ended exactly as we hoped. And then these characters were allowed to live rent-free in our heads for, oh, 11 years. We nurtured them, dreamed about them, couldn't help but wonder about them. Because here's the thing that showrunners so often forget: A viewer invests in a story by recreating it in their own imagination. They own that story just as much as the writers do, perhaps even more so. As Dwight V. Swain puts it in Creating Characters, audiences "know a story isn't real, isn't true. But in their role of fiction fans, on an unconscious level they pretend it is true, accept it and live through it with the characters."

To put it more bluntly, when we really come to love a TV series, we start to form a relationship with its characters, so much so that we come up with our own ideas, philosophies, and fantasies regarding how things should ideally work out for them. The objective becomes wholly subjective. And, somewhat upsettingly for writers, it's unlikely that anything that they come up with will ever come close to the idealized expectations that we have as a viewer.

Hating the show, loving the universe
It's why so many of us know exactly what happened to the Friends gang after the credits rolled on that final episode, even if we all know exactly different things. (If you're interested, I reckon Rachel eventually dumped Ross and hightailed it to Paris, Joey at her side.) It's why so many of us were, too, incandescent with rage when we discovered that Leia Organa (Carrie Fisher) and Han Solo (Harrison Ford) had called time on their romance sometime in between the events of Return Of The Jedi and The Force Awakens. That we felt let down by Rory's extremely poor decisions in Gilmore Girls: A Year In The Life. And it's why the frankly inexplicable events of Toy Story 4—Woody left his best friends in the whole entire world to pursue a romance? Please—are, to many of us, "just not canon." Despite being, y'know, absolutely canonical.

To be honest, writers should take it as a positive that And Just Like That… left fans disappointed: It's proof that we adore the Sex And The City universe to little pieces. We love it so much, in fact, that there was no way on Earth writers could have ever hoped to pen a sequel that could live up to the stories we've been telling ourselves about Carrie and the gang for all this time.

So what's the solution? Well, to quote the inimitable Ms. Bradshaw herself, "Maybe the past is like an anchor holding us back. Maybe, you have to let go of who you were to become who you will be."

But maybe it's also time to stop hiding in SATC's shadow and step into the AJLT spotlight. After all, Samantha and John Corbett's Aidan are both back this season. And surely that means things can only get better.