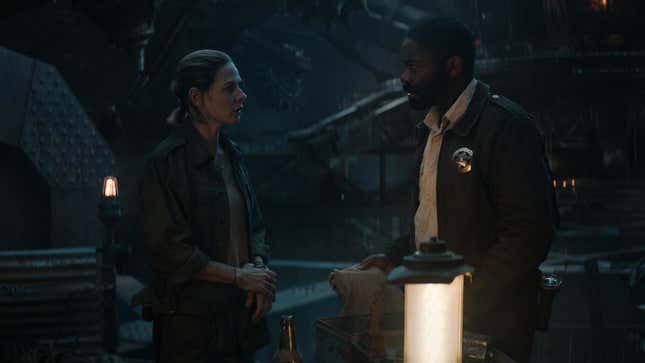 Every decade or so, a new dystopia trend seems to emerge. The early-to-mid 2000s had the "one extraordinary teen takes down an entire corrupt government" films we all know and love (i.e. The Hunger Games, Divergent, The Maze Runner, etc.), but now the genre looks a little different. There's usually a group of people (or close-to-people) trapped in some sort of perverse paradise that harbors a whole lot of secrets. All they want to do is leave. Radiohead is always playing. The shows usually flop.
Why Christian Bale would love to be friends with Burt Berendsen
TNT tried with Snowpiercer and Netflix gave it a one-season go with 1899. Westworld was the best and brightest but still couldn't handle the pressure of its own mythology (or HBO's campaign of destruction). Now, it's Apple TV+'s turn with Silo, a series that seems a bit like an AI interpretation of all of the previous shows mashed together (not necessarily in a bad way!).

The trailer opens with a sweeping pan of the underground, steampunk bunker that houses and protects the last ten thousand people on Earth from the toxic world outside (allegedly). A children's choir covers Radiohead's "Exit Music (For A Film)" in the background. (Get it? Because the line says "Today, we escape?" Westworld certainly did.) Check, check.
From there, we are quickly treated to a whole load of exposition. (The streamer did describe the series as "world-building.") A presidential figure (played by Tim Robbins) explains that no one in the silo knows who built it or why they are underground. All they know is that "the world outside our sanctuary is death," a pronouncement the rest of the trailer (and every other show in this genre) insists is probably not the truth.
As other Silo residents grapple for answers, the tightly run community—portrayed by an ensemble cast including Rebecca Ferguson, Common, Harriet Walter, Chinaza Uche, Avi Nash, David Oyelowo, and Rashida Jones—descends further into chaos. Will someone leave the Silo by the end of the season? Definitely. Will we find out even 30% of the show's answers by the season's finale? Almost certainly not! Will we be strapped in for the journey regardless? Absolutely.
Silo premieres May 5 on Apple TV+.