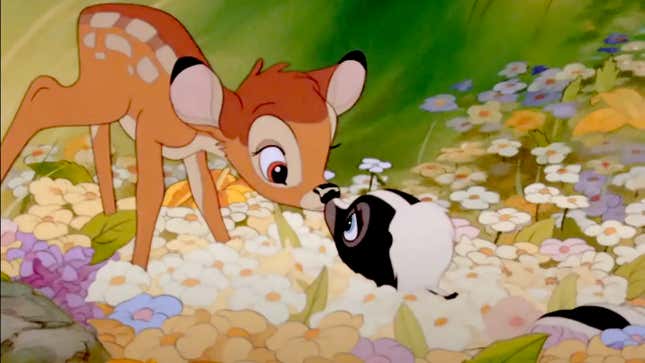 The Blood And Honey-verse is expanding. Last November, we reported that director Scott Jeffrey and the twisted folks at Jagged Edge Productions were planning to follow up on the viral success of their X-rated horror take on Winnie-the-Pooh by taking aim at Bambi. Now, according to The Hollywood Reporter, Bambi: The Reckoning, is a hot commodity on the market at this year's Cannes Film Festival, and has already been licensed to international distributors for theatrical release in Europe, Latin America, and Asia. ITN Studios is set to distribute the film in North America.

Movies that Matter: The Battle of Algiers - The False Documentary
The slasher film will be loosely adapted from the same book that inspired Disney's 1942 animated feature—Bambi, A Life In The Woods, by Felix Salten—which is now in the public domain (just as A. A. Milne's Pooh stories are). Based on the plot description, centering around a "mutated killer deer" out for revenge, it sounds like it will have more in common with Stephen King's Cujo. "Bambi will be a vicious killing machine that lurks in the wilderness," Jeffrey told Dread Central in an interview last fall. "Prepare for Bambi on rabies!"

The public domain has become a happy hunting ground of late for producers looking to corrupt innocent childhood icons for the sake of cheap thrills and low-budget fright fests. Blood And Honey director Rhys Frake-Waterfield is already working on a sequel, creatively titled Winnie-The-Pooh: Blood and Honey 2, as well as a dark version of Peter Pan called Peter Pan's Neverland Nightmare. There's even a warped adaptation of Mary Had A Little Lamb on the way from British director Jason Arber.
Frake-Waterfield will act as a producer on Bambi: The Reckoning, alongside Stuart Alson and Nicole Holland of ITN Studios. Jeffrey, whose directing career so far has included self-aware B-movie romps like Firenado, The Curse Of Humpty Dumpty and The Bad Nun, will also produce. Principal photography is set to begin this summer.