Barry moves between many different modes—existential hitman profile, showbiz comedy, whimsical mafia farce, low-key cop procedural etc.—but they all serve as vehicles for Bill Hader to interrogate the idea of success. For Hader, success doesn't beget happiness; if anything, it only emphasizes the hollow nature of the goal itself. At the same time, however, he also empathizes with romantics that want nothing more than to succeed, especially in the context of Hollywood, a place where so few even make a living in the industry. In Barry, personal fulfillment and professional accomplishment are constantly at odds, illustrated by Barry's crippling depression despite ostensibly being at the top of his field. But are those two forces inherently intertwined, or can they be negotiated for a better arrangement?
Thus, Barry tends to focus on two kinds of people: Those who want to be the best, and those who are the best and are miserable because of it. "Chapter Three: Make The Unsafe Choice," written by Duffy Boudreau, follows three characters who fit somewhere into those two categories. First, Sally Reed, an ambitious, aspiring actress who's convinced that relentless determination will overcome any obstacles in her path to become a movie star. Second, Stovka (Larry Hankin), the best assassin in all of Chechnya turned inconsolable depressive after a long life plagued by death. Finally, there's Barry, another world-class assassin who knows it's not too late to pivot towards something more meaningful and less destructive.
Hader and Alec Berg have kept Sally at a distance for the past two episodes, mostly using her as a guide to Gene Cousineau's class and a burgeoning object of Barry's affections. But this week, Hader and Berg give us our first glimpse of Sally's own world outside of class, one replete with humiliation and heartbreak. While working a kid's birthday party as a fairy princess, she fields a call from her not-quite-agent Mike Hallman (Robert Curtis Brown) who tells her about an audition for a network TV adaptation of Cameron Crowe's We Bought A Zoo, only a Millennial girl is the lead instead of a Matt Damon-esque father. She's excited by the opportunity, especially because they asked for her by name, and even brings along Barry to help her run lines before she goes in front of the casting agents.
Unfortunately, Sally walks into something of an ambush that throws her entire career into a harsh light. Upon entering the room, she's shocked to learn that Liv (Kat Foster), a terrible actress who previously worked with Sally on the cancelled-before-air show Bonnie and the Boston Bombers, has landed the lead in the We Bought A Zoo series. In fact, it was Liv who asked for Sally by name, despite objections from the studio. Horrified to learn that she's auditioning for Mom in Zoo while Liv, who was fifth on the call sheet for Bonnie and the Boston Bombers, has secured a network deal, Sally completely bungles the audition with near-constant sobs. After all, she was Bonnie. Liv was just one the Bombers. Where did it all go wrong?
G/O Media may get a commission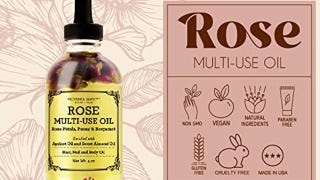 Provence Beauty Rose Multi-Use Oil
Meanwhile, the Chechen mob brings the famous Stovka to America so he can kill Barry and Fuches after Barry carries out his hit on Paco (Geo Corvera), their informant in the Bolivian gang. Stovka sits quietly in the garage awaiting his mission, while Fuches, still bloodied and tied up, tries to convince him not to kill them. But Stovka doesn't contain a go-getter spirit like Goran or Noho Hank or a frightening energy like Vacha. Instead, he's a tired, embittered old man who looks back on a life he regrets. In essence, he functions as a cautionary tale for what Barry's life might look like if he continues his trade. "As long as I work for them, I never free," Stovka tells Fuches. "It will always be the same." One could imagine Barry talking about his life under the thumb of the manipulative Fuches, who frequently uses a pretense of genial good cheer as a mask for his sinister motives. After Stovka unceremoniously commits suicide, Fuches negotiates a deal with Goran to help him take a Bolivian stash house, weaseling his way out of a mess into a potentially bigger one. 
Then, there's Barry, a man caught in the middle between a profession he hates, but is otherwise born to do, and a hobby he loves, only he's terrible. When Barry is tasked to create a private space on stage, he has trouble even imagining the inside of a grocery store. Gene pushes him to visualize the food in the aisles, but Barry can only come up with non-specific soup as an example. For Barry, acting is a means of self-expression, but he's slowly learning that he has little to express, let alone the tools to do so. When Gene advises him to "let the cat out," Barry can't even wrap his head around the phrase, despite letting his proverbial cat out every time he's tasked to kill.
In the end, it's Sally who pushes him to visualize that grocery store, albeit unintentionally. Just as Barry is waiting to kill Paco, he receives a call from Sally, who's in the midst of an existential crisis and doesn't want to be alone. So, instead of taking out Paco from the safety of a nearby hill, he travels down to his house, breaks in, and strangles him in his backyard. As Barry squeezes out the last ounce of life from Paco, he hears him say, "No tienes que hacer esto," which means, "You don't have to do this."
As Barry lies in bed with Sally, who sleeps with him immediately upon his arrival, he sees two images before his eyes: Paco struggling to breathe, and a fantasy of Sally and him walking down a grocery store aisle picking out soup as a couple. It's two versions of his life: The one that he currently leads, filled with violence and death, and the quotidian, happy one he could possibly have some day. Gene encourages him to make "the unsafe choice" so he can improve as an actor, but Barry has been making unsafe choices his entire life. But it's only when he chooses to kill a target up close so he can spend more time with Sally that he understands what Gene's advice actually means. For Barry, making the unsafe choice is to choose to spend time with someone who can potentially enrich his life rather than those who only want to keep him in the muck.
Barry has tasted success as a hitman, and it's only made him depressed and emotionally closed off. Maybe being a failed actor in a normal relationship could be just the ticket he needs? Or maybe it's another dead end. That's show business for ya.
Stray observations
The reason why Barry couldn't kill Paco right away is because Noho Hank told him to hold off until the Bolivians received a bullet in the mail from DHL. Apparently, it's something that Goran has been planning for a while now.
Two Gene Cousineau stories this week: Gene was friends with Patrick Swayze, until they had a falling out and Swayze had it written into his will that he was barred from his funeral; and Gene once brought a loaded Beretta into a Full House audition.
Bill Hader struggling not to put his hands in his pocket and his confused reaction to the word "Mamet" are some of the best examples of physical comedy I've seen in a while.
Funniest shot of the week: Barry looking very impressed by Nick's choice to visualize dust in his imaginary toy chest.
Ryan and Sally have done scenes from Shakespeare In Love, Breaking The Waves, and Dogville, the last of which is the only film of the three that Detective Loach has seen. What possibly motivated them to choose scenes from not one, but two Lars Von Trier films?
"Okay, when I was kid, I saw him once walking out of discotheque, he flicks cigarette at bird, knocked it out of sky."
"I'm in my friend's zoo with my 14-year-old son, who's the same age I was when I had him."
"My whole life, ever since a boy, is death." "Well, you're a regular Family Circus cartoon."