For the past three years, The A.V. Club has devoted the month of December to reflecting on our favorite holiday entertainments, and this year is no different. It's a feature so nice, it's never had the same name twice, and this year it's the 12 Days Of Non-Denominational Winter Holidays.
The early 2000s were a golden age for alternative music holiday compilations. 2003's A Santa Cause: It's a Punk Pop Christmas brought together pop-punk goofballs, post-hardcore luminaries and Warped Tour's finest for covers and chestnuts alike. Parasol Records released Stuck In The Chimney (More Christmas Singles) in 2001, a collection of twinkling indie rock and hushed electro-pop. And, of course, The O.C. celebrated the season irreverently with 2004's Have A Very Merry Chrismukkah. The third soundtrack mix from the show released in that year alone, Chrismukkah plucked previously released favorites (Low's "Just Like Christmas," Jimmy Eat World covering Wham!'s "Last Christmas") and slotted them next to new songs (Rooney taking on Slade's glammy "Merry Xmas Everybody," Raveonettes' Phil Spector-ish "The Christmas Song").
For as game-changing as The O.C.'s mixes were, the series' holiday bonanza had some formidable (and familiar) precedent: Each year from 2002 to 2004, Nettwerk Records released an exclusive-filled seasonal music compilation spotlighting modern indie, pop, and rock bands. Informally dubbed the Maybe This Christmas trilogy, these proto-O.C. releases certainly shared DNA with Chrismukkah; Ron Sexsmith's "Maybe This Christmas" and the Raveonettes' tune appeared in both places. But taken together, these albums rather acutely presaged and reflected early-'00s music trends well before Seth Cohen did—whether it was how the mainstream started to embrace once-underground bands or how indie-folk had its day in the sun.
The first installment, 2002's Maybe This Christmas, seems especially prescient, as it also features Jimmy Eat World—who was red-hot thanks to the crossover success of "The Middle"—then-burgeoning beach-bum rocker Jack Johnson, and sensitive blokes Coldplay, who had just released A Rush Of Blood To The Head, the album that made them superstars. (Future compilations were just as savvy: Artists on them include "Sk8er Boi"-era Avril Lavigne, pre-major-label Rilo Kiley and Death Cab For Cutie, and eternally young pop eccentrics Flaming Lips and Guster.) Wispy acoustic guitars abound on Sense Field's breathy, acoustic-heavy "Happy Christmas (War Is Over);" sighing piano marks the jaunty sadcore of Bright Eyes' "Blue Christmas;" and Phantom Planet's take on "Winter Wonderland" is smudged, slightly smug indie-pop. If anything, the collection's vets are the ones with bite: Barenaked Ladies and Sarah McLachlan team up for a taut "God Rest Ye Merry Gentlemen," Ben Folds' askew "Bizarre Christmas Incident" is full of saloon-loopy piano and ribald lyrics, and Semisonic's Dan Wilson contributes the fine slow-burning, baroque-pop tune "What A Year For A New Year."
When compared to what was popular at this time—the shimmering sound collages on Wilco's Yankee Hotel Foxtrot or Death Cab For Cutie's Transatlanticism; the folksy laments of Beck's Sea Change or Dashboard Confessional records; the Shins' coffeehouse shimmers and the shambling orchestral sweetness on Bright Eyes' LIFTED, Or The Story Is In The Soil, Keep Your Ear To The Ground—Maybe This Christmas sounds entirely contemporary. Even the older Jimmy Eat World track, the Clarity album cut "12.23.95," fits right in; the tongue-tied, downtrodden song proved to be ahead of its time, between its tightly wound guitar chimes and faint electronic agitation.
But that song hints at the other genius part about Maybe This Christmas and its sequels: Their version of the holidays was decidedly melancholy, a safe haven from the peppiness of much seasonal music. These albums indulged in loneliness and recognized that December often sucked, especially for those who were single or heartbroken. Rilo Kiley's ornate, harp-driven "Xmas Cake" from 2003's Maybe This Christmas Too? struggles to find optimism with the impending new year, but is deflated by job woes, feeling worn out and romantic distress: "What good is seein', if love's not lookin' back at you?" The hollowed-out indie-pop song "Bittersweet Eve" by Belasana—a band featuring Sense Field's Chris Evenson and the Juliana Theory's Brett Detar —is awkward but heartfelt in conveying its sorrow on 2004's Maybe This Christmas Tree ("I feel colder than the icicles outside / And my mind in circles"). And Coldplay's stark, piano-first "Have Yourself A Merry Little Christmas" is as toasty and lonely as a solo night in by the fireplace.
G/O Media may get a commission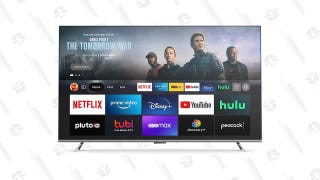 Save 46%
Fire TV 55" Omni Series 4K UHD Smart TV
Yet, the Maybe This Christmas triptych balances this self-absorption with a handful of songs marked by their striking lack of sentimentality. Maybe This Christmas Too? is particularly concerned with larger social and moral issues. Rufus Wainwright delves into the scourge of commercialism and greed with his deceptively merry piano march "Spotlight On Christmas" ("But don't forget all the diamonds and pearls / Never could fix the poor little rich girls"). The Be Good Tanyas' twang-folk version of Danny Dolinger's "Rudy" is even more wrenching social commentary: The story of a homeless man who passes away amid the holiday hubbub, it's a song critical of society's focus on material things and lack of compassion. And although Dave Matthews Band's "Christmas Song" ultimately preaches the value of love, the tune explores Jesus' birth and life through the lens of the harsher modern vernacular: "Rumors insisted he soon would be / For his deviations / Taken into custody by the authorities."
By the time of 2004's Maybe This Christmas Tree, the series had clearly run its course. Despite a bevy of strong songs—Ivy's string-crackled, vintage-radio-show-sounding "Christmas Time Is Here," Royal Crown Revue's big-band-swingin' "Baby, It's Cold Outside," and Death Cab For Cutie's tentative indie shuffle "Christmas (Baby Please Come Home)"—the record felt less inspired. In fact, it had several unqualified duds, such as Polyphonic Spree's curiously flat take of "Happy Xmas (War Is Over)" and the seasick-folk stumble through "Fairytale Of New York" from the Canadian band Pilate. (Of course, Tree's predecessors also had their weak spots; Vanessa Carlton's version of "Greensleeves" sounds painfully forced, while the more traditional-sounding tunes—Damien Rice and Lisa Hannigan's "Silent Night," Loreena McKennitt's "Snow"—sound out of place.) Perhaps it was a sign of the times: Dance-punk and electro-rock's influence was more prominent, and even indie stalwarts such as Modest Mouse had brightened up (and hardened) their sound.
Today, this trio of Maybe This Christmas albums is somewhat obscure. They're nowhere to be found on the usual digital streaming or download sites—save for iTunes, which has most of Maybe This Christmas Tree—while even used physical copies of Maybe This Christmas start at around 10 bucks on Amazon. (Thankfully, most of these songs have found their way to other collections or albums since.) That they've fallen into oblivion is a shame: They're a charming throwback to the days when tangible compilation albums introduced people to new music and artists—and a reminder that outside musical curators once had the powerful ability to shape pop culture. More than that, these gatekeepers were a necessary component to directing trends, an increasingly antiquated notion in a time when music discovery has never been more decentralized.