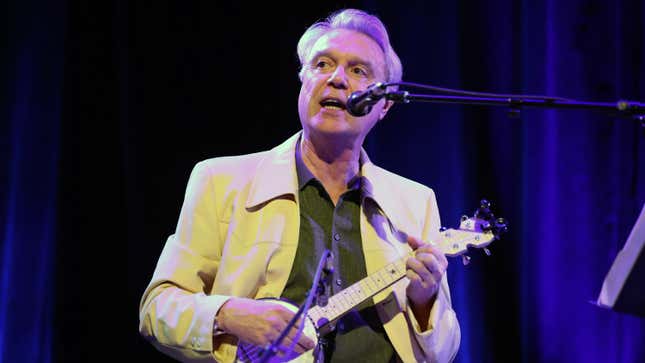 The Broadway Theater must be the place to skirt union rules.

During heightened tensions between labor and the people whose work they benefit from, David Byrne, Fatboy Slim, and their upcoming Broadway show, Here Lies Love, are treading the boards lightly and upsetting unions every step of the way. Per The New York Times, Byrne and Slim's new show violates union rules requiring no less than 19 paid musicians for musicals at the Broadway Theater (that number varies depending on the size of the theater). For his part, Byrne maintains that Here Lies Love is a unique case.
Here Lies Love is "not a traditional musical," the show's statement explains. The story of Imelda Marcos, the controversial former first lady of the Philippines, the show requires the "performance of the live vocals to pre-recorded, artificial tracks," which are "paramount to its artistic concept."
The show certainly doesn't sound traditional as the "Broadway Theatre has been transformed into a nightclub" by ripping out the seats and installing a dance floor, so "every theatergoers [is] immersed in the experience."
"In many ways, Here Lies Love is pioneering this kind of dance club track-act immersion on Broadway," the statement reads. "Broadway must create space for boundary-pushing creative work. Broadway is also the venue for a well-conceived, high-quality show that highlights the valued traditions of specific cultures whose stories have never been on its stages. Here Lies Love does not believe in artistic gatekeepers. Here Lies Love believes in a Broadway for everyone, where new creative forms push the medium and create new traditions and audiences."
The production has filed to have the show deemed a "special situation," an agreement between the production and labor regarding the number of musicians hired. And, no, we do not believe that Byrne and Fatboy Slim count as hired musicians. (Still, that would leave 17 seats to fill.) It's the precedent being set here that's a problem. The union's job is to preserve those coveted 19 seats of musicians, which, as of this writing, is a field that's really hard to get a job in. We're not sure if making sure people get paid is the same as "gate keeping," but that term certainly looks better in a press release. Broadway shows have been allowed reduced orchestras in the past; however, one with no orchestra is very uncommon, meaning this fight could lead to arbitration.

"We're not going to stand by and let this happen," Tino Gagliardi, president and executive director of But Local 802 of the American Federation of Musicians, told the New York Times. "It's not fair to the public."
Previously, Byrne wrote and performed the Broadway musical American Utopia, which featured live music and paid musicians.