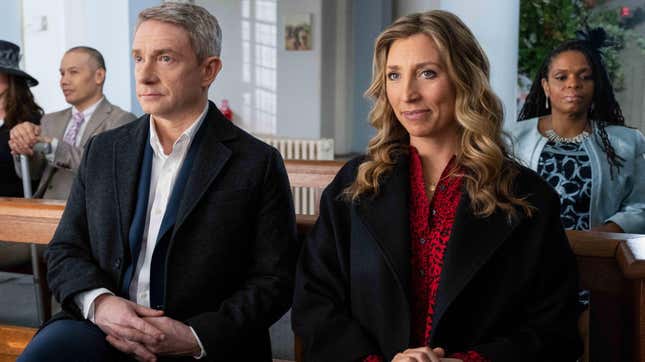 Breeders, which kicks off its fourth and final season July 31 on FX, all but begs you scoff at its title. There's an abrasive, if playful, tone about it that makes you want to use a kinder word to describe those who choose to procreate. Yet it perfectly captures the dark comedic beats that have made the FX/Sky One series such a brilliant piece on marriage and parenting in this day and age. The Martin Freeman and Daisy Haggard shared star vehicle (the two are a comedy dream team) may have gone mostly under the radar over its past three seasons. But fans who have followed their Paul and Ally through thick and thin look to be rewarded with a canny and hilarious final season that brings them their biggest challenge yet.
Why Robert Rodriguez still loves "Spy Kids"
Continuing the time jumps that have characterized the show through its run (Paul and Ally's kids are now in their late teens), the season premiere finds us shuttling between Christmas following the events of last season and one a few years later. If you remember, Paul and Ally's marriage was (again) feeling the strain of parenting, jobs, and the various stresses that come with being married for so many years. The handy recap that starts the season opener ("Noël") helpfully sums up their predicament when Paul utters the line that could very well serve as the show's rueful thesis: "What's the fucking point of us being together then?"
Yes, the D-word is bandied about and writer/co-creator Chris Addison is smart enough to play the wearied couple's frank conversations around what that would mean for themselves and their kids (what with Ava still reeling from seeing her grandpa nearly OD in front of her and Luke struggling still with his anxiety) with welcome honesty. For such decisions, driven as they may be by emotion, are often just as much about logistics. Who lives where, who's told what, and how it all gets sorted are not inconsequential questions. And, as it turns out, they end up serving Paul and Ally well enough to not derail the central tensions of the series. Especially once a kicker of a revelation (Luke's girlfriend is pregnant!) upends the Worsley's family dynamic.
One thing the time jumps in between seasons have afforded the series is a surefire way to avoid getting bogged down in any one child-rearing storyline. It's been a brilliant choice not least because it stresses the one truism of parenting: The moment you think you have a hold on what your kid needs is the moment they find new things to throw your way. "When does parenting end?" Paul asks in exasperation while dealing with that curveball of an announcement thrown his way in the middle of Christmas dinner. The answer, as Ally informs him, is never. Not until you're cremated, really.
And so what may feel like a merry-go-round (here's Luke's anxiety again flaring up; here's Ava feeling invisible in her own home once more) is constantly repackaged into a new parenting challenge. (How will Luke get around in his own car if he can't even handle being in the driver's seat with his dad on board? How will Ava make space for herself when she won't feel like the number-one kid in her own house?) It's a lesson Paul seems to be taking in earnest now that he has an 18-year-old who helps further expand the nuances of the show's title: As he tells his son in a touching heart to heart later in the season, "You just do it. The best you can. And some days it'll be wholly horrific." But you do so because you love your kid and you want the best for them.
Paul and Ally's relationship, which artfully continues to drive much of the humor and pathos of the series, has long worked because it's been sandwiched by the show's interest both in their own kids as well as in their own parents. The season's twinned teenage storylines (moving out of home! first blush of love!) markedly juxtaposed with the graceful aging subplots courtesy of Paul's mom and dad (now living in assisted living facilities) help texture Paul and Ally's own foibles. Which yes, include Ally and Paul looking back and really seeing how the choices big and small they've made led them to where they are. Is Ally really nearing 50 with few friends to show for it? Did Paul really give up a life as an artist for a job he sporadically finds enjoyable? Such middle-age queries puncture the entire season, which is as interested in looking backward as it is in dreaming of what a future will hold for the entire Worsley family, especially with a new baby in tow.
As ever, no matter how probing these meditations on marriage and parenting may be, Breeders never forgets it's a comedy—a dark one, at that. Haggard and Freeman remain in top form, beautifully sketching a couple whose years together have calcified both their shared intimacies and inside jokes as much as their petty grievances and annoyances. Whether you're watching them bicker, flirt, complain or plot a joint parenting solution, you can feel the chemistry that's brought these two together (both as a couple and as actors).
Credit must also go to Oscar Kennedy and Zoë Athena. As the latest iterations of Luke and Ava, the young actors more than hold their own. He's a bundle of nerves trying to figure out what kind of future he can even have as a soon-to-be dad; she's a wallflower blooming as she comes into her own. The teens, whose own self-awareness somehow makes their parents' jobs all the more difficult, just want to play up their own wounded childishness amid pleas to be taken seriously as young adults.
As smart, wistful and funny as ever, the first handful of episodes of Breeders' final season bode well for what looks to be a well-earned send-off for arguably one of the best series about the joys and pitfalls of trying to be a good (enough) parent.
Breeders season four premieres July 31 on FX