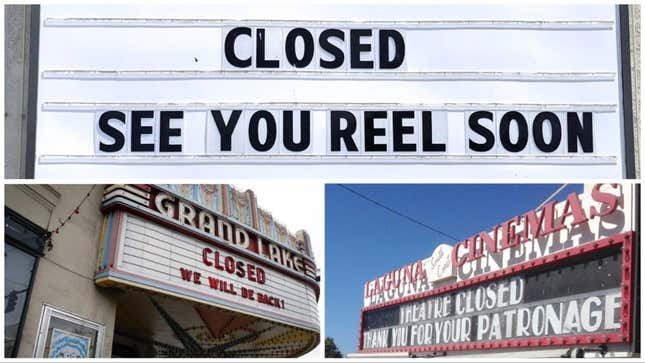 This is the first in a two-part series by The A.V. Club looking at the challenges faced by small, independent movies theaters across the country.
Elijah Wood trashes AMC's terrible ticket price plan
It would be easy to weep for the creeping, possibly inevitable, death of the neighborhood single-screen movie theater, if we weren't sitting at home pounding down multiple episodes of Ted Lasso or sitting in a multiplex fulfilling our cultural obligation to watch Ant-Man And Captain America: Guardians Of The Legend Of The Endgame In The Multiverse of Madness. But if you take a moment to reflect on the dire standing of the neighborhood bijou—that non-multiplex, American movie house serving a localized community, and imagined by most people to be run as a mom-and-pop enterprise—you may gasp with horror.

Even people who haven't been to a single-screen theater in decades want them to still be out there somewhere, just like they want the hometowns they left in 2007 to wait for their return, and their moms to keep their childhood bedroom preserved for them. In the picket-fence strewn consciousness of a certain version of America, a weekend matinee at a single-screen movie palace is as iconic as a hot dog in a ballpark, or the Mayberry fishing hole Opie skips rocks on in the credits to The Andy Griffith Show.
Well, you can still get a frankfurter at a Yankees game, and Opie is still playing pranks on Barney Fife on MeTV. But depending on where you live, you might not have access to a one-screen theater anymore. COVID was an existential crisis for theater going. People stayed home. Streaming went from an aspect of home viewing to a preferred option for experiencing theater-worthy content. While the number of U.S. movie screens has held relatively steady since COVID hit at around 40,700, it's widely believed within the exhibition industry that a shakeout is coming, with the possibility that 25 percent to 40 percent of screens will be shuttered in the next five to eight years.
The demise of single-screen theaters started long ago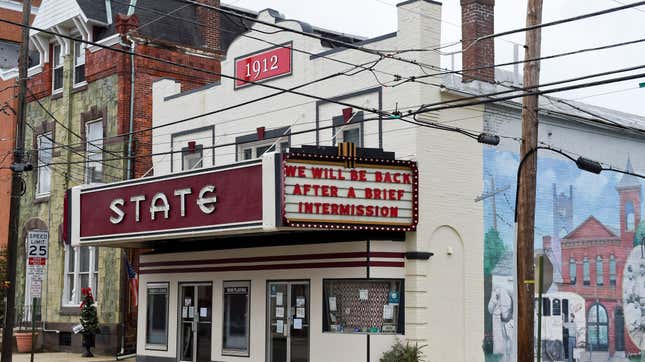 Single-screen theaters will surely be among the fallen. Because long before COVID, the single-screen theater was already in free fall. If you go back to the 1980s and chart the trends, you'll find that while there were half as many movie screens in 1985 as there are today, there were 50 percent more movie houses. That means as multiplex and megaplex theaters expanded their screen count astronomically by becoming limitless buffets of content, the single site concept was falling off a cliff.
"The single-screen theater is as challenged right now as it has ever been in the history of cinema," says Daniel Loria, Editorial Director of Boxoffice Pro, an exhibition industry journal. "A big reason is the fragmentation of the audience. In the 1950s, you had a monoculture that could create a phenomenon like Elvis. Everyone would listen to the same music, or watch programs one at a time on the same three of four stations on TV. The single screen was suited to that time of consensus—when everyone might want to see the same movie at roughly the same time."
But the audience broke into fractions starting in the late 1960s. Young and old. Hip and square. Easy Rider and True Grit. Or, to put it in contemporary terms, Yellowstone and The White Lotus. And the multiplex—a term first coined by Sumner Redstone in 1973 to describe a burgeoning trend that took over the moviegoing experience—was more suited than a single screen to a time of chaos that was demanding a chaotic range of choices.
According to Loria, the "blockbuster" tentpoles that took over Hollywood production beginning with Jaws and Star Wars in the late 1970s papered over some of the cracks by using saturation booking techniques and massive national ad buys to generate wide interest in individual titles. But even this benefitted the multiplex over the single screen. "Distribution started looking at tentpoles, and a wide release strategy to conquer as many screens nationally as possible simultaneously," Loria says. "That's when the 'opening weekend' concept of exhibition comes in, where you have to be everywhere at once. The tentpole model generates great opening weekend grosses accompanied by rapid falloffs that a single-screen theater can't sustain. So even the movies that work create a stress on the single screen. Distribution is not really set up to help the single screen perform under the contemporary tentpole model."
Summer blockbusters can't compete with your couch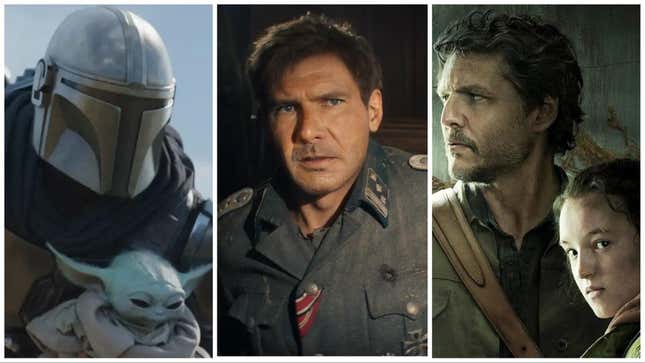 Even that imperfect blockbuster model is faltering. The streaming revolution has come, and while there's been an overall production glut driven by Netflix, the number of movies available to actual theaters has fallen precipitously. "Right now, we're in an era of fewer movie releases after COVID," Loria says. "We had 987 films released to theaters in 2019. In 2020 and 2021, that number was under 400 for each of those years. And look at the impact e-commerce has had on the brick and mortar economy. Exhibition isn't immune to that trend."

What all this means if you operate a single-screen theater is that you're in an increasingly desperate no-win contest, with fewer films being competed for by harried bookers. For an upcoming blockbuster like Indiana Jones And The Dial Of Destiny a giant company like Disney can lock in 4,000 auditoriums with a phone call if they stick to the multiplex circuit: over-leveraged multiplex giant AMC Entertainment has 7,768 screens, Regal has 6,853, Cinemark has 4,440 and etc.—the list of exhibition "giants" is long.
Businesses love economies of scale, and they also love similarities of corporate culture. When Disney talks to AMC, it's one giant talking to another. While that certainly doesn't mean Disney can't be an excellent partner for what remains of the one-screen movie palaces, today's blockbuster must, by its very nature, be seen widely to make money, and therefore has primarily to concern itself not with the Davids of exhibition, but with exhibition's Goliaths.
Yet while the single-screen theater is "stressed" according to Loria, it's not dying. People are still running single-screens all over America, and there are trends at work elsewhere in American culture that could possibly lead to a single-screen renaissance.
---
Part Two (Coming Thursday): Why innovation and imagination are required for single-screen movie theaters to survive.