The shuffler: David Koechner, an always-welcome face in such films as Anchorman and Thank You For Smoking, and in his scene-stealing guest spots on The Office. With comedy veteran Dave (Gruber) Allen, he's also half of The Naked Trucker & T-Bones, a country duo/comedy act that can currently be seen on Comedy Central in The Naked Trucker & T-Bones Show. (Koechner plays the non-naked half, T-Bones.)
Creedence Clearwater Revival, "Lodi"
David Koechner: Creedence, I think, can only be described as the American Beatles, straight-ahead rock 'n' roll, roots-influenced… Like I can talk about it like I'm supposed to be some music historian. It's retarded. I love it, I love Creedence, I could play it all day long. They've got so much variation in everything they do, but boy, just great melodies and a lot of passion.
Lou Reed, "Dirty Blvd."
DK: I tell you, I love this album. I love this song, and I remember when this came out. It got a little bit of airplay—which isn't always going to happen with Lou Reed—on the alternative stations, but never on the mainstream ones. Everyone knows him for one song ["Walk On The Wild Side"], and there's just so much more. His entire library is fantastic, and what an amazing influence on everybody.
G/O Media may get a commission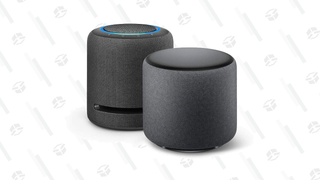 25% off - Prime Exclusive
Echo Studio + Echo Sub Bundle
Tenacious D, "Break In-City"
DK: This is from Pick Of Destiny. I don't know this song, I have to admit. I just got a gift card over Christmas and downloaded that one over the break, and I gotta admit, I haven't had a chance to listen to all of it, especially this song. But I know I'm gonna love it, because I love the D.
The A.V. Club: Who doesn't?
DK: How sad is that, everyone's got so many songs on your iPod these days, you can't even get a chance to listen to them. And I listen to it often, barbequing with my kids. And they've got some explicit lyrics, so I will have to, sadly, bypass those sometimes if the kids are in the yard.
Creedence Clearwater Revival, "Who'll Stop The Rain"
DK: We used to cover this in the Naked Trucker stage show, or part of it, as a transition song. You know, it's so anthemic, it always just brings you back. I wasn't old enough at the time to remember what was going on, but you can feel what was happening in the country, through this song, I've always felt.
AVC: This song has also been used in so many montages about the '60s. Hearing it is a little like watching an Oliver Stone movie.
DK: Because it's got such great resonance, right? It does put you in that time and place.
Son Volt, "Mystifies Me"
DK: Big fan of Uncle Tupelo, and all the drama that goes with it, I guess. I don't know many of the stories, but I love both bands. You get two bands where there used to be one. So a huge fan of Wilco, huge fan of Son Volt. Obviously, Wilco has been… Jeff Tweedy's been more prolific, but I remember this album came out 10 years ago, and there wasn't a bad cut on it.
SpongeBob SquarePants, "Pearl Krabs Aka Caller #5!"
DK: Oh god. Andy Paley, the drummer in our band, The Naked Trucker & T-Bone Show, used to be in the Sidewinders. He's a great rock 'n' roller. And he collaborated with [SpongeBob voice artist] Tom Kenny on this album, so he sent it to me the other day. There's a lot of great rock 'n' roll on there. In fact, "Under My Rock" got featured on some garage radio. Steve Van Zandt does a garage radio show on one of the satellite-radio broadcasts. He featured "Under My Rock," and he said, "This is one of the best garage tunes to come along in a lot of years." And here's the best part: Your kids dig it, and you get to dig it along with them.
Iggy Pop, "I'm Bored"
DK: Yeah, you can't beat Iggy Pop. You're ever down, just pop that in. You think you're tired? Who needs coffee? Put in some Iggy Pop. I guess that would go in the Lou Reed category, just straight-ahead rock 'n' roll. Cutting deep like a razor. You think about it, how many bands today are trying to be Iggy Pop or Lou Reed, it's amazing. There's one Velvet Underground, and there's a reason.