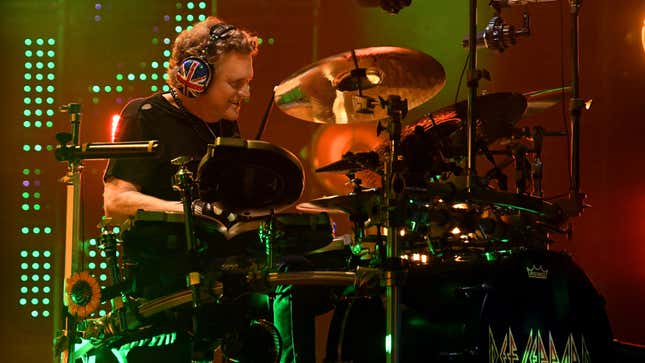 Roughly two months after he was violently assaulted after a show in Fort Lauderdale, Florida, Def Leppard drummer Rick Allen has addressed the incident in an interview with Good Morning America, where he recalls being "totally blindsided" by the attack.
Apparently Kanye West has been a Hitler fan for quite some time
On March 13, Allen was assaulted outside the Four Seasons hotel in Fort Lauderdale, Florida, shortly after Def Leppard played a show at Seminole Hard Rock Hotel. A woman reportedly attempted to intervene in the assault, but was attacked too, although a police report does not indicate that the woman suffered any serious injuries.
"I heard a couple of steps and then I just saw this [flash] and the next thing I knew was I was on the ground," said Allen. "I landed on my backside… hit my head on the pavement." Fearing his assailant would attack again, Allen recalls raising his hand in the air and saying: "I am no threat to you."
After the assault, Fort Lauderdale police arrested 19-year-old Max Hartley, charging him with two counts of battery and four counts of criminal mischief. Hartley has pleaded not guilty to all charges.
"I don't think he knew who I was, but he must have seen that I wasn't a threat because, you know, I've only got one arm," Allen recalls. The drummer lost his left arm in a 1984 car crash.
According to Allen, the attack left him feeling thankful for the strong support system that gathered around him in his time of need.
"I immediately just went to that place of just feeling grateful for the fact that I have an amazing wife [Lauren Monroe, to whom Allen has been married since 2003] and an incredible family and I just started thanking a higher power for the fact that I'm still here," he says.