Last year, The CW unveiled a schedule that loosely grouped its many shows into rough theme nights. Mondays were teen soap night, Tuesdays were doctors night, and so on. The schedule the network unveiled that morning basically boiled down to it saying, "Screw that!" and tossing caution to the wind. The big surprise comes from The Originals being sent to hold its own on Tuesdays, rather than getting time to build after its parent series, The Vampire Diaries, which is instead being used to build a series about Mary, Queen of Scots, because that was a thing you were expecting to read this morning. If the 2012-13 schedule was all about trying to build some consistency across the lineup for the fledgling network—which ended up renewing everything that was eligible—then this season is… well, we don't know what it's about. Maybe it's about leaving behind the channel's televisual roots and taking off for the unfettered prairies of the online streaming world. Or maybe it's just about the network realizing the bulk of its audience isn't going to watch live anyway, so who cares if anything flows? It's a brave new world if you're The CW.
We've long had a pet theory that The CW is the network that most treats shows like TV fans want those shows to be treated. They're renewed based more on quality and buzz than actual ratings metrics (or else neither Nikita nor The Carrie Diaries would be back), and the network often goes out of its way to provide the series with natural endpoints. The problem is that The CW doesn't attract a lot of attention from big-time TV fans. A lot of this is because its programming can be kind of low-rent—though it has a surprising amount of decent-to-excellent shows—but just as much is because of various biases against the network, based on its inability to pick a consistent strategy and stick with it. All of which is how you end up with a schedule like this one, which seems to focus on sci-fi programming except when it doesn't, which is when it's focusing on sexy small-town doctors or Carrie Bradshaw or whatever. Suffice to say, if you were hoping for any of this to make very much sense, you're probably going to be disappointed.
Let's go night by night, and then we might finally sleep.
Mondays:
8 p.m.: Hart Of Dixie
9 p.m.: Beauty And The Beast
See what we mean? The CW's press release bills this as a night of "Southern charm and epic romance," which would be fine if the network were doing a modern-day version of Gone With The Wind called Tara High or something, but it's not. It's hard to see how the quirky, occasionally charming Hart Of Dixie—which is actually one of the network's most consistent ratings performers—is going to match up with the grouchy, dour Beauty—which is… not. Both shows are also airing on new nights, which seems like a recipe for confusion, until you consider that Hart Of Dixie actually started out on Mondays, only at 9, and okay, now, we're even more confused. Anyway, we suggest The CW not try to promote this as a night of "Southern charm and epic romance" and, instead, go with the more straightforward, "Here are some television shows." Still, this is probably a night The CW is mostly writing off to focus its strengths elsewhere on the schedule. To that end, having the consistency of Hart, even if it's not a world beater, will help loads.
Tuesdays:
8 p.m.: THE ORIGINALS
9 p.m.: Supernatural
Supernatural returns to the timeslot where it actually started out, when it aired for a half-season after Gilmore Girls back on the old WB. (It and America's Next Top Model are the last remaining remnants of The WB and UPN respectively. They are the television equivalent of storied African monster Mokele Mbembe, dinosaurs parading through the CW jungles.) We'd say this should be the last season, then, because it would be kind of cool for it to go full circle like that, after airing on every night the network programs but Mondays, but we all know Supernatural will run until the Earth is but a cool cinder. Pairing The Originals with the brothers Winchester seems like a smart idea, too. The Originals should attract a certain amount of curiosity from the network's core fanbase, and Supernatural is another show that's popular just about anywhere the network puts it. The two should have some degree of compatibility as well. This night makes sense but hinges really heavily on The Originals delivering against tough competition. Would we bet on that? Nah, but it's not a completely insane notion, either.
G/O Media may get a commission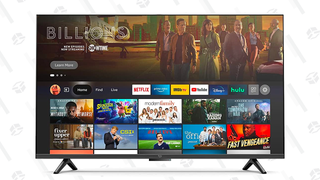 22% off
Amazon Fire TV - 50" Omni Series 4K - Early Access Deal
Wednesdays:
8 p.m.: Arrow
9 p.m.: THE TOMORROW PEOPLE
Here's where The CW's sci-fi-centric focus really becomes apparent. Sci-fi and horror used to be things The CW used sparingly, but now, it has very few programs without genre elements. Though Arrow slumped a bit this spring, it's still a rousing success for the network, and having it lead into the similarly superheroic Tomorrow People seems like a fairly smart move. Plus, Wednesdays are less crowded with natural competition for these shows (with CBS skewing older than The CW and ABC skewing toward the family audience and Fox busy singing), unless you think Revolution might put a dent in Arrow, which we sincerely doubt. We're willing to bet this night works pretty well—at least insofar as The CW is concerned—and now we're wondering why we were complaining about how little sense the schedule made up…
Thursdays:
8 p.m.: The Vampire Diaries
9 p.m.: REIGN
Oh. Right. Vampires and Mary, Queen of Scots. Sure. The CW's press release doesn't even try to draw these two together under some sort of cutesy theme or even try to boil them down succinctly like the Monday night pairing. Instead, it's just "here's our biggest hit, and here's a historical drama." On the one hand, this is a massive show of faith in Reign, which kind of came out of nowhere this pilot season to end up in the network's best timeslot. (The Vampire Diaries has a good track record of launching stuff, too, with Nikita and Beauty And The Beast both earning second seasons from the show's lead-in, though Secret Circle didn't.) And, hey, if we're squinting, you can sort of see the resemblances here, in that Vampire Diaries does a lot of flashbacks and stuff. On the other hand, this is a pretty weird programming decision. We hope Reign is good enough to deserve this timeslot, but even if it is, that's a lot of pressure on a show that's… shall we say… slightly unorthodox, both for the network it's on and the timeslot it's in. Also: How will The CW keep the production values up? We'll be curious to see.
Fridays:
8 p.m.: The Carrie Diaries
9 p.m.: America's Next Top Model
The CW e-mail bills this as "fashionable Fridays," and we think that's a better way to put it than when we dubbed last year's Nikita/ANTM pairing "tall girl Fridays," so we'll reprint it mostly uncritically. It was great to see Carrie get a renewal, but the Friday slot does not suggest the network's confidence, though maybe it will have a loyal enough audience to keep the lights on here. (And there's always Nikita, with its final six episodes, waiting in the wings.) Model is long past its peak, but it's at least a cheap way to not give up on Fridays. For a few years now, those with industry connections have been wondering if The CW would give up on Friday, beginning its slow retreat back into the Earth, like Excalibur slipping back beneath the surface of the lake after Arthur's death (sorry; Reign has us in a chivalrous mood). In the 2013-14 season, at least, the answer seems to be, "not just yet," and it's possible to argue that Carrie might do well enough to earn a back-nine order. Hey. Weirder things have happened.
The midseason shows are mostly remarkable for having another weird-ass CW reality show that may never air (in this case, it's Famous In 12, in which TMZ and Harvey Levin attempt to help one "lucky" family become famous in 12 weeks by moving to Los Angeles and… Christ almighty, we've wasted our lives) and a show where Aimee Teegarden falls in love with an alien. Also, there's Nikita and another show about post-apocalyptic teenage ne'er-do-wells.
All in all, this is definitely a television schedule. It works better the more you think about it, but it's also a schedule for a network that counts itself lucky when it can break into the low 1.0s in the demo. We hope everybody involved sees a substantial return on their investment, via whatever voodoo economics keep the network in business, and now, we sleep.