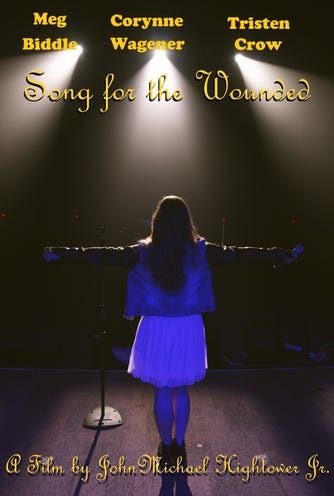 Meg Biddle Smith (Karen Valentine)Corynne Wagener (Rachael Dawson)Tristen Crow (Scotty Furgeson)Colin Ochs (Vinny Totino)Maggie Dukes (Leah)Kate Barnette (Scarlet Johnson)Amber Sweet Sterner (Tiffany Valentine)Darby Clark (Stella Barfield)Ramy Kebbe (Chris Donato)Danielle Barrow (Judge Annie Demling)Mason Guevara (Simon Krunkel)Ellis Treece (Judge Cody Bronson)Levi Touchberry (Stevie Boy)Alex Cantrell (Judge Steve Watkins)John Michael Hightower Jr. (Homeless Man)
John Michael Hightower Jr.
John Michael Hightower Jr "Dark Intentions, Down In the Dumps" brings to the screen a heartfelt story about Karen Valentine "Meg Biddle" who comes to Nashville leaving her past behind to once again find herself by trying out in Nashville's most prestigious annual music artist competition. She meets the Nashville favorite "Rachael Dawson" and enters into a mentor type relationship with her. However, Karen's past creeps up on her as the guilt of her past and the haunting words of someone she once loved begin to cripple her to the point of fearing to move forward. The two women bond together as they not only conquer Karen's past together but put into practice first hand how to share the their stories through gift of music to others, to learn to forgive and realize the blessing of a second chance and to triumph and win not only with the crowd but within themselves.