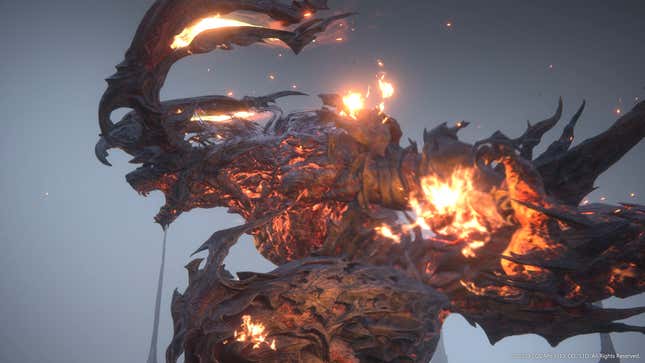 [Note: This first impressions review covers the first 20 or so hours of Final Fantasy XVI, concluding with the end of the party's first trip to the Imperial capitol of Oriflamme. We'll revisit our review next month, once we've had time to fully complete the game.]
Chris Pratt thinks you'll really like his Mario voice
You don't think much while playing Final Fantasy XVI.
Feel? Hell yes: Feel the satisfaction of its quick-moving combat; feel the punches as it drags its young hero Clive, kicking and screaming, through a particularly bloody iteration of the hero's journey. Final Fantasy XVI feels as good as any game in this series has in years; in its first 20 hours, it is a triumph of big, funny, miserable, exciting feelings.
It's just not necessarily a thinking game.
And that's not automatically a sin: Amongst the grand, massive pantheon of the Final Fantasy series (numbered, or not), mental rigor has come in and out of fashion with the decades. True, it's rare for an entry to do with XVI has, and entirely jettison the series' usual turn-based combat in favor of a pure action game, far more reliant on reflexes than careful character builds or planning. But Final Fantasy has always been less about choosing attack choices from a menu, or even spending time with series mascots like moogles and chocobos (both present here, albeit in more militarized forms), than it has been about relentless re-invention.
In this case, the series has reinvented itself into one of its darkest outings to date, with players taking control of the aforementioned Clive, a former lordling transformed, through some very George R.R. Martin life events, into a slave-assassin stuck working for one of several countries waging endless war in a dying world. Breaking free to embark on a quest to find the mysterious figure who murdered his little brother, Clive ends up drawn into a conflict between "regular" people and a small, horrifically oppressed class of magic users; although it gives plenty of screen time to war-waging gods and political machinations, it's this class conflict that serves as the game's primary heart—and the origin of many of its most affecting moments.
Meanwhile, the game completes the path the series' combat has been on since at least Final Fantasy XV (with a detour through the Final Fantasy VII remake), turning it into an able riff on games like Devil May Cry or Bayonetta. Clive combines swordplay and magic to dash across the battlefield, striking down foes, switching between abilities, and giving constant attack commands to his beloved dog. (Blessedly, you can automate those—and most other action-y aspects of the fights—through a set of customization-friendly accessories.) It's here, in the hacking and the slashing, where accusations of superficiality can start to sink in, especially for players more accustomed to the pace of earlier games in the franchise; there are ways to do combat like this in a thoughtful fashion (the entire Souls franchise of games has proven that), but Final Fantasy XVI opts not to take on anything that might diminish its relentless pursuit of polish and speed, strike and smash.
Admittedly, as Clive's abilities expand, the decisions being made during combat become more complex—mostly through the addition of new verbs that allow for better counter-attacks or crowd control. But what they don't ever do is become much more strategic. What's missing most sorely in Final Fantasy XVI's combat is an element of planning. Outside of a very basic upgrade system, and an equipment selection so minimal as to be largely non-existent, none of the choices you make in between fights have any meaningful impact on your conduct during them. The fact that it's usually quite easy to discern the correct choice in the battles themselves—it's usually whatever will stagger the foe fastest, allowing you lots of free hits on their uniformly beefy health bars—renders the entire thing much less than mindful.
That may, or may not, be a demerit: FFXVI is certainly reaping rewards for the elements it's selling off here—most especially via the production of climactic battles that are beautiful and sweeping in scope. Boss battles tend to thrill on sheer spectacle if nothing else, and the feeling of dodging a massive swing from some towering monster, then seeing Clive dash back in to punish his foe mid-strike, remains satisfying throughout. (Less so in the non-boss fights that dot your travels through the Blight-ridden lands; these minor battles feel almost entirely like filler, even as the designers try to vary enemies enough to create new challenges from time to time.) Final Fantasy XVI wants to move fast at all times, whether it's shuffling you along to its next plot beat, or tossing you into a mid-fight cutscene with some very mild "follow the button prompt" action commands to liven things up. It's very good at looking and feeling incredible, far less interested in going much deeper.
The game's superficiality extends to its story as well, which is emotionally affecting, well-presented, and, yeah, sometimes a little cheap. The game's various and obvious Game Of Thrones inspirations—a new-found interest in profanity, sex, and father figures who couldn't be more transparently doomed if they'd literally cast Sean Bean to play them—cover up what is, beneath, a very traditional Final Fantasy story. Clive might present as a rugged, scarred individual, but he's not all that far from any number of old-school FF heroes, trying to hold on to optimism in a world where magic/technology (indistinguishably blended, as usual) are always pushing the villains of the planet to more extreme heights and powers.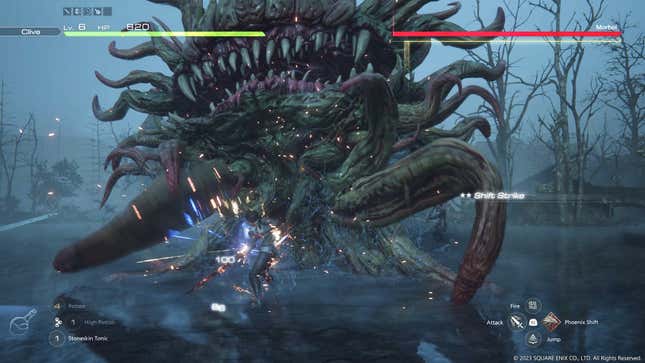 At the margins, at least—in the game's light smattering of optional story content that Clive can embark on in between major missions—there's room for nuance to slip in, and it's here that FFXVI finds something approaching a unique voice. The actual content of the game's various side-quests is minimal—go there, kill that, go home. But their narrative force is surprisingly heavy, as the game uses them to outline the sheer hellishness faced by the less-fortunate in Valisthea's society; on more than one occasion, the ending of a side quest elicited a "Jesus Christ, that's dark" from us, an unfamiliar and welcome hint of bite from a franchise that typically trends cheerful.
It helps that Square-Enix's decades-long focus on production values has put special emphasis on acting this time around; Ben Starr is serviceable as Clive, but the obvious stand-out is The Green Knight's Ralph Ineson, who brings gravelly warmth to the part of mentor figure Cid. He's a character given to cheesy one-liners and big speeches—but Ineson sells the hell out of every single one of them, making a compelling case for Cid's role as a charismatic leader holding a small community of outcasts together. If it's not the single best performance ever to grace a Final Fantasy game, it's certainly in the running.
So, does it matter if a game is only occasionally more than surface deep, if the surface is so incredibly appealing? Final Fantasy XVI is generally a blast to play, delivering satisfying moments of violence, triumph, and heartbreak at a steady pace. (And when the game goes what we can only term "full anime," as it typically does when the larger-than-life summoned monsters known as Eikons come out to play, it transcends into legitimately thrilling.) The worst thing you can say about the game is that it clearly wants to be deeper than it is—and even then, that just pushes it to tackle material this franchise has never touched before, sometimes to good effect. It's a game for the hands and heart, not the head—but it's damn good at what it does.