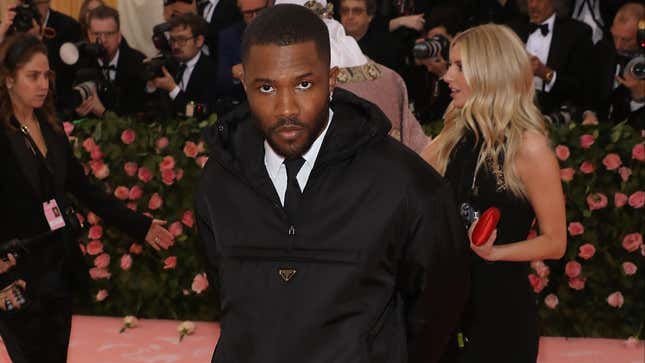 More often than not, being a fan of Frank Ocean feels a lot like trying to catch a beam of moonlight in your hand. Last night, the elusive and ineffable artist closed out Coachella's opening weekend with his first live performance since 2019, an intimate set that—to the chagrin of many—eschewed a previously-scheduled livestream, started late, and ended early. But for all its missteps, the performance also featured some soaring highs, including new music, reimagined old favorites, and even Ice Spice's "In Ha Mood."
Apparently Kanye West has been a Hitler fan for quite some time
Notably, Ocean seemed to sort of, kind of, maybe tease a new album—although not one that fans should expect anytime soon—while addressing the crowd mid-way through his set. Ocean has not released a full-length project since his 2016 opus Blonde.
"It's been so long…. But I have missed you. I wanna talk about why I'm here," Ocean said, dressed in a blue puffer that more often than not stayed zipped tightly around his face. "It's not because of the new album, it's not not because of the new album, but there's not a new album. So maybe?" For Ocean, a heavy "maybe" combined with the new song he debuted via a guest pianist player is probably as close to an official tease as can be expected.
Ocean kicked off the performance—which began around 11:00 P.M. PT, nearly an hour after it had been slated to start— with an indie rock version of "Novocane," off of his debut mixtape Nostalgia, Ultra followed by Channel Orange cut "Crack Rock." After a stilted, uneasy start to the set, described by The Los Angeles Times as "halting," Ocean dove into a spare piano version of "Bad Religion," followed by "White Ferrari."
Looming large over Ocean's set was the memory of his late brother Ryan, who died in a 2020 car crash at the age of 18. Ocean reminisced on the multiple Coachellas he shared with Ryan, also dedicating an acoustic performance of the Blonde favorite "Pink + White," to Ryan's memory.
Although many of the tracks Ocean performed were characterized by their stripped-down nature, he didn't go it alone onstage. As he shared before introducing DJ Crystalmess' rave intermission, which featured Jersey Club remixes of "Slide," "Provider," and "In My Room:" "It's good that it's not always about me." Later on, Ocean welcomed a young piano player named Josiah to the stage, who performed and lip-synced to a new track from Ocean. "This is Josiah," Ocean explained. "He's playing my inner child."
After performing a cover of The Isley Brothers' "(At Your Best) You Are Love," Ocean closed out the set somewhat abruptly, sharing from backstage: "Guys, I'm being told it's curfew, so that's the end of the show."
Some fair disappointment abounded among fans and attendees following the shortened set and canceled livestream. But in its most glistening moments, Ocean's performance seemed to capture that special something that has made him one of the most revered artists of this century: a virtuosic ability to express emotion that translates into a moving experience for those lucky enough to be in the crowd.