In Fear Of A Punk Decade, the punk/hardcore/emo explosion of the '90s is revisited, remembered, and reassessed, year by year.
As I mentioned at the end of last month's Fear Of A Punk Decade, I'm taking a break in March from my year-by-year overview of '90s punk. Instead, I'm using this installment to talk about something other than music—a collective force that exerted as much of an influence on '90s punk as the bands themselves did. That force was record labels.
In my earlier sidebar on zines, I looked at how vital DIY publications were in the punk scene of the '90s, when the Internet was still in its infancy and it took a different kind of effort on the part of the listener to find out about new music. Zines and labels went hand in hand. In fact, some of the best independent punk labels of the '90s—Lookout, Ebullition, Profane Existence, Second Nature—began as zines. And many of those who ran labels were also in bands themselves. Epitaph became the largest punk label in America, and one of the largest independent labels in the world, under the ownership of Bad Religion's Brett Gurewitz. Similarly, Fat Wreck Chords is owned and operated by Fat Mike of NOFX, and Dischord is a collective headed by Ian MacKaye of Fugazi (and formerly Minor Threat). Bad Religion, NOFX, and Fugazi all started in the '80s, but the labels their members formed had just as much of an impact on the '90s as the music those bands made—such as Fugazi's epoch-defining 1990 song "Merchandise," which drew the battle line between independent ethos and punk commercialism for the decade to come.
That had a lot to do with association. Knowing that, say, Fat Mike endorsed Propagandhi enough to release the band's music on Fat wasn't just a matter of better distribution and more ads in zines. It meant that, for the most part, fans could trust Fat—or Epitaph, or Dischord—to sign bands that were somewhat similar to the group behind the label in the first place. As the '90s progressed, and punk changed from a subculture to a viral epidemic, this became a double-edged sword. Fat and Epitaph in particular were accused of having a house sound—a combination of signing derivative bands and then encouraging them to homogenize that sound even further. Take, for example, Swingin' Utters. The California band's early albums, EPs, and singles up to and including 1995's stellar The Streets Of San Francisco, drew from the rowdy, vintage punk and post-punk folk of Ireland—particularly Stiff Little Fingers and The Pogues. But its Fat debut, 1996's A Juvenile Product Of The Working Class, had a far cleaner, tighter, '90s-California-punk sound. It was still good, but the band's rough edges and retro charm were partly scrubbed away. Whether that could be blamed on Fat or on the band's natural progression wasn't the point. Perception was everything, and it fed into the dominant narrative that the bigger these labels got, the more they became factories for lucrative, easy-to-digest, by-the-numbers '90s punk.

Of the big three artist-owned punk labels of the '90s, Dischord was unique. When its flagship band, Fugazi, began selling hundreds of thousands of copies of its albums, Dischord didn't expand its empire like Epitaph and Fat. It held steady. Throughout the '90s, the label actually began releasing less material, not more (along with serving as an umbrella for smaller, likeminded labels it distributed such as Slowdime, Art Monk Construction, and Lovitt). And after two of its most popular bands, Jawbox and Shudder To Think, left for major labels in the mid-'90s, Dischord seemed almost stung by the defection. After all, Dischord had been the most vehemently uncompromising and challenging label of the Fat/Epitaph/Dischord tier, and it seemed for a while that no bands would jump ship. Jawbox and Shudder To Think were popular among those who loved edgy, complex, Dischord-style post-hardcore, but it wasn't like either band was going to be the next Green Day. Inevitably, both Jawbox and Shudder To Think flopped as major-label bands—but the damage had been done, and Dischord circled the wagons after that experience, as if to send a clear signal that the label, unlike other punk indies of the '90s, was not willingly going to be a band's stepping stone to fame or fortune.

Technically speaking, Lookout Records was also owned by a musician. Larry Livermore, the label's founder, played in a short-lived band called—wait for it—The Lookouts in the '80s. The Lookouts were terrible, but it gave the chance for a teenage drummer who went by the name Tré Cool to build his chops—chops that would be put to better use in his later band Green Day. Lookout Records was built on the success of Green Day's two pre-Dookie albums as well as the Operation Ivy discography that sold about a jillion copies on CD in the '90s. But the label's roster expanded to include many excellent bands that decade, Livermore's next lackluster The Potatomen notwithstanding. From the ramshackle emo of Monsula to coarse pop-punk of Fifteen, a slew of relatively obscure groups were listed in the Lookout catalog right next to the label's main breadwinners Green Day, Operation Ivy, Screeching Weasel, and The Queers.

By the end of the '90s, however, Livermore had left, and a detour into garage-rock territory—and ahead-of-their-time outfits like American Steel, whose 1999 Lookout album Rogue's March wound up being hugely influential—confounded all the thousands of new Green Day fans who eagerly checked in on Lookout to see where it all started—only to find no new Lookout bands that sounded like Green Day. Thanks to that disconnect, plus a lot of anti-corporate mismanagement, Lookout gradually and painfully went bankrupt and dissolved. On one hand, the label's anti-corporate structure and desire to foster different kinds of bands was worthy of applause; on the other, maybe a little more of a capitalist mindset might have saved Lookout from its decline, a process that culminated in Green Day yanking back the rights to its first two albums.

The list of artist-owned punk labels in the '90s goes on and on. Like Epitaph, BYO Records was founded in the '80s by a groundbreaking L.A. punk band—only in BYO's case it was brothers Shawn and Mark Stern of the group Youth Brigade who helmed the label. BYO's biggest find was The Bouncing Souls from New Jersey; similarly, Nitro Records (started by The Offspring's Dexter Holland) found its biggest success with a scrappy outfit called AFI that would go on to change its sound—and its fortunes—considerably in the new millennium. It seemed as though every artist-owned punk label in the '90s had its breakout band. Tim Armstrong of Rancid, for instance, used his imprint Hellcat Records to catapult Boston's street-punk champion Dropkick Murphys into the limelight at the end of the '90s, and Nicky Garratt of the veteran British punk band U.K. Subs saw his San Francisco-based label, New Red Archives, take off with the success of the emo-tinged Samiam. Not all artist-owned labels were so high profile. Todd Congelliere of F.Y.P and the late Lance Hahn of J Church ran Recess Records and Honey Bear Records, respectively, without having huge hits. But Recess and Honey Bear, and other labels like them, not only served as outlets for their owners' bands, they helped fill in the gaps of the discographies of more popular groups by putting out EPs, singles, splits, compilations, and other non-studio-album releases by everyone from Propagandhi to Refused.

Revelation Records was also co-founded by a legendary punk musician—Ray Cappo of Youth Of Today, Shelter, and Better Than A Thousand—but he'd given up his share of the label by the time the '90s hit. Revelation kept going strong. By spearheading the evolution of meaty, East Coast hardcore into the more subtle, intricate post-hardcore of bands like Shelter, Into Another, Iceburn, and Quicksand, Revelation embodied a growing maturity in hardcore—not that everyone immediately got, say, Iceburn's singular progressive-jazz leanings. Another New York label, Albany's Equal Vision, operated under a similar motive, as did its unofficial companion labels on the West Coast, California's Indecision and New Age. Specifically, these labels weren't post-hardcore as much as they were post-straightedge: They took that militant subgenre's intensity and encouraged it to flourish into something utterly experimental, stretching the definition of punk as far as it would go in the '90s. (When it came time for the youth-crew straightedge revival toward the end of the decade, Revelation and Equal Vision also stepped up to foster In My Eyes, Floorpunch, and other abstinence-happy upstarts.)

The flyover states had plenty of essential labels all their own. In the Midwest, a profusion of punk labels—most prominently the Chicago hardcore imprint Victory—nurtured regional bands as well as those from all corners of the country. Victory became a powerhouse in the '00s thanks to the mainstream success of groups such as Thursday, Taking Back Sunday, and even some bands not named after days of the week. It also became infamous for its disputes with signees. The other active Midwest labels—including Initial, Doghouse, Underdog, Second Nature, Caulfield, Polyvinyl, Divot, and Johann's Face being just a few—spanned the spectrum of '90s punk, hardcore, post-hardcore, and emo, but always with a sensibility that felt grounded and, well, Midwestern.

When it came to the emo and post-hardcore scene, a broad and only loosely affiliated coalition of labels formed the patchwork. Which makes sense, seeing as how emo had yet to coalesce into the popular form it took a decade later. Ebullition was the epicenter. At home on the label's lengthy roster were the scratchy, unhinged emo of Still Life; the progressive, socially conscious hardcore Econochrist; and many of the late Sarah Kirsch's blistering outfits (including Torches To Rome and Bread And Circuits). Label head Kent McClard also published the outspoken zine HeartattaCk.
But Ebullition was only the tip of the iceberg. Troubleman, Vermiform, Gern Blandsten, Jade Tree, Big Wheel Recreation, File 13, Old Glory, Bloodlink, and Crank each trafficked in a specific make and model of the burgeoning emo and/or post-hardcore sound, with various levels of ambition. And the three labels Gravity, Three One G, and GSL (owned, respectively, by Heroin's Matt Anderson, The Locust's Justin Pearson, and The VSS' Sonny Kay) formed the holy trinity of screamo, even though they all rejected that term in the same way the emo labels loathed being called emo. It's hard to blame them; not only were those tags reductive, they overshadowed the richness and weirdness of the bands actually signed to those labels. Curiously, only one label in the '90s openly, unabashedly embraced the emo pigeonhole: Deep Elm. A relative latecomer to the scene, Deep Elm made a huge stir toward the end of the '90s with a series of compilations proudly, unironically titled The Emo Diaries. At the time, that name seemed ridiculous—a self-parody of the worst stereotype of emo. But Deep Elm, and the new wave of friendly, fuzzy emo in general, would have the last laugh before long. Yet one of Deep Elm's early bands, Planes Mistaken For Stars, would make an about-face and take things in a guttural, filthy, visceral direction on Florida's No Idea Records in the years to come—a direction that other No Idea bands in the '90s like Hot Water Music and Small Brown Bike were also exploring—just in time to inspire the 21st century's No Idea breakout band, Against Me!.

Going deeper into the crud, grime, and gunk of the '90s scene, a slew of labels focused more on the crusty side of punk and hardcore. From Minneapolis' Profane Existence—a mini-empire that comprised a zine, a label, a distribution co-op, and even a retail store—to the raw-edged onslaughts emanating from Deep Six, Six Weeks, and Prank, these collectives held the fort against the encroaching hordes of chirpy pop-punk and brooding emo that decade thanks to His Hero Is Gone, Capitalist Casualties, Aus-Rotten, and uncountable others. Meanwhile the bleaker, more spastic corner of the scene known as powerviolence was well served by labels such as Slap A Ham (owned by Chris Dodge of such powerviolence pioneers as Spazz and Lack Of Interest) and Youth Attack! (founded by Mark McCoy of the subversively corrosive bands Charles Bronson and Das Oath)—the latter label remaining a strong force in the hardcore scene today.

For every pocket of darkness in the '90s punk scene, there was a ray of light. Divine light, even. Tooth & Nail and its harder-edged imprint Solid State led the Christian punk movement in the '90s, with T&N's most beloved band MxPx at its head. Bible-reading kids gathered around MxPx's self-deprecating pop-punk, although the God-fearing section of the scene was just as apt to organize their own hardcore and ska-punk shows. The upbeat output of Dill Records and Asian Man Records—both established by Mike Park of Skankin' Pickle—definitely wasn't Christian, but it had a wide appeal that helped draw fans of all backgrounds to the scene. And thanks to Asian Man, the related Chicago bands Slapstick, Tuesday, and Alkaline Trio spread a catchy, heart-on-sleeve sound that took off like wildfire. Ska-punk and street-punk—the latter known less colloquially as the skinhead-bred subgenre Oi!—shared some qualities, including the patronage of Hellcat. But street-punk had its own share of specialty labels, including TKO, GMM, and Vulture Rock, all of which preserved the gruff, working-class punk of their '80s forbears even as Dropkick Murphys brought street-punk to a vaster audience.

So many punk labels in the '90s had distinct niches—and others might as well have been the farm teams for Fat, Epitaph, and Lookout, not to mention the majors. That's not to say Dr. Strange, Fearless, Hopeless, Go-Kart, Vagrant, and Drive-Thru didn't release solid records by great bands. Face To Face got its start on Dr. Strange before moving to Fat (and later A&M). Dillinger Four found its feet on Hopeless before also hopping up to Fat. And At The Drive-In was signed to Fearless prior to its major-label debut (and overall swansong), 2000's Relationship Of Command. Dr. Strange stuck to its independent guns and eventually faded in prominence partly because of its refusal to play the minor-league game of grooming bands for the big time; Drive-Thru would go in the opposite direction by helping launch the lucrative career of New Found Glory, while Vagrant expanded rapidly after signing emo poster-boys The Get Up Kids in 1999, which led to the success of Saves The Day, Dashboard Confessional, and so many alternative-rock and indie-rock bands that Vagrant's punk roots, as tenuous as they were in the first place, are nothing but a distant memory.

Not every label that released punk music in the '90s had the ethics of punk at heart. And not every label that did have those ethics at heart released strictly punk music. In the Pacific Northwest, the labels Kill Rock Stars and K put out records by all sorts of bands, from twee indie to art-damaged hardcore. Yet, compared to the blatantly opportunistic labels that pumped out cookie-cutter pop-punk in the '90s, KRS and K were far more punk in the way they operated—that is, with a focus on integrity, community, and autonomy that ran parallel to how Dischord carried itself. (They would even cross over from time to time—for instance, the revolutionary Dischord post-hardcore group Nation Of Ulysses also had a single released on K.) In the same way, riot grrrl and queercore labels like Chainsaw and Mr. Lady—and their signees Team Dresch, The Butchies, and others—kept those subcultures thriving long after the riot-grrrl explosion of 1993 faded in the eyes of the mainstream. Even the most famous of grunge labels, Sub Pop, ended up releasing a diverse handful of albums in the '90s that were incredibly influential to the punk scene, from Dwarves' Blood Guts & Pussy to Sunny Day Real Estate's Diary to Murder City Devils' Empty Bottles Broken Hearts. The label that did the most to kick off the alt-rock insurgency of the '90s also had a small but important part to play in the unfolding narrative of punk.

On a personal level, most of these labels became ingrained in my musical outlook during the '90s. Not only was I a music geek, I worked in one of Denver's foremost independent record stores for most of the '90s. One of my duties was buying in stock directly from various labels—among them Dischord, Revelation, Ebullition, Profane Existence, Vulture Rock, and many of the other abovementioned labels that doubled as distributors of smaller labels. For someone obsessed with punk, it was a dream job. When I called Dischord to place a reorder for Lungfish LPs and such, I was likely to hear the phone answered by Alec MacKaye (brother of Ian and singer of some of my favorite Dischord bands like Faith and Ignition) or Alec Bourgeois (frontman of the underrated Dischord bands Severin and The Capital City Dusters). My orders from Ebullition always came with a fat stack of the latest issue of HeartattaCk, which I gave out for free to the kids who came in and bought punk and hardcore records. I also booked touring bands in Denver, so the contacts I made through my record-store job would often lead to setting up shows for some of those labels' bands that would come through town. It was all part of the grassroots synergy that was imperative to the punk scene in the '90s, before the Internet fully took root in everyday life and radically changed the dynamic of the scene.

G/O Media may get a commission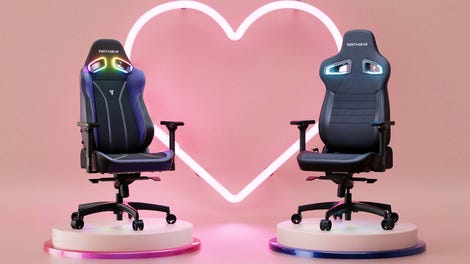 Up to $150 off
Vertagear Gaming Chairs
But it wasn't just necessity that drove this intricate system of label-building and networking and cooperative effort. It was fun. It felt like a mission. It was a way to make sense out of punk's sprawling chaos. And it reinforced the fact that—regardless of how much all the older, jaded punks loved to dismiss what we were doing in the '90s as just a bunch of watered-down crap—we were indeed the rightful heirs to the scene that we called home.
---
Next month: April's installment of Fear Of A Punk Decade will resume the year-by-year march toward Y2K—by gazing long at 1997. It was a big year. Blink-182, Green Day, The Mighty Mighty Bosstones, Me First And The Gimme Gimmes, The Casualties, Misfits, Hatebreed, Sick Of It All, H2O, Warzone (Raybeez R.I.P.), Coalesce, Shai Hulud, The VSS, The Monorchid, Charles Bronson, His Hero Is Gone, Hot Water Music, I Hate Myself, Tuesday, Rainer Maria, Mineral, and The Get Up Kids all made ripples in the scene—some subtle, others seismic.