There's been plenty of popular horror flicks over the years that reaped both critical and commercial acclaim. Rarely, however, do those movies weave themselves into the zeitgeist, affixing themselves into the general discourse that surrounds culture and horror. Even a critical darling like It Follows perseveres mostly as an enduring slumber party staple than a fruitful discussion piece. That Jordan Peele's Get Out has, over the last year, established itself as both a crowd-pleaser, a horror game changer, and a probing piece of timely social satire is a marvel unto itself, and has caused the film to enjoy a strange second life in both the realms of academia and meme culture.

Both of these extensions of the film are discussed in Vulture's new oral history of the film, which speaks to all the major players about Get Out's inception, locations, behind-the-scenes culture, and enduring appeal. We've already shared the footage of Peele surprising the UCLA classroom of Tananarive Due, who's teaching a class entitled Sunken Place: Racism, Survival, And Black Horror Aesthetic, but to hear her discuss the ways in which Peele himself seems to be analyzing his own experience of writing it through these lenses is touching.
"Peele told my class that when he was writing the scene with the sunken place, he realized that it represented the prison-­industrial system. He saw the metaphor of black bodies being abducted and thrown into holes and he said he started crying. He wasn't used to being that person who looked at these issues systemically," says Due.
Another professor, University of California, Riverside professor John Jennings, says he immediately went to his office and wrote a syllabus after seeing the movie. "I think there's going to be a before Get Out and an after Get Out," he says.
But the film's also taken on another life online, having produced a plethora of GIFs that people of color on social media have adopted as a kind of cultural shorthand.
G/O Media may get a commission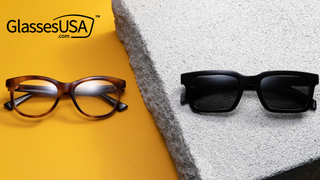 60% off frames
GlassesUSA.com Back to School Sales
From the oral history:
Tiffany Vazquez (content manager at Giphy, an online database of animated GIF files): It just became instantly integrated into our everyday conversation. A lot of these terms were so relevant to what was happening politically last year and Jordan would tweet a picture or a GIF or say that someone was in "the sunken place" and everyone got it.

Jasmyn Lawson (culture editor at ­Giphy): The best part of black Twitter to me is that we talk about our oppression, and what the movie is symbolizing is being in spaces where people want everything from you — your talent, your smartness, your looks, your appeal — but don't value all of you. So that was a larger, deeper conversation, but of course we always love to put a joke or a spin on it and find humor in the oppression, and I think the GIFs allowed us to do that.

Vazquez: Jordan Peele tweeted Betty's Twitter handle with "Here, follow her before she follows you," and a GIF of her just staring out of the window. He would also use the "No, no, no" GIF. That's definitely the best "No" GIF of last year, but it might be one of the best "No" GIFs in history. It's perfectly performed.
Peele has said that he was most inspired by movies like The Stepford Wives and Rosemary's Baby, horror films that doubled as pieces of social commentary and have gone on to infiltrate the zeitgeist. It's pretty cool to see Get Out following a similar trajectory.