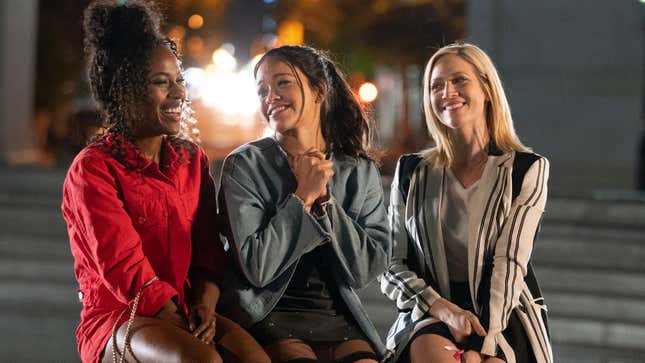 Netflix is doing the work to inject life back into the rom-com genre, and its latest effort in that field is Someone Great, an NYC-set heartbreak story written and directed by Sweet/Vicious creator Jennifer Kaytin Robinson and starring Gina Rodriguez, Brittany Snow, and DeWanda Wise as three longtime best friends. When Rodriguez's Jenny gets dumped by her boyfriend of nine years, Nate (LaKeith Stanfield), she suddenly has to take inventory of her life, evaluate what she wants, and reflect on nearly a decade of memories she built with a person who suddenly can't be a permanent part of her life anymore. It's one of the genre's most gutting and complete portraits of a breakup and its sticky, chaotic aftermath. Or, at least, it would be, if it wasn't set across such a short time period.

In Someone Great, Jenny immediately spirals in the wake of her breakup. It's raw, visceral, and highly relatable: She gets drunk and then drunker. She forces her friends to get drunk with her, to drop their lives so they can help her hold onto the shattered pieces of her's. She's a little selfish and a lot reckless. She wants to avoid Nate, but she also wants to see him. Memories of their entire relationship pop up, out of her control. She fantasizes about him saying it was all a mistake, about him promising to try to make long-distance work. In turns, she holds onto the relationship for dear life and releases it. She is, indeed, all the fuck over the place. But then, after a night of shots, drugs, tears, fights, hugs, dancing, and shouting, she finds some peace. She realizes that what she and Nate had was special but flawed, that they were right for each other until they weren't, that he came into her life at a time when everything was new and exciting and that maybe she got exactly what she needed out of it. It's a beautiful realization, and much more compelling than those typically afforded to characters in her position. But these are also the types of awareness that come with time—and, if we're being extremely realistic, a load of therapy.
In Someone Great, Jenny goes through about six months to a year of emotional processing in the span of essentially one day. This is the result of trying to fit what is a genuinely devastating and layered heartbreak narrative into a one-last-night-of-debauchery comedy format. Someone Great borrows from the post-Bridesmaids canon of excellent, raunchy comedies driven by friendship between women. Think: Girls Trip, Bachelorette, or another Netflix release, Ibiza. Someone Great does what a lot of these other movies do very well, presenting crackling, flawed, very-fun-to-watch women and the various intricate dynamics that shape and inform their friendships. Someone Great is a little more muted in its comedy style, less screwball than some of those other films skew. It's still wickedly funny, and Rodriguez, Snow, and Wise all burst with comedic chemistry. But there's admittedly something slightly off about the movie's pacing and about the way it leaps into a surprisingly tidy ending for a movie that largely revels in the uncomfortable mess of the end of a relationship.
That wonky pacing is mostly forgivable. Someone Great is an instantly captivating comedy and a standout rom-com in the ways it subtly subverts some of the genre's most common tropes. Right away, the relationship between Jenny and Nate feels alive and specific. From their very first scene together, Stanfield and Rodriguez imbue both their individual characters and the living, breathing thing between their characters with details that make them feel very real. The actual breakup scene is a stunner. Rodriguez has proven time and again on Jane The Virgin that she's deft at both comedy and drama and interplay between the two, and she pulls out all the stops for a beautiful dramatic performance here that's absolutely heart-shredding. Stanfield has similar versatility, and even though Nate is not the focus on this film, that doesn't mean that his performance and Robinson's writing just make him a peripheral player. Nate's emotions and where he's at in life are at the surface of the story, too.
The way Someone Great plays around with temporality, presenting a fragmented depiction of the ups and downs of Jenny and Nate's relationship, allows it to give urgency and stakes to the breakup and also flesh out the characters with even more specificity. It's interesting to think of what triggers specific memories for Jenny, what places and things connect to something bigger. The good memories and the bad memories intermingle, neither really negating or taking priority over another. It's all part of the same complete, complicated picture of a relationship spanning years. We're treated to a montage of the relationship as conveyed through social media at the top, and Someone Great captures modern dating in a believable and meaningful way.
In another subtle but powerful subversion of the genre, the characters who do get a more conventional rom-com arc are queer. Wise's Erin is the typical stuck-in-her-20s, about-to-be-30 character who avoids responsibility and vulnerability, unwilling to commit to the girl she's clearly into just because that would mean opening herself up to heartbreak. It turns out that her commitment issues come from a real place of internalized homophobia, and Someone Great unspools that in a manner that doesn't feel prescriptive or forced. Erin and Leah get their big rom-com moment, and it's beautiful. Watching two black lesbians fall in love with each other is still so rare in mainstream film and television.

Someone Great imbues its world with fun bit characters, too, tapping an impressive cast of actors for quick appearances. RuPaul is an obvious highlight, but Jaboukie Young-White steals his one scene effortlessly, and Rosario Dawson does the condescending mean girl act unnervingly well. New York City is also undeniably its own character in the story, a significant backdrop to Jenny and Nate's relationship as well as the friendship between the three main characters. The movie's sense of place is strong, which helps root us in that relationship, too. Heartbreak in New York is an oft-tackled setup, and Someone Great manages to take it on with fresh insights. Growing up and moving forward are central themes throughout all the intersecting narratives of Someone Great, and it's certainly well trodden territory, but Jenny, Erin, and Blair pulsate with depth and detail, their friendship providing the real romantic bone to a rom-com that's otherwise saturated in raw, biting heartbreak.