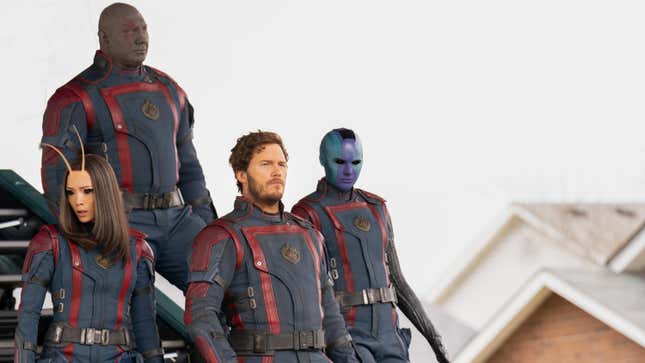 Guardians Of The Galaxy Vol. 3 arrives at a key moment for Marvel Studios. The 32nd film in the Marvel Cinematic Universe, it opens almost exactly 15 years after the first Iron Man film was released in theaters, kicking off an unprecedented run of success on screens big and small. But while ride-or-die Marvel fans may still line up on opening night, it's no secret that the once unstoppable Marvel juggernaut has lost some of its remarkable momentum of late. Recent films like Doctor Strange In The Multiverse Of Madness, Thor: Love And Thunder, and Ant-Man And The Wasp: Quantumania still managed to generate solid results at the box office, but the consensus among critics and many fans is that they were underwhelming creatively.
Loki's director on retro-futuristic computers and the significance of Mobius' soda choices
The latest Guardians sci-fi adventure, however, has been getting a positive response from critics (including ours), and opening weekend returns are estimated to come in somewhere between $110 and $150 million (the first installment earned $94 million and the second $146 million). Does that mean James Gunn's swan song for Marvel—he accepted the top job at rival DC Studios—will help right the ship for the MCU? Is it an exception to the recent trend, or could a successful return by Guardians mean bigger things for Marvel going forward?
Wrapping up the Gunn show
It's nearly impossible to separate the Guardians films from James Gunn, who wrote and directed all three, as well as last year's holiday special. He's so closely tied to the Guardians that when it looked like he might get fired from Vol. 3 following an online smear campaign that resurfaced controversial old tweets, the entire cast banded together and talked the studio into keeping him on the project. Like the two previous installments, this one is infused with Gunn's distinctive style and voice—colorful, funny, tuneful, and as edgy as a PG-13 film can be. One of the lessons Marvel seems to keep having to relearn is that when you give a creator free rein over a project, the results are almost always better than forcing a creator to squeeze into the studio's mold.

We don't know for sure whether Vol. 3 will be the last we'll see of the Guardians on the big screen, though it's positioned as a nice send-off for them if it is. What we do know is that Gunn won't be making any more films for Marvel in the near future. As most fans are aware, he's been tapped to run DC Studios, alongside co-chairman Peter Safran, and is currently planning out a new, interconnected universe within DC to rival the MCU. The door is open for the Guardians characters to return in future projects—and if the new film turns out to be a hit the chances we'll see them again will only increase—but it will have to happen without the writer-director who's had the most influence on their on-screen personas.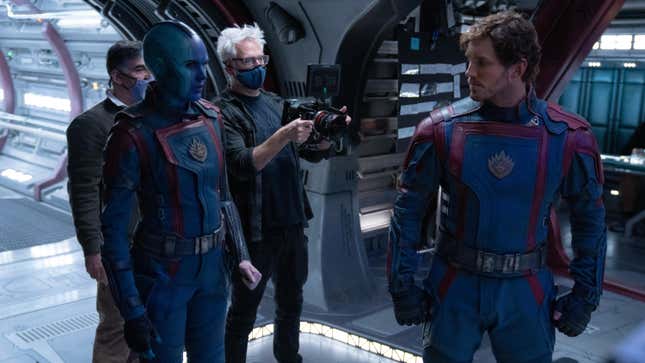 Standalone versus multiverse
Given upcoming projects like Secret Invasion, The Marvels, and Thunderbolts, it seems like Marvel is still very much in the business of world-building, with the new films likely leading towards massive team-ups like the ones in Avengers: Infinity War and Avengers: Endgame. But is that still what audiences want? Or is that model becoming outdated as superhero fatigue sets in? In addition to more than 30 films, the MCU also includes eight streaming series and two TV specials. That's a lot of history and characters to keep track of. Even if the cinematic universe had room for them all, future big event films won't have marquee characters like Iron Man and Captain America to hold them together.

Then there are the Guardians of the Galaxy themselves, who have crossed over and connected with other MCU characters but have always kind of stood apart as their own thing. You can watch Vol. 1 and Vol. 2 and still understand what's going on without ever having seen a single Avengers movie. Vol. 3 is a bit more complicated because of Gamora's arc in Avengers: Infinity War and Avengers: Endgame, but the film does attempt to explain it for those who aren't up to speed. We highly recommend you watch The Guardians Of The Galaxy: Holiday Special before going in, though even that isn't a prerequisite, or a quick read online will catch you up. Compared to other recent MCU releases, there's very little homework required beforehand.
We'll have to see if that proves to be a selling point for audiences. "Come out to the theater for a fun sci-fi adventure, no baggage required." If it works, Marvel might do well to rethink their old "it's all connected" strategy.

A galaxy apart from superheroes
That gets to the heart of something else that makes Guardians Of The Galaxy different from Marvel's other fare. It's not really a superhero film. Scott McCloud, author of the seminal book Understanding Comics: The Invisible Art, writes that "comics is a medium, not a genre." Similarly, we tend to throw all film adaptations of comic books (especially those associated with Marvel and DC) into the same bucket. But Guardians has more in common with science fiction—spaceships, aliens, distant planets, sophisticated tech—than any of their studio brethren. So even if there is something to the theory that audiences are growing weary of superheroes, that might not apply here.

Marvel sent its characters to space often in the comics, and it looks like the films might be starting to do more of the same. Alien races like the Kree and the Skrulls have already played key roles in the MCU, and Nick Fury is currently chilling on a space station and possibly running a new cosmic-based iteration of S.H.I.E.L.D. called S.A.B.E.R. (which has no comic equivalent but may be similar in nature to S.W.O.R.D.) while his Skrull friend Talos impersonates him on Earth. Could the answer to superhero fatigue be found in the stars? The success or failure of Guardians Of The Galaxy Vol. 3 could tell us the answer.