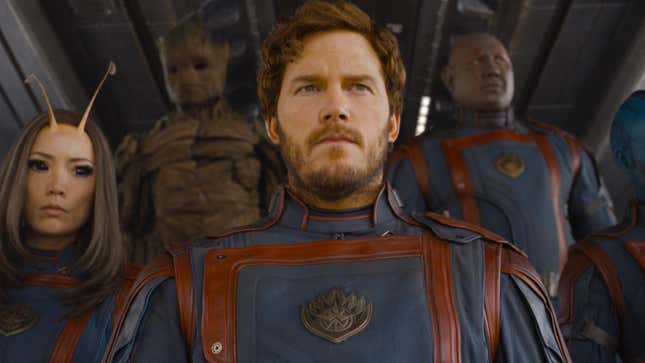 A lot has happened in the world of Guardians of the Galaxy since the last time they had their own movie. Within the Marvel Cinematic Universe, they've battled Thanos, lost one of their own, watched half of their number blip out of existence for five years, and ended up buying the headquarters of Knowhere in the Guardians Of The Galaxy Holiday Special. Back in the real world, Guardians writer, director, and mastermind James Gunn was fired by Marvel, then rehired, then busy with two separate DC projects for Warner Bros., all while his cast went off and did many other projects of their own. And that's just the abbreviated version.
Loki's director on retro-futuristic computers and the significance of Mobius' soda choices
Now, after all that and then some, Guardians Of The Galaxy Vol. 3 is finally here, and it carries with it the weight not just of the six years it took to get it made, but of a certain sense of finality in a fictional universe that's seriously lacking in endings lately. Longtime MCU viewers know by now that nothing in that world ever really ends. Characters die sometimes, villains are defeated, and storylines wrap up, but they're all cogs in a larger machine, threads in an ever-growing tapestry designed to link to the next thing. Yet here's Gunn and his cast, doing their best to create some kind of satisfying conclusion to a story they started nearly a decade ago, back when a lot of people thought a movie co-starring a talking raccoon and a sentient tree had no chance at the box office.
The gravity of that intention, of Gunn's effort to conclude his story with his original team of actors, is laced through even the most irreverent moments in Guardians Of The Galaxy Vol. 3, a film that, like its predecessors, has no shortage of irreverence. It's a juxtaposition that gives the film a different tone than its predecessors, making it the darkest in the series so far, but there's also something else you'll notice right away, something arguably more important. In a franchise full of earnestness and unrestrained energy, this feels like a cast and a crew who are ready to throw everything they have at us one last time. It's not just a film, it's a blaze of glory, and that sense of daring is both the best thing about Vol. 3 and, occasionally, the worst.
Picking up in the wake of the Holiday Special that hit Disney+ last year, Vol. 3 finds the Guardians at a crossroads. They're all trying their best to build a new community on Knowhere, but the team's not holding together like it used to, in part because Peter Quill (Chris Pratt) can't stop drinking himself into a stupor over the loss of Gamora (Zoe Saldana). But the team members have to set their other concerns aside when two things happen almost simultaneously: A new superpowered being named Adam Warlock (Will Poulter) quite literally blows up their enclave, and one of their own is mortally wounded. Racing against time to save their friend, the Guardians must journey to parts unknown, face a tyrannical mad scientist known as the High Evolutionary (Chukwudi Iwuji), and stare down their own potential ending in more ways than one.
In a bare bones narrative scaffolding way, the film is basically laid out like a series of quests to retrieve certain objects and information that can solve the team's problems, but Gunn is too canny to let those old rhythms overshadow what he's really after with this installment. The urgent, adrenaline pumping way that the film sets up its stakes in the opening minutes ensures that the Guardians faithful are hooked right away, and therefore the searching around for solutions isn't just something for the team to do. It's a backdrop upon which they can each explore certain emotional depths. Rocket (Bradley Cooper) carries the brunt of this exploration with a number of flashbacks to his creation, and the darkness he left behind, but he's not alone. Peter must contend with the emotional damage he's been avoiding for years, Drax (Dave Bautista) must face the idea of losing his family for a second time, Mantis (Pom Klementieff) must explore the idea of independence for herself, Nebula (Karen Gillan) must learn to look past her own anger, and so on. It's heavy stuff, which imbues this installment with a greater sense of potential emotional devastation than even the daddy issues-laden Vol. 2, and that's before Gunn digs even deeper into the life-or-death choices upon which his plot hangs.
But that heaviness is buoyed by the sense that, first and foremost, it's just good to see everyone back in top form again. Gunn directs with the same sense of action-comedy bravado that made him a blockbuster filmmaker in the first place, sprinkling entertaining needle drops and fun camera angles through the film with impish delight. His cast, led this time by standout work from Bautista and Klementieff, feels like they've just been hanging out together for six years, waiting for the day the cameras will roll. It's all comfortable and familiar and even joyful, which makes it easier to pull off the film's delicate balance of many, many elements.
Which isn't to say that balance is always just right. Even by Guardians movie standards, Vol. 3 feels overstuffed with setpieces and creatures and big new environments designed to show the scale of the cosmic world the characters inhabit. Even within individual scenes, as the Guardians are trying to juggle the High Evolutionary, Adam Warlock, a bunch of nameless monster creations and their own insecurities and hang-ups, the film feels like too much at times, like Gunn couldn't help but keep throwing every idea into the mix as though it's his last chance. At its best, this exuberant sense that the film is bursting at the seams works in its favor, giving it the explosive shine of something that just can't help being this big, this bold. At its worst, it makes us gasp for intellectual breath, wishing the narrative would refocus.
But these moments are ultimately few and far between, and the overall impression of Guardians Of The Galaxy Vol. 3 is one of a refusal to leave anything unsaid, to abandon any opportunity to offer just one more narrative trick or clever visual. If the first film was about finding a purpose, and the second film about finding a family, then the third is about finding a legacy, and deciding what to leave behind. In true Guardians fashion, Gunn and his intrepid crew decide their legacy is to go down swinging to the very end, and that will always be both intensely entertaining and unforgettably endearing.
Guardians of the Galaxy Vol. 3 hits theaters on May 5.