The slate of media getting dumped onto Hulu's streaming service in December contains some dark gifts. To help horror fans gird their dirty loins for the upcoming Friday The 13th reboot, the entire franchise (or at least the films that actually have "Friday The 13th" in the title) is arriving on December 1. That covers everything from the original 1980 film to 1989's Friday The 13th Part VIII: Manhattan. Not to be missed is 1986's Jason Lives, Tom McLoughlin's laugh-out-loud meta take on the franchise.
Keeping with the theme, piece-of-shit Rob Zombie's Devil's Rejects and House of 1,000 Corpses are arriving at the same time, as well as David Cronenberg's early sex-slug body horror Shivers (a.k.a. They Came From Within). Less genre but equally dark fare is also arriving to mirror the zeitgeist, from Silence Of The Lambs to No Country For Old Men. Apocalypse Now is on the list, too, which is arguably as existentially challenging a watch as All Dogs Go To Heaven (also available 12/1).
Fleeing the country are the Pink Panther films, because who is really in the mood, honestly, and the Kill Bills (though some other Quentin Tarantino arrivals make up for the loss). For anyone who may, for whatever reason, want to reflect on the building and soul of America, Chinatown is also being jettisoned at December's outset. So if Hulu is your only source of media, watch it now, or forget it.
The full list, via Hulu:
Available December 1:
A Guy Thing (2003)
Apocalypse Now (1979)
Apocalypse Now Redux (2001)
All Dogs Go to Heaven (1989)
All Dogs Go to Heaven 2 (1996)
Antitrust (2001)
Autumn in New York (2000)
American Beauty (1989)
Black Rain (1962)
Black Water (2008)
The Bridges of Madison County (1995)
Born Romantic (2001)
Cats & Dogs (2001)
Carnival of Souls (1998)
The Counterfeit Traitor (1996)
Crouching Tiger, Hidden Dragon (2000)
Desperately Seeking Susan (1985)
Devil's Rejects (2005)
Don't Answer the Phone (1980)
Doc Hollywood (1991)
Driving Miss Daisy (1989)
Escape From LA (1997)
Fluke (1987)
The Foot Fist Way (2006)
Friday the 13th (1980)
Friday the 13th Part II (1981)
Friday the 13th Part III (1982)
Friday the 13th Part IV: The Final Chapter (1984)
Friday the 13th Part V: A New Beginning (1985)
Friday the 13th Part VI: Jason Lives (1986)
Friday the 13th Part VII: The New Blood (1988)
Friday the 13th Part VIII: Manhattan (1989)
The Hearse (1980)
House of 1,000 Corpses (2003)
Hard Rain (1998)
Indecent Proposal (1993)
Jackie Chan's Project A (1983)
Jim Norton: Please Be Offended (2012)
Legend of the Drunken Master (1994)
Moonstruck (1987)
Never Back Down (2008)
No Country for Old Men (2007)
One from the Heart (1982)
Private Parts (1997)
Pulp Fiction (1994)
Rain Man (1988)
Reservoir Dogs (1992)
Ronin (1998)
Rosemary's Baby (1968)
Rumble in the Bronx (1996)
Shivers (1975)
The Sisterhood of the Traveling Pants (2005)
Sling Blade (1996)
Space Cowboys (2000)
The Silence of the Lambs (1991)
This is Spinal Tap (1984)
The Truman Show (1998)
Uncle Grandpa: Complete Season 3 (Cartoon Network)
The Usual Suspects (1995)
Vampires Kiss (1989)
Would You Rather (2013)
Available December 3:
Stories We Tell (2013)
Available December 6:
On the Road (2013)
Available December 7:
Shut Eye: Complete Season 1 (Hulu Original)
Available December 8:
Hairspray Live!: Special (NBC)
Available December 9:
Madonna: Rebel Heart Tour: Premiere (*Showtime)
The Thundermans: Complete Season 3 (Nickelodeon)
Available December 10:
Daddy's Home (2015)
Available December 13:
Teen Mom 2: Complete Season 6 (MTV)
The Love Guru (2008)
Available December 15:
Star: Season 1 Premiere (FOX)
Available December 16:
At the Devil's Door (2014)
Beyond the Hills (2013)
Available December 17:
The Bay (2012)
Anomalisa (2015)
Available December 20:
Mars: Complete Season 1 (Nat Geo)
Available December 23:
The Trip to Italy (2014)
Available December 24:
Whiskey Tango Foxtrot (2016)
Available December 27:
Barbarians Rising: Complete Season 1 (History)
Iron Man (2008)
The Reluctant Fundamentalist (2013)
Available December 30:
Last Weekend (2014)
Zoolander 2 (2016)
Available December 31:
Venture Bros: Complete Season 6 (Adult Swim)
13 Hours: The Secret Soldiers of Benghazi (2016)
Spiderman 3 (2007)
Leaving December 31:

And God Created Woman (1988)
Blue Steel (1934)
Chinatown (1974)
Congo (1995)
Cool It (2010)
Courage Mountain (1990)
Curse of the Pink Panther (1983)
Death at a Funeral (2007)
The Gambler (1974)
The Godson (1998)
Happily N'Ever After (2007)
Joyride (1997)
Mission Park (2013)
National Lampoon Presents Cattle Call (2008)
National Lampoon Presents Dirty Movie (2011)
National Lampoon Presents Dorm Daze 2: College (2006)
The Pink Panther Strikes Again (1976)
The Pink Panther (1964)
The Pink Panther (2006)
Under the Gun (2016)
Valkyrie (2008)
Kill Bill: Volume 1 (2003)
Kill Bill: Volume 2 (2004)
G/O Media may get a commission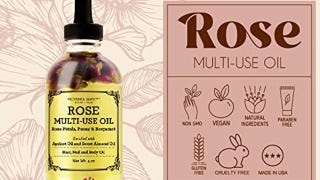 Provence Beauty Rose Multi-Use Oil