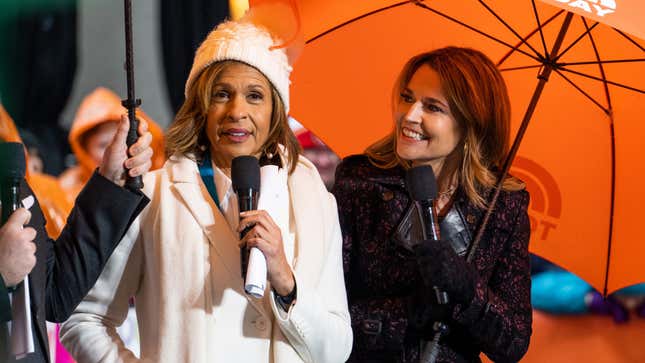 This morning marks the end of a brief but confusing and uncertain era behind the Today desk: veteran hosts Hoda Kotb and Savannah Guthrie both returned to their posts on Monday after respective unplanned absences. Guthrie had been home recuperating from an on-air positive COVID-19 diagnosis on February 28; Kotb had not appeared live on the show since February 17.
Anthony Hopkins has figured out what we all knew about Marvel movies
In a broadcast earlier this week, Today's Craig Melvin—who had been covering host duties in Kotb and Guthrie's absence along with Tom Llamas, Willie Geist, and Sheinelle Jones—attributed Kotb's hiatus to a "family health matter." When she rejoined the fold Monday morning, Kotb shone a little more light on the situation, explaining that she had been by her daughter's side during a hospital stay.
"My youngest, Hope, was in the ICU for a few days and in the hospital for a little more than a week," Kotb shared at the top of the Monday morning broadcast. "I'm so grateful she's home. She is back home. I was waiting for that day to come. And we are watching her closely. I'm just so happy."
Chatting with Guthrie, Kotb briefly became choked up, and thanked her co-host, family, and friends for sticking by her side during a difficult time.
"When your child is ill, the amount of gratitude you can have for people who helped you out," she told Guthrie. "I'm grateful for the doctors at Weill Cornell who were amazing and the nurses. And I'm grateful to my family, and I'm grateful to friends like you who were there every single day. So, I want to say thank you for that. I love you."
"I love you, too," Guthrie replied. It looks like Kotb really was onto something when she cryptically Instagrammed the phrase: "Sometimes miracles are just good people with kind hearts."