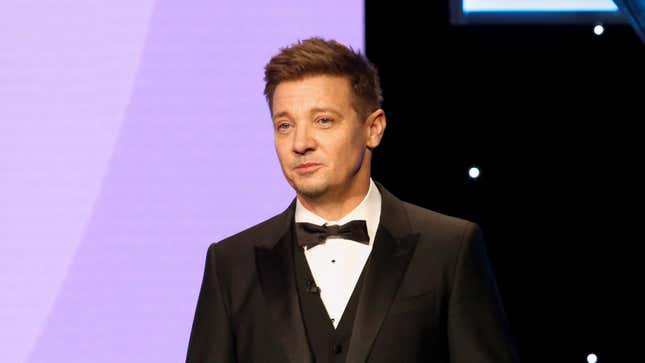 Three months after sustaining severe injuries in a snowplow accident, Jeremy Renner is returning to Hollywood life. First, Deadline reported yesterday that the Hawkeye actor is scheduled to attend the Los Angeles launch of his new Disney+ series Rennervations on April 11 and will participate in a Q&A. The show follows Renner and his crew of fabricators reimagining decommissioned government vehicles for new purposes. (Reduce, reuse, recycle, Rihanna, Renner?)

Ahead of the Rennervations streaming premiere on April 12, the Mayor Of Kingstown star will return to the screen on April 6, as he chats with Diane Sawyer about the harrowing incident. The Hollywood Reporter shares a promotional video for the special, in which Renner opens up about his recovery.
"What's my body look like? Am I just going to be like a spine and a brain like a science experiment?" the Avengers actor says of his initial reactions.
The interview will follow Renner at home as he goes through physical therapy. After he previously shared on Instagram that he had "30 plus broken bones," the full extent of his injuries is revealed to be "eight ribs broken in 14 places; right knee, right ankle broken; left leg tibia broken, left ankle broken; right clavicle broken, right shoulder broken," as well as facial injuries, a collapsed lung, and liver damage.
"I could just perfectly see him with a pool of blood coming from his head, and I ran up to him and didn't think he was alive," recalls Renner's nephew, who witnessed the accident.

Earlier this week, the Wind River actor shared a video of himself walking for the first time since his hospitalization. Back in February, his Avengers: Endgame co-star Evangeline Lilly expressed shock that Renner was "mobile."
"I've lost a lot of flesh and bone in this experience, but I have been refueled and refilled with love and titanium," Renner says in the Diane Sawyer interview.