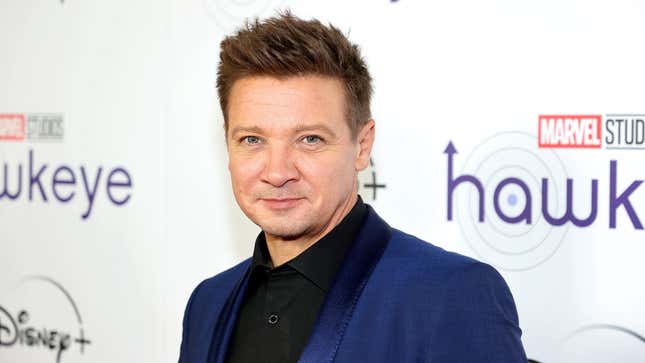 Hawkeye star Jeremy Renner is already up and moving since his snowplow accident earlier this year, according to a new video the actor posted across his social media platforms on Sunday.
The A.V. Club's weekly film round up
In the video shared on his Twitter and Instagram, Renner is shown walking on an "anti-gravity" treadmill—a device commonly used for injury rehabilitation. "I now have to find OTHER things to occupy my time so my body can recover from my will," captioned the Mayor Of Kingstown actor on Twitter. Over on Renner's Instagram Stories, the caption of the video isn't much different, reading, "Now is the time for my body to rest and recover from my will."
This is the first time Renner has shown himself walking since he suffered major injuries from a snowplow accident near his house in Reno, Nevada back in January, where according to a Nevada sheriff's report, The Hurt Locker star was "was pulled under" a snowplow while he "attempted to stop...the Pistenbully to avoid injury" to his nephew. The incident led Renner to undergo multiple surgeries, as well as suffer from "30 plus broken bones," according to The Avengers actor.
Even with the severity of his injuries, Renner has been pretty diligent about keeping fans updated about his recovery process. From posting a photo of himself while in the hospital to showing himself using an exercise bike on his Instagram stories, The Town actor has been open about his rehabilitation journey. Throughout it all, he's even had time to promote Mayor Of Kingstown's second season, as well as his Disney+ series Rennervations, where he and a team of builders renovate buses and trucks into things that can be used by the community they gift them to.