It's a bad sign when a guest judge is the best thing about an episode of Drag Race, but Kristin Chenoweth does get much more than the usual guest in "All Stars Snatch Game." Peeved that no drag queen has ever impersonated her in the seasonal Snatch Game challenge, Chenoweth decides that she'll just join the panel herself, and she trounces nearly all of the other contestants. Except BenDeLaCreme, who continues to dominate the competition with her impersonation of gay icon Paul Lynde, Bewitched's flamboyant Uncle Arthur and long-time center square of Hollywood Squares. Chenoweth is a surprise in an episode that desperately needs them, and she makes the challenge more difficult by showing what it looks like when a seasoned celeb competes.

Chenoweth has appeared on ABC's Match Game (she told Jimmy Kimmel she was drunk during filming), and she knows exactly what to do on these wacky game shows. Be big, be distinct, and give the audience what they expect to see from you. That's why she sings her signature high note after being introduced. I love that Chenoweth's appearance is kept a secret, and while she can be seen in the opening group shot for the Snatch Game, RuPaul announces her last. Chenoweth adds a bubbly X-factor to the competition, but unfortunately her presence isn't enough to compensate for some very rough impersonations. There's a very clear winner, and BenDeLa becomes the first queen to win Snatch Game twice.
With a win every single week, BenDeLa is more than just the frontrunner. She's so far in front that she's lapped the other girls, and that's because she's a damn good drag queen. Her storyline at the start of the season revolved around her being out of the drag scene because she's chosen to stay separate from the Drag Race industry, but committing to her life as a Seattle drag queen hasn't been detrimental. If anything, she's benefited from lowered expectations by not being in the public eye as much as someone like Trixie Mattel, who caves under the pressure this week.
Paul Lynde isn't a name that younger viewers will be familiar with, but it's a perfect character for BenDeLa, giving her someone with a raucous personality that is largely defined by game show banter. BenDeLa clearly has a deep appreciation for Lynde, and has spent time examining how he interacted with the host and other panelists. It's an incredibly natural performance, and Lynde easily has the best answers. Everything is related to male genitalia in some way, starting with the cocktail weenie answer for what the tiny Kristin Chenoweth is given when she walks into a restaurant. When asked what kind of balls RuPaul puts in his pasta sauce, Lynde replies, "I just said the ones that I found the most delicious: Anonymous." (Spelled "ananomous" on his card.") BenDeLa also makes the most of Kristin Chenoweth, and they have a delightful rapport on the panel.
G/O Media may get a commission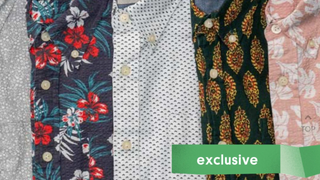 Grab three styles!
JACHS NY Summer Pack
RuPaul jokes that the Amish are the winners of Snatch Game because they don't have televisions, and it comes across as a genuine critique of what Ru just witnessed. This isn't an especially clever group of queens, and the energy feels very low for what should be the season's biggest challenge. Chi Chi gives an impersonation of Maya Angelou that would get her eliminated in a regular season, Trixie completely falls apart as RuPaul, and Kennedy squanders her winner's momentum with a dull Phaedra Parks. That's almost half of the panel right there, and I would have preferred to have the Snatch Game challenge earlier in the season when there were more contestants.
Chi Chi has been messy this entire season, and she bookended her time on All Stars with trainwreck performances. Her variety show number was awful and embarrassing, but at least she went out there with confidence and some sort of road map for what she'd be doing. That's not the case with her mortifying Snatch Game impersonation of Maya Angelou, which begins with her being called out for spelling her name wrong (Mya instead of Maya). It's an error that sets the tone for the entire performance, which is basically Chi Chi's Eartha Kitt, but more confused. I don't think she knows much about Maya Angelou, and when RuPaul asks her why the caged bird sings, she has no response. It's painful to watch, and made me immediately seek out Maya Rudolph's impression of Maya Angelou to soothe myself.
Trixie gets a solid laugh with her introduction on Snatch Game, but the joke of RuPaul telling people to buy her music on iTunes is pretty stale. From that point she falls fast. She judges other contestants' answers but her comments aren't funny, and she repeats the "available on iTunes" joke, losing any goodwill she had gotten from it the first time. Trixie does her RuPaul impression on her show all the time, but it's funny as a one-off gag, not an extended segment. Trixie is trying to insert the quick-cut pacing of her shows into the Snatch Game by cutting in with her commentary, but it clashes with the rhythm of the game and each unsolicited response lands with a thud.
Kennedy Davenport ends up in the bottom again after winning last week, and she somehow gives a monotonous performance even though she's deliberately trying to show two different sides of Phaedra Parks' personality. Both of those sides are boring, and it's strange to get such a bland Kennedy after seeing her in brash IDGAF mode for "The Bitchelor." She looks beautiful on the runway, but it's not enough to save her from the bottom.
The safe queens, Bebe and Aja, aren't remarkable, but there's a level of confidence there that the bottom three lack. Bebe's Grace Jones starts with intensity and holds on to that intensity, even when its not appropriate and makes things awkward. Aja's strength in the Snatch Game is reaction shots, and while we don't see all that much of her Crystal Labeija, she makes a good impression and gets a great laugh line when Trixie's RuPaul interjects with another dud. "Wow dahling, tell another one," Aja says with deadpan delivery, followed by a close-up of the stank face she wears the entire game.

Shangela joins BenDeLa in the top, resulting in some lip sync déjà vu when they face off to Katy Perry's "I Kissed A Girl." Shangela's Jenifer Lewis isn't on the same level as BenDeLa's Paul Lynde, but she comes prepared with jokes and has an aggressive, clearly defined personality, even though its one that is really similar to her usual comedy shtick. Shangela could go way bigger, and I love watching Jenifer Lewis because she demands attention whenever she is on screen. She's great on Black-ish, but my favorite J-Lew performance is her guest appearance on Living Single, where she plays the boisterous host of a trashy daytime talk show. Her delivery is downright thunderous, and I would have liked to see Shangela capture that explosive quality.
Grating at the start of the season, Shangela only becomes more obnoxious with each episode. Her ongoing Game Of Thrones analogies are a pain, and I can't tell if the editors think they're legitimately raising the tension or if they're intentionally making her look annoying by keeping these bits. Shangela is obsessed with the game aspect of Drag Race and she thinks everyone around her is being equally conniving. Trixie hanging up a note from Thorgy that calls Shangela a shady bitch is interpreted as an attack, and BenDeLa saying that she shouldn't have won last week is interpreted as false modesty so people don't come for her.

Shangela is in a position where she's looking to exploit whatever drama is available, so when she finds that note from Thorgy, she makes a big scene out of it, getting her a lot of screen time and throwing Trixie off her game. I get why Trixie has such a strong bond with Thorgy. They're both wacky comedy queens who carry a lot of anxiety stemming from their initial appearance on Drag Race, and being back in the workroom takes a toll on their mental health. Trixie has a much bigger career than Thorgy, though, which puts her in an even more precarious position because she's working under the pressure of huge expectations.
The hand of the producer is a bit too visible this season, first with the unbalanced Divas Live assignments, and now with a double elimination that adds one last burst of drama to a lackluster episode. BenDeLa has lip synced in every episode. This same showdown happened only two weeks ago. It's time to give the viewers something different because the actual competition isn't doing it, so the producers (including RuPaul) decide to make both queens winners, splitting the $10,000 tip and giving them both the opportunity to eliminate a competitor.

There's the potential for two queens to go home, but the producers already know who the winners have chosen. Chi Chi was going to get eliminated no matter what because both BenDeLa and Shangela are too good at this game to keep her around and make themselves vulnerable to a social media assault. In a last-ditch effort to raise the stakes and make this episode feel less predictable, we get a double win and a double elimination that sends Chi Chi home twice, but it's a maneuver that fails to lift up an underwhelming episode.

Stray observations

Why was Marc Jacobs in this episode? Was it a Lisa Kudrow situation and Ru found him wandering the lot?

Chenoweth has an active part in the challenge, but fellow guest judge Nicole Byer also shines during the runway portion, delivering hilarious one-liners that show her enthusiasm for being on the show.

This week in Shangela's Aquarium: flip-flop fish, four-leaf clover fish. Let me know if I missed any other fish!

There are some amazing Chi Chi facial expressions during the scene when RuPaul tells Shangela that her Jamaican Miss Cleo accent sounds Irish. Cannot wait to see those .gifs.

Chenoweth's Bubble Gun moment would be more fun if this episode wasn't airing right after a mass shooting.

For both of her Snatch Game appearances, Aja has impersonated other drag queens. I would like to see her impersonate someone who forces her outside of her comfort zone.

"So RuPaul...when are we going to fuck?"

"Sweetheart, none of these queens are gonna do ya."

"I think she's also wearing your gloves but I didn't recognize them without the Crisco."

"This is the most queens I've been surrounded by since Charles Nelson Reilly's pool party!"

Ru: "Maya Angelou: poet, activist, actress." Shangela: "Spelling bee winner."

"Thank you for answering my question from last round in this one. Maybe you'll have a good answer for this question in the next round!"

"Kennedy won Snatch Game her season. But she ain't winning this one."

"Oh shut up, RuPaul!"

"I could literally get hit by a bus tonight and I'm good."

"I love that Beyoncé put the twins back in for this."

"Hi lili, hi lili, hi ho." I loved the movie Lili as a kid.

"If I don't get that outfit by the end of this, then you and I will meet in a back alley somewhere. Alright?"

"You look like a nice slutty teen who's getting married."