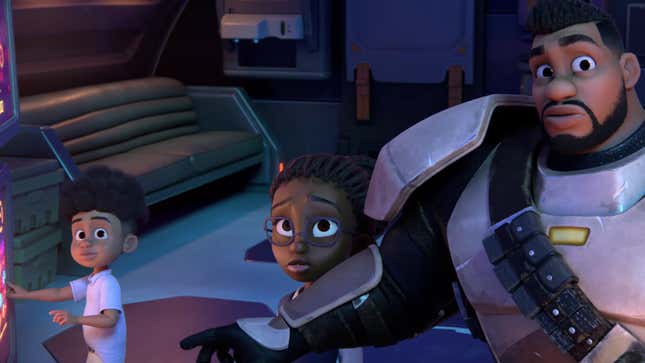 My Dad The Bounty Hunter, the newest addition to Netflix's growing slate of kids' programming, is one more example of the intergenerational appeal of high-quality animation. Complete with nods and callbacks to classic sci-fi films that test the strength of familial bonds, the new sci-fi series is an action-packed joyride and offers a fresh, all-ages-friendly take on the double-life trope.
Dwayne Johnson on why "Black Adam" was the movie he had to make
Created by Everett Downing and Patrick Harpin, the show follows two close-knit siblings, Lisa (Priah Ferguson) and Sean (JeCobi Swain), who struggle to spend time with their father, Terry (Laz Alonso). With his erratic work schedule keeping him away from home for indefinite periods of time, Terry has missed all kinds of milestones, creating a growing chasm between him and his estranged wife, Tess (Yvonne Orji), and their impressionable children. But when they decide to stow away on their dad's latest work trip, the sibs discover their father is actually an intergalactic bounty hunter—or, as he puts it, "a fugitive recovery specialist"—who takes on perilous freelance assignments for a sketchy agency to provide for them.

With his kids along for the ride (and, of course, with no way to get home until his latest mission is complete), Terry is given the ultimate opportunity to show up for his children, helping them dodge dangerous aliens and robots and engage in laser fights. But the visits to alien worlds and the death-defying fight sequences only serve as a backdrop for a more grounded, universal story. The Bounty Hunter, at its heart, is a space-set family drama about a parent wanting to reconnect with his growing children. Currently separated from his wife and their mother, Terry consistently struggles to find that elusive, ever-changing work-life balance. Although she loves her father deeply, Lisa resents him for not being a more significant presence. His nerdy son, Sean, although more optimistic than his quick-witted sister, can't help but feel his absence as well.

G/O Media may get a commission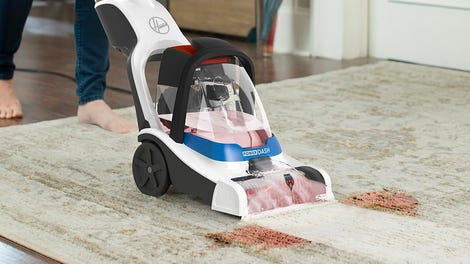 26% Off
Hoover PowerDash Pet Compact Carpet Cleaner
Instead of trying to tell the story from only one perspective, Downing and Harpin's team of writers and animators have used various techniques—both in the scripting and the visual framing of specific scenes—to highlight how Terry and Lisa in particular, despite not seeing eye-to-eye on most things, are searching for a way to get through to each other. This ability to acknowledge both the inherent flaws of parents and that they're actively doing the best they can in a world without written rules feels like a step up in children's programming, and Ferguson and Swain clearly grow more confident in their roles with the passage of time. Alonso, on the other hand, has a voice well-suited for animation, imbuing the character with both a charm and a gravitas that makes him likable, even when he has to drop the hammer to teach his onscreen children a lesson.

While the show largely shies away from discussing the identities of their characters, The Bounty Hunter does offer a positive portrayal of a loving Black family (brought to life by an excellent predominantly Black cast of voice actors) and doesn't shy away from injecting bits of social commentary into their alien worlds in a way that creates some uneasy tension. (A multi-episode arc has to do with the forced labor of an adorable alien species for capital gain.) With children becoming increasingly more knowledgeable about how the world works from an early age, this approach to storytelling feels like a natural way to start more difficult conversations between parents and their kids—which, at the end of the day, is perhaps the show's biggest feat.
---
My Dad The Bounty Hunter premieres February 9 on Netflix.