In a statement accompanying the announcement of her new album Hell-On, Neko Case wrote, "I don't have a pretty voice." And sure, maybe "pretty," a word that implies a certain demure delicacy, doesn't quite apply. Case's voice is sturdy. It stands solidly, on its own two legs. Even when she was just starting out, her voice sounded wise and empathetic. Now, 25 years into her career as a recording artist, it's been tempered by experience, but has retained its sharp clarity. It—and she—are forces of nature, as powerful as the wind and as life-giving as the sea.
On the title track, Case becomes one with a wrathful Mother Earth when she sings, "You'll not be my master / You're barely my guest / You don't have permission to take any pictures / Be careful of the natural world," and "Last Lion Of Albion" wryly notes that "you'll feel extinction / When you see your face / On their money," both recalling the vengeful natural forces she personified throughout 2009's Middle Cyclone. If women are nature, and nature is chaos, as the noxious pesudo-intellectuals of our era claim, Case pointedly replies: Watch out, because nature is one bitch you don't want to fuck with. And she should know—her house burned to the ground last summer, while she was away in Sweden recording this very album. Asked about the fire by Pitchfork, she says, "Honestly, it's just stuff. My house burned while Puerto Rico was underwater, right after Houston, right before all the fires in California. So many people lost so much more than I did."
That's typical of Case's road-tested maturity on Hell-On, miles marked by the tire tracks and ashtrays full of cigarette butts that pop up throughout. "Sometimes where there's smoke, there's just a smoke machine," Case observes on "Gumball Blue," about the slow fade of a relationship. As usual, the more personal sentiments on the album are coded into poetry, but with a strong emotional through-line that shows how Case has developed as a human being: The chorus of epic, seven-minute album centerpiece "Curse Of The I-5 Corridor," where she sings with Mark Lanegan, "Baby I'm afraid, but it's not your fault / Maybe I should go home alone tonight," clearly comes from the same woman who proclaimed, "Left the party at 3 a.m. / Alone thank god / With a valium from the bride / It's the devil I love," on 2006's Fox Confessor Brings The Flood.
But even forces of nature feel insecure sometimes. On "Oracle Of The Maritimes," Case sings about "worry nesting in my hair / Shedding like a Christmas tree." Underlying the album lyrically is a feeling of insignificance, whether in the face of nature's indifference to human suffering or the impossibility of controlling another person's heart. (When singing about the latter, Case frequently uses maritime imagery, fatalistically invoking folk songs about women waiting for lovers lost at sea.) But rather than succumb to despair or cynicism, Case—who's also spent the past several years battling stalkers in court—harnesses them to fuel a powerful feminist rage: On "My Uncle's Navy," a scathing indictment of toxic masculinity and the abuse it condones, she sings, "Bullies are not born / They are pressed into a form."
G/O Media may get a commission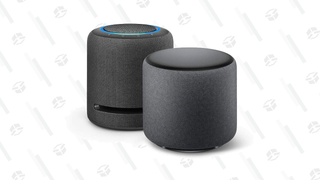 25% off - Prime Exclusive
Echo Studio + Echo Sub Bundle
On her last album, 2013's The Worse Things Get, The Harder I Fight, The Harder I Fight, The More I Love You, Case adopted a more experimental, sprawling musical style, and we see some of that in the saxophone and rhythmic scat-like vocals on "Halls Of Sarah," and in the extended instrumental outro of "Curse Of The I-5 Corridor." This time around, however, Case's restless exploratory impulses are contained within relatively conventional song structures, with much more compelling results. Here, the instrumentation builds on and fills out the melody, rather than hijacking it. The majority of Hell-On consists of genre-resistant songwriting best (if rather narrowly) described as chamber pop, with hints of Case's various musical incarnations over the decades sprinkled throughout. There's "Bad Luck," which incorporates the uplifting handclap-pop sensibilities of her side project The New Pornographers; and album closer "Pitch Or Honey," which smoothly transitions from glitchy electronic beats to a wild guitar jam recalling Case's alt-country roots.
Case produced Hell-On herself with assistance from Björn Yttling (Peter Bjorn And John), but this isn't a closed-off, control-freak record. A wide range of musical collaborators—including Beth Ditto, k.d. lang, AC Newman, Kelly Hogan, Doug Gillard, Laura Veirs, and Joey Burns—appear on Hell-On, and Case's duets with Lanegan (the aforementioned "Curse Of The I-5 Corridor") and Eric Bachmann (a cover of Bachmann's own "Sleep All Summer" reimagined as a devastating duet) are both album highlights. Each of those musicians, presumably, helped make Case the person she is today. Including them so prominently was a wise decision, giving Hell-On a feeling of timelessness that will appeal to longtime fans and an ambition that marks another step forward in her development as an artist. Fire may have robbed Neko Case of her home, but she's emerged from the ashes even better than before.
---
Purchasing Hell-On via Amazon helps support The A.V. Club.