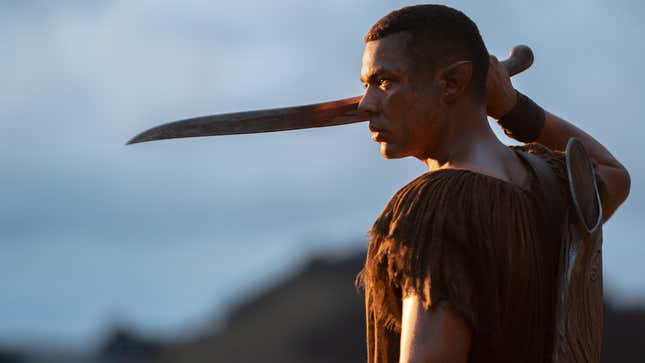 The weeks leading up to Amazon's Lord Of The Rings: The Rings Of Power was a rerun of the loathsome trends in pop culture, another chance for racists to overtake the conversation with bad-faith criticisms of fidelity to the source material and gatekeeping designed to keep these properties as white, male, and heteronormative as possible. As was the case with Star Wars, Ghostbusters, and Captain Marvel, these "backlashes"—if anyone wants to call them that since they're more than likely coordinated attacks in the culture war that brought us the current wave of book bans, transphobic legislation, and moronic boycotts of light beer—elevate bigoted talking points by thrusting them into the public's consciousness. Simply put: A person of color playing an Elf shouldn't be controversial.
HBO really doesn't want to talk about J.K. Rowling
It's even worse on the inside of these uproars. In a recent talk with Variety, Rings Of Power star Ismael Cruz Córdova, who plays Arondir, said these issues went beyond Instagram comments. He needed on-set therapy to sort through it. "You need support when this happens because the voices are so loud, and they're coming at you from so many places," he said. "It had a psychological and mental health impact. That's something that I'm very, very open about so that people understand that what they do and say online really hurts people, really has an impact on us."
Despite the wrong-headed adage that the internet is not real-life, the toll of being a target of online hate has tangible consequences. "My phone got hacked," Córdova said. "I had bank account attempts of being hacked. My PayPal got hacked. My friends got messages. I got death threats. I got things mailed to me. People found out my address. It was a lot of that."
The outcry over the diverse cast emboldened the red-pilled masses of the internet, but Rings Of Power's stars found support in fellow denizens of Middle-earth. Three hobbits, Elijah Wood, Billy Boyd, and Dominic Monahan, were photographed wearing shirts that said "You are all welcome" in Sindarin Elvish.

For his part, Córdova, who grew up in Puerto Rico, knew took the role knowing that an actor of color playing one of the traditionally lily-white Elves would attract a noxious element. Still, it would mean even more to viewers who could finally see themselves in Tolkien's characters. So after being initially rejected for the role, he made his case to producers, asking them to reconsider.

"I was not going to take a 'no' for an answer because I knew what this role would entail. I knew what it would do in the scope of fantasy. I knew that I wanted to be part of something historic, especially with the Elves. The Elves have been historically portrayed as white and Aryan. I wanted to be an Elf. I was a mountain boy. I was in love with nature, and I knew it would change things."
Talking to Variety from the set of Rings Of Power's second season, Córdova made it clear that the intimidation has not shaken his or his co-stars' resolve. "We're still here."