It's become a tradition for an eliminated queen to return to RuPaul's Drag Race at some point in the second half of the competition, but this season introduces a twist that makes the return far more satisfying than in past years. Instead of simply folding an eliminated queen back into the competition at the start of the episode, all seven former contestants shantay back into the workroom and are given the opportunity to prove that they have what it takes to be back in the running. While it does pull focus away from the seven queens that have made it this far, it's a smart change that makes the returning queen earn her place on the show, and leads to one of the strongest episodes of the season.
After a hilarious "Orange Is The New Drag" minichallenge that has the queens walking the runway at the Tuckahoe Prison Fashion Show in gussied up prison jumpsuits, the old faces emerge to introduce a load of stress for the top seven. In order to determine which queen is coming back, each current contestant is paired with one of the losers to play a set of conjoined twins, and both members of the winning team stick around in the competition. It's a fascinating main challenge, because winning is a double-edged sword that helps another competitor, and some of these queens don't want their partners back in the game. But they also don't want to purposefully sabotage their performances to keep their partners out, because someone is still going home tonight from the group of queens that are in the running at the top of the episode.
But there's more incentive to do well if there's a relationship between the two queens, like there is with Pearl and Trixie. Pearl sent Trixie home in this season's big lip sync upset, and she would love to be the person that brings her back. There's no way Kennedy was thinking about narrative symmetry when she put the two queens together, but it's a choice that gives Pearl and Trixie's win a lot of weight because there's this great story behind it. Of all the eliminated queens, Trixie is the one that went out with a lot of unrealized potential; the others left when their time was up and they weren't offering much new, but Trixie showed a lot of promise that hadn't been fully explored when she sashayed away.
Knowing that the judges want to see her really push the comedy queen angle, Trixie plays the awkward, gawky twin to Pearl's beautiful, bossy twin, and that contrast creates a story for their conjoined pageant queens. Katya and Kasha are the closest competitors in terms of storytelling with their aging Atlantic City hookers attached at the vagina, but the dynamic between twins doesn't read as clearly as it does with Pearl and Trixie. Where Katya and Kasha have them beat is the visual, which has me cracking up for their entire runway walk, but devoting extra time to building a distinct relationship between the twins makes Pearl and Trixie stand taller than the rest.
G/O Media may get a commission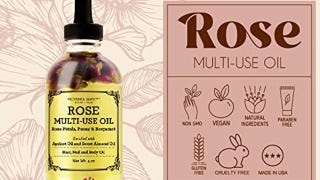 Provence Beauty Rose Multi-Use Oil
Kennedy and Violet do strong work turning their partners into their doubles, much to the benefit of Jasmine and Max, respectively. Kennedy and Jasmine have a tight look, but there's not much personality and no interaction between the twins. Interaction makes Violet and Max far more interesting to watch, and Violet's influence makes Max more charismatic than she has been all season. Like Trixie, Max understands that she needs to give the judges the versatility they asked for if she wants to get back in the competition, and she absorbs Violet's character to play someone that has a lot more pep than the typical Max persona (and no gray wig). It's a valiant effort from Violet and Max, but it's not enough to top Trixie and Pearl, who are the only pair that focuses on creating a contrast between the twins.
Sad Pink Eyes (a.k.a. Miss Fame) has an especially rough episode this week, but she one again sashays to safety instead of being put in the bottom two. Ginj and Sasha's costume is poorly conceived and constructed, but at least they had some imagination. Sad Pink Eyes and Kandy Ho revive the tired "plastic surgery victim" look for their twins conjoined at the hip, and the combination of an uninspired runway look and Sad Pink Eyes' attitude should put her in the bottom. I can't remember the last time RuPaul showed so much open disdain for a contestant as she does when Sad Pink Eyes once again misses the "How's your head?" joke, and you get the impression that Ru is starting to get tired of telling Sad Pink Eyes to shut her mouth and listen. She eventually gets the punchline right on the runway, but Ru's congratulations are incredibly condescending because Sad Pink Eyes doesn't deserve legitimate praise tonight.
It rarely feels natural when the queens all divulge their sad stories about the challenges they've faced as gay men (you can easily imagine the producer behind the scenes feeding them talking points), but these scenes are an important part of the Drag Race formula. It's one of the few shows on the air that celebrates the broad spectrum of homosexual identity, and you see a wide range of personalities and backstories that don't get attention in other, more general portrayals of gay men in mainstream media. The pairing of Tempest and Jaidynn poses an obstacle that Jaidynn isn't able to overcome, but when Tempest talks about how he went through torturous conversion therapy, it's like fate forced these two together. Jaidynn isn't out to his family and is dealing with constant pressure to hide his natural impulses, but Tempest is there to show him that the difficulty of coming out isn't anything compared to the pain of denying the truth.
Tempest and Jaidynn have the cards stacked against them with a mismatched pairing, but they make a lot of questionable decisions that land them in the bottom. Their Studio 54 styling is very basic, and being attached butt to crotch is a horrible idea that doesn't read as conjoined twins and spells doom for the lip sync. Ginj and Sasha aren't in a much better position conjoined at the breasts, but it's easier to milk that for humor. Lip-syncing to Tiffany's "I Think We're Alone Now," Ginj and Sasha deliver an unforgettable performance, but the entire situation is so bizarre that it makes for an incredibly entertaining conclusion to the episode.
Katya describes it best: "Ginger and Sasha are giving themselves a mastectomy on stage. Tempest and Jaidynn look like Larry Bird and Raven-Symone in a permanent butt-fuck position. This is the most epic lip sync ever!" While I don't necessarily agree with that last sentiment, this is easily the most epic lip sync of this season, with Ginj showing why she's a top competitor by committing to ever-heightening levels of insanity. And Sasha matches Ginj's energy, giving her a great partner to work off of. It looks like they're having so much fun on stage, and as clothing and wigs come off, there's never that air of desperation that typically comes with the removal of these articles. Ginj is performing so hard that she's knocking her wardrobe off, and that passion keeps her in the competition. After being in the bottom, Ginj is going to have even more fight in her than before, and considering her strength in the competition up to this point, that means the rest of the queens are going to have to step up in turn or they'll get burned by the Ginger Minj.
Stray observations:
I love the editing during Sad Pink Eyes' rambling in the work room, which adds an echo effect to the audio before slowing it down to recreate the sensation of listening to her droning on and on.

Trixie's story about reclaiming the insulting nickname her stepfather as her drag name and finding power in the thing that caused her pain is the kind of character development that this show's producers love. She's back and she is ready to play the game.

Kennedy's ashy knees and neck really make her prison look stand out. She's a smart cookie, that one.

Speaking of Cookie, now I'm wondering if we will see Taraji P. Henson as Empire's Cookie in next year's Snatch Game. She certainly has a personality that can be easily impersonated, and Cookie's drag queen tendencies make her a prime Snatch Game candidate.

It's appears as if LeAnn Rimes' agent set her up with a gig guest judging on a show she's never seen before, but she acclimates well to the Drag Race environment and actually provides some solid critiques. Good job, LeAnn! Meanwhile, True Blood's Nelsan Ellis clearly has an affinity for the series and is very happy to be here.

"She can't lip sync four times."

"It's nice to know you. You're beautiful. Stay home."

"It's like seeing Sharon Stone. Except fat… and black."

"Hey Latrice! Would you like to inspect the pit crew's underwears?" Latrice: "Get those nuts away from my face!" I almost expect to hear a studio audience laugh when she says her signature catchphrase. God, Latrice is great.

"You can just call her 'Sad Pink Eyes' for short."

"Why it gotta be black?"

"And I'm not doing blackface." Wise words to live by.

"If I have to go home and one of those eliminated whores gets to say, I'm going to have a wonderful time travelling to their house and burning it to the ground."

"That was a compliment, not a read. I'm doing this thing now where I tell people when I'm complimenting them in case there's confusion." Violet is growing on me so much.

"Hi Rulicious dipped in beauty." Nelsan Ellis is turning on the charm.

"Gentlemen, start your engines. And may the best twinsies, winsies!"

"Jaidynn, don't have Mexican for dinner."

"We are giving old Atlantic City, pussy-connected, leather-skinned realness." Katya's descriptions of her runway looks are always spot-on and hilarious.

"Listen. She's older than dirt, but I know true talent when I smell it. And she smells like she just pissed herself."

"Miss Fame did our make-up." Katya deserves major props for her flawless shade on the runway.

"Not to mention they were conjoined at the vagina!" I love this show.