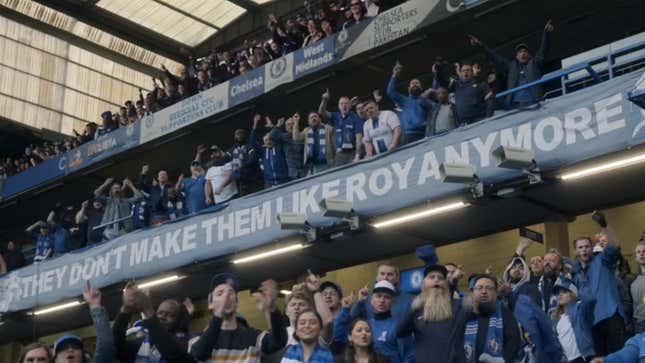 We've all heard the saying "life imitates art," but sometimes that's just not how the cookie crumbles. Sometimes, art tries to imitate life but doesn't do it quite right and ends up pissing off a whole bunch of European soccer fans—a notoriously chill and reasonable group—in the process.
"Ted Lasso" gets into the (video) game
One of these slightly more specific (but still not completely unheard of) sequences of events has been unfolding over the past few days in England, around a memorial banner and a recent episode of Ted Lasso.
In a storyline befitting of the offending show itself, an on-screen tweak to a real-life Chelsea F.C. stadium banner in the episode "(I Don't Want To Go To) Chelsea" has turned into a heated Twitter spat between fans and the team's leadership. (Seemingly none of the ire is centered around the episode's less-than-flattering, Elvis Costello-inspired title, but we're sure it didn't help.)
In the episode, a banner that hangs permanently in the real-life stadium and reads "They don't make them like Ray anymore" was edited to read "They don't make them like Roy anymore"—a reference to the return of fictional captain Roy Kent. In real life, however, the fan-funded banner was hung in honor of club legend Ray Wilkins (who died at the age of 61 in 2018), leading to widespread condemnation by the team's fans of not only the episode, but leadership's decision to allow the tweak in the first place, according to AP News.
Adding fuel to the fire is the fact that leadership changed hands to American billionaire Todd Boehly just this past May, an unpopular move amongst long-term supporters. While some have cited the disrespect of Wilkins as "another blunder under the boehly regime," Boehly recently took to the app to defend himself, claiming that his team "had nothing to do with these arrangements" and that the "deal w/ apple was struck in 1Q/22" before he came on board. Ray Wilkins' son Ross Wilkins also weighed in on the controversy, saying that the edit had "certainly nothing to do with the new regime" and "from our perspective, the only thing that matters, is the actual banner, in the stadium where dad gave so much for the club."
An American assuming controversial leadership of a European soccer club... maybe life really does imitate art.
Ted Lasso airs Wednesdays on Apple TV+.