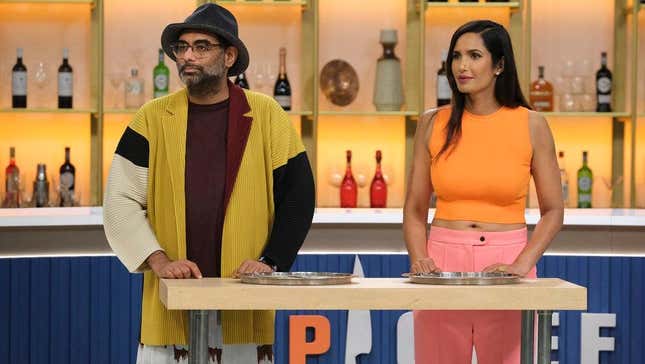 "Is that Gaggan? Oh my god!" Chabral exclaimed with wonder upon setting eyes on the guest judge of this week's Top Chef: World All-Stars. Indeed, Indian "food rebel" Gaggan Anand—the chef-owner of the eponymous two-Michelin-starred restaurant Gaggan, which operated from 2010 to 2019 in Bangkok, Thailand and was voted number one on the Asia's 50 Best Restaurants list a record four times—took the honorary spot next to host Padma Lakshmi this week. And our competitors were fangirling as if Rihanna just walked into a Sephora.
"Top Chef" judge Gail Simmons on favorite cuisines and dream guests
"I love Gaggan. I love crazy chefs…he's very unique in his cooking, he's not traditional," Chabral said. And if you love Gaggan, you'll love this week's episode, because it was all very Gaggan. For the Quickfire Challenge, the competitors had to choose from a wall of emojis and create a dish inspired by it. "I want you to think about the dish and the emotion behind the dish, and have fun with it," Anand instructed.

With only 30 minutes on the clock, the players hustled to get the emoticon of their choice, and most were happy with their selects. Amar scored a banana, which prompted his roasted plantain dish with butterscotch, blue cheese, and bacon, and Sara grabbed the sun, inspiring her all-nightshades spread of burnt eggplant puree, gold bar squash, and green zucchini. ("They're not? Well fuck!" she later joked when Padma pointed out that zucchini actually isn't a nightshade.)

But Victoire wasn't pleased with her selection: "I think I was the loser in the running challenge. I grabbed the sushi emoji, but sushi is not my comfort zone. I'm very worried." The Congolese chef ends up interpreting the emoji as a plate of poached scallop and shrimp over rice. "I know that it's not good…I'm cooking without any kind of inspiration. It's not enough."

Hers lands in the bottom three of the Quickfire, along with Dale's take on his mom's chicken noodle soup ("It's hard to get chicken soup [in 30 minutes] at the level that you need to in this competition," Padma told him) and Ali's "unlucky" herb salad with cucumber gazpacho. (The Jordanian toque accidentally mistook his four-leaf clover emoji for a mere leaf.)

The Quickfire, winner, however, was Buddha, who cleverly translated the freezing emoji into a coconut "snow" with coconut cream and coconut sorbet. "That was like, wow, that was like one of my dishes," Gaggan told the competitor, who earned immunity in the Elimination Challenge.

And things got even more playfully esoteric ahead of Elimination, when servers paraded out cloches in front of the competing chefs. Underneath was one of Gaggan's own creations, "Rainbow World," a paste of jasmine cream with edible flowers and fruits that have been dried over many days to create a rainbow of color representing love and unity. "The idea is not to use your hands to eat. You have to lick the plate," Gaggan directed. "This is like the Willy Wonka scene where every time you lick a different color, it's a different flavor," said Buddha, star-eyed. "You can taste that it's not a gimmick."

For their challenge, "we want you to create a dish that sends a message that's visually stunning and can be eaten without utensils," Padma announced. The chefs would have 90 minutes' cook time one day and another hour and 45 minutes the next to complete their creations. Most were at home with making handheld food— "If you want to experience African gastronomy, you should eat with your fingers," Victoire proclaimed—but others weren't as confident, such as Amar, who wasn't a fan of finicky plating ("I don't like this shit!") and Dale, who was trying his hand at a mole. "We'll see if I pull it off or if they're gonna be like, 'This is fucking a Canadian mole,'" he worried. (Joked Sara: "Put some maple in it!")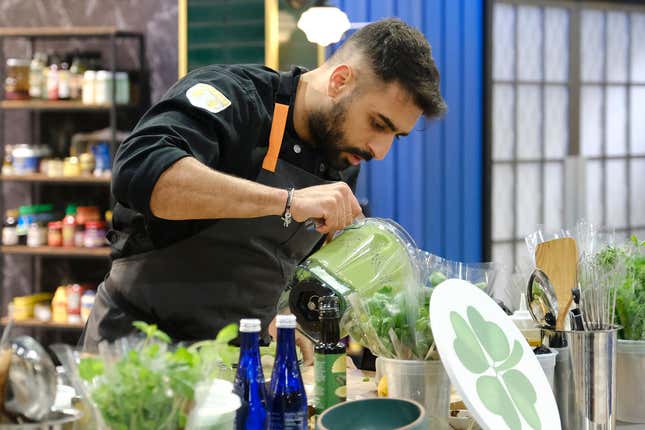 Though Amar thought that high-minded Buddha and Tom were naturals for the particular challenge, neither of those two ended up in the top during Elimination. Buddha's caramelized onion and black garlic puree with brillat-savarin and bread crumble "was quite subdued but very elegant," Gail thought, though Tom Colicchio wanted to "see more bounty in there." And, though dubbed "so delicious and so ambitious" by Padma, Tom's underset ginger-turmeric mousse with pumpkin-carrot chutney landed him in the bottom. "If the mouse set…you would have won this thing," Collichio told him.

Instead, it was Ali's mushroom kibbeh with chickpea mouse and pickled grape leaves—thoughtfully swapping out the usual lamb for a more climate-friendly vegan alternative—that impressed the judges most out of this week's very strong showing from the chefs, with Tom praising its message and Padma its "aromatic flavor" and crunch. "Being in the bottom yesterday and winning today? What a comeback, baby, woo-hoo!" Ali said. "This is my third win but this is a marathon. I want to win in the finale."

Though overall dazzled by the dishes this week ("When you do high-concept food like this, this is a process. For them to produce at this level, it's exceptional," Collichio praised), two chefs joined Tom in the bottom. The judges panel actually enjoyed Dale's mole (though Gaggan called it "the mildest Mexican dish I've eve had in my life"), but his chicken "had a weird flabby, floppy texture," said Padma. And while Victoire's cassava cannoli with potatoes and pineapple-mango sauce had a strong message, "it wasn't strong enough in terms of ingredients from Africa," Gaggan criticized.
In the end, that pallid poultry sent Dale packing for the second time this season, with the chef heading back into Last Chance Kitchen to see if he can make another grand return to the competition. "Two time loser! It feels terrible," he said, though added: "This is a very different season, and I got to do it with some of the best chefs in the world."
Stray observations
Gabri's love of organic corn reached Corn Kid levels this episode, to the point that Victoire had to shutdown his lengthy kitchen ode to Mexico's famous maize with a "Shut up! My god! I love you, you know."
"A lot of eggplant?" Nicole saucily asked of Dale's personal emoji use, to which he gamely responded: "I'm a medium zucchini. Just trying to be honest with ya'll!"
He may have misunderstood his leaf emoji but Ali did not underuse his leaves this episode. "I want to have a vegetable forest-looking dish," Ali said of his leaf-loaded plate, which had Amar cracking up and tipping off production that "he took a bunch of fake plants."